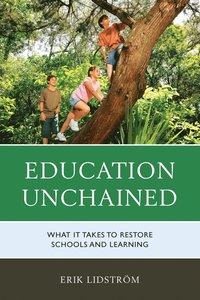 Fler böcker inom
Format

Häftad (Paperback)

Språk

Engelska

Antal sidor

190

Utgivningsdatum

2015-10-19

Förlag

Dimensioner

228 x 152 x 12 mm

Vikt

294 g

Antal komponenter

1

ISBN

9781475822441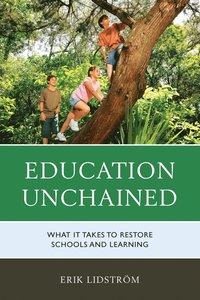 Education Unchained
What it takes to Restore Schools and Learning
Skickas inom 3-6 vardagar.
Fri frakt inom Sverige för privatpersoner.
Are we going about education the wrong way? The somewhat shocking demonstration of this book is that "we" simply cannot reform "our" schools "together". We don't actually even know what schools or education really are. Education can only be improved the same way we improve and invent things in other walks of life, through unbridled, unchained trial and error.
Passar bra ihop
+
Recensioner i media
Those seeking to improve public schools in the US often struggle to define how they wish to make schools 'better.' Lidstrom espouses a belief that government spending has led to a decline in schools and as that funding has increased, quality has declined. He presents his ideas in 12 sections: an introduction; 'The Knowledge Problem'; 'The Threats to Improved Education'; 'School, Work, and Growing Up'; 'The Ethics of State Education'; 'The Rise of the Government School System'; a critique of pedagogy; how he alleges government schools fail; the downward spiral in quality over time; the benefits of a market system; 'The Negative Externalities of Government Education'; and a plan to reinvigorate schools. Though the author considers only one perspective, it is well-reasoned and passionately argued. Best for those well-versed in the issues public education in the US faces, such as upper-level undergraduates or graduate students in a seminar setting. Summing Up: Recommended. Upper-division undergraduates and above. CHOICE Erik Lidstrom has provided us with a heretical, but brilliant expose of modern education. There is wide agreement that the modern, bureaucratic school system does not work well and is subject to a never-ending cyclical spate of reforms that often make matters worse. By combining economics and evolutionary theory with an intriguing account of the educational system and outcomes before and after government organized schooling, Lidstrom makes a cogent and thoughtful argument for a ground-up, market-based approach to education. No doubt, the thesis will irritate and offend many educators, but this is all the more reason to read the book and seriously reflect on Lidstrom's proposals. -- David C. Geary, PhD, curators' professor, Thomas Jefferson Professor, Department of Psychological Sciences, University of Missouri The shortfalls of government-supplied education loom ever larger as time marches on. Considering radical alternatives today, however, violating more than one nostrum of political correctness, Erik Lidstrom takes us beyond such conventionalities to show freedom and competition are a significant part of the answer to the educational crisis of our time. -- Samuel Gregg, director of research, Acton Institute for the Study of Religion and Liberty Throw away all those books on how to fix the education system. As Erik Lidstrom shows in this thought-provoking book, full of insights, the only way to fix education is not to fix it. Education is too important to be left to the "education experts", and should be a matter for the real experts - schools, teachers and parents. -- Johan Norberg, senior fellow at the Cato Institute and author of "In Defence of Global Capitalism"
Bloggat om Education Unchained
Övrig information
Erik Lidstrom holds an MSc and a PhD in physics from Uppsala University, as well as an MBA from the Open University. After research at the ESRF in Grenoble, he moved to the software industry in 2000. He has worked in Britain, France, Sweden and Morocco, lately with a primary interest in complex development processes and organizational issues.
Innehållsförteckning
Foreword Preface Acknowledgements Chapter 1- Introduction Chapter 2- The knowledge problem Markets and why we trade Hunter-gatherers in the Great Society The rules of the Great Society The division of labor and the division of knowledge The roles of competition Quality is not one thing Why we cannot think ourselves towards better things We can become experts on teaching but not on education reform Why school vouchers do not work The process of improvements is different in a free system Democratic decision-making is a particularly inappropriate method for improving schools Chapter 3: The threats to improved education Reforming "our" schools is impossible Why we seek social conformity The ever-present threat of paternalism The species of the paternalists-the Anointed How parents decide Why parents and children will not find bad schools School as a tribal ritual Our urge to rationally plan prevents learning It is not self-evident what education is All-private schools are actually very affordable Chapter 4: School, work and growing up Norberg's assistants How we grow up Play and school Chapter 5: The ethics of state education Government compulsion, government conformity Using children as tools Treating children as cattle What is left for the state to do? Maybe the government should verify that all become educated Maybe the government should financially assist the education sector Chapter 6: The rise of the government school system Sweden Britain The Third World today New York State The five-stage rocket of compulsory education The flow of information stops The hard and magnificent 19th century government school system Chapter 7: The art, science, and nonsense of education The art of education The science of education Folk "science" Practice makes perfect The delusions of education reformers and pedagogues Why education reforms almost always make things worse Chapter 8: Der Untergang-the downfall of the government school system Overview of the decisions in Sweden The social misdistribution of education Against meritocracy and the high status of theoretical studies Improving social skills Abraham Lincoln's dog's tail Empirical trials for the 9-year unity school How education reform broke the back of the school system All hell breaks lose Chapter 9: The downward, self-reinforcing spiral of death The fall in quality for academic studies The fall in quality for those who studied at the realskola but not at high school The fall in quality for those who did not go to the theoretical realskola Why don't we return to the old system? America, Britain and the spiral of death of government systems Comments on the Finnish school system Chapter 10: The kind of education we never had Universities in a free system Chapter 11: The negative externalities of government education Positive externalities from education Idle minds-government school as a source of crime and angry music State schools as a destroyer of exceptional talent State schools as a source of irresponsibility and immaturity State schools as a source on unequal opportunity State school as a source of social disintegration On the unfairness having parents of different wealth Chapter 12: Replanting the Beautiful Tree Civil disobedience Promoting freedom and democracy Helping Third World countries Appendix 1 - Estimates of the fall of quality in Sweden The fall in quality of the teachers Chaos in the classroom Measures of outcomes and some possible contributing causes The early economic outcome Appendix 2 - The Parable of the Citizen Vehicle References