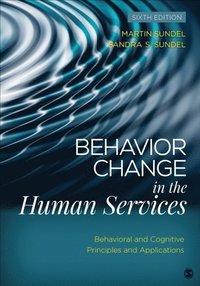 Fler böcker inom
Format

Häftad (Paperback)

Språk

Engelska

Antal sidor

472

Utgivningsdatum

2017-04-24

Upplaga

6

Förlag

Medarbetare

Sundel, Sandra S.

Dimensioner

254 x 184 x 19 mm

Vikt

793 g

Antal komponenter

1

ISBN

9781483384610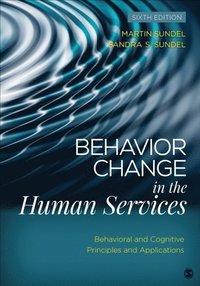 Behavior Change in the Human Services
Behavioral and Cognitive Principles and Applications
Finns i lager! Skickas inom 1-2 vardagar.
Fri frakt inom Sverige för privatpersoner.
Continues to provide a systematic introduction and overview of behavioral and cognitive principles and their applications to a wide range of problems and situations encountered in the human service professions. The authors feature a detailed and sequential organization that encourages readers to move progressively through material of increasing complexity and to conduct self-assessments of their knowledge. Any student pursuing a career in the helping professions, including social work, psychology, counseling, special education, nursing, and psychiatry, will find this book valuable.
Passar bra ihop
+
Kundrecensioner
Det finns 1 recension av Behavior Change in the Human Services. Har du också läst boken?
Sätt ditt betyg »
Bra översiktsbok med många exempel

Innehåller många olika delar inom beteendevetenskap. Lättläst med många exempel från olika områden. Dock inte särskilt inriktad på medicinska aspekter, men exemplen går lätt att överföra till beteendemedicinen.
Fler böcker av Martin Sundel
Bloggat om Behavior Change in the Human Services
Övrig information
Martin Sundel is the director of Clinical Services for Sun Family Care, a company
that provides care management and counseling to older adults. He was the Dulak
Professor of Social Work at the University of Texas at Arlington and also served on
the faculties of the University of Michigan, the University of Louisville, and Florida
International University. He holds a PhD in social work and psychology from the
University of Michigan and was a postdoctoral fellow at the Laboratory of
Community Psychiatry at Harvard Medical School. He is a Charter Clinical Fellow
of the Behavior Therapy and Research Society and has been recognized as a pioneer
in introducing behavior therapy in Latin America. He has published extensively on
the application of behavioral science knowledge to the helping professions. An avid
table tennis player, he has won three national championships and silver and bronze
medals in international tournaments.
Sandra S. Sundel is the president and CEO of Sun Family Care. She was formerly on
the social work faculty at Florida Atlantic University. She was executive director of
family service agencies in Florida and Texas, and also served as executive director of
group homes for adults with developmental disabilities in Texas. She holds an
MSSW from the University of Louisville and a PhD in clinical social work from the
University of Texas at Arlington. She has taught courses in social work practice,
behavior therapy, interpersonal communication, and group work, and has conducted
numerous workshops and seminars. She has consulted with corporations,
government agencies, and nonprofit organizations on organizational behavior
management and interpersonal communication in the workplace. As mental health
consultants to the United Nations High Commissioner for Refugees (UNHCR) in
Cyprus, Sandra and Martin designed and implemented a psychosocial rehabilitation
project to foster collaborative relationships between Greek and Turkish Cypriots.
Innehållsförteckning
Preface To the Student: How to Use This Book Course Materials Case Examples The Chapters The Course Posttest Scoring the Pretest and Posttests Recommendations for Instructor Use of This Book Introduction Three Generations of Behavior Change Origins of the Behavior Change Approach Characteristics of the Behavior Change Approach Applications of the Behavior Change Approach Journals and Professional Organizations References and Resources 1. Specifying Behavior Objectives Overt and Covert Behaviors Clarifying Vague Terms and Fuzzy Language Target Behavior Measuring Response Strength The Behavioral Assessment Approach Summary Suggested Activities Chapter Posttest Questions References and Resources 2. Positive Reinforcement Objectives Reinforcing Stimuli Examples of Positive Reinforcement Reinforcers and Rewards Factors That Influence Reinforcer Effectiveness How to Identify Potential Reinforcers Reinforcer Sampling How to Evaluate the Effect of a Stimulus as a Positive Reinforcer Reinforcement of Behavior: Social, Tangible, and Self-Administered Summary Suggested Activities Chapter Posttest Questions References and Resources 3. Extinction Objectives Decreasing Response Strength Single-Subject Evaluation Designs Applying Extinction to Decrease Undesired Behaviors Ethical Considerations Effects of Extinction Consistency and Control of Reinforcement Positive Reinforcement of Appropriate Behaviors Spontaneous Recovery Summary Suggested Activities Chapter Posttest Questions References and Resources 4. Positive Reinforcement Contingencies Objectives Behavioral Contingencies and Positive Reinforcement Contingency Contracting Accidental Reinforcement Contingencies Self-Control Reinforcement Contingencies The Premack Principle Continuous and Intermittent Reinforcement Characteristics of Various Schedules of Reinforcement Matching Law Summary Suggested Activities Chapter Posttest Questions References and Resources 5. Shaping and Response Differentiation Objectives Differential Reinforcement Response Class The DRO Procedure Shaping With Successive Approximations Summary Suggested Activities Chapter Posttest Questions References and Resources 6. Stimulus Control: Discrimination and Generalization Objectives Antecedents The Discrimination Training Procedure Stimulus Control Rule-Governed Behavior Stimulus Fading Stimulus Generalization Summary Suggested Activities Chapter Posttest Questions References and Resources 7. Conditioned Reinforcement and Chaining Objectives Conditioned Reinforcement Simple and Generalized Conditioned Reinforcers Establishing a Conditioned Reinforcer Reinforcement History Establishing Relationships With Clients Fading Out Unconditioned Reinforcers Token Economy Stimulus-Response Chains Developing New Behaviors Using Chaining Response Priming Summary Suggested Activities Chapter Posttest Questions References and Resources 8. Modeling and Imitation Objectives The Role of Modeling and Imitation in the Acquisition of Behaviors Modeling Versus Shaping The Modeling Plus Positive Reinforcement Procedure Social Skills Training Assertiveness Training Summary Suggested Activities Chapter Posttest Questions References and Resources 9. Punishment Objectives Punishment Defined Aversive Stimuli and Punishers Positive Punishment Physical Punishment and Spanking Negative Punishment Extinction and Negative Punishment Time-Out Maximizing the Effectiveness of Punishment Overcorrection Punishment and Self-Control Disadvantages of Punishment Alternatives to Punishment The Future of Punishment Summary Suggested Activities Chapter Posttest Questions References and Resources 10