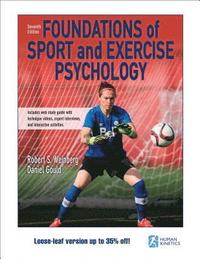 Fler böcker inom
Format

Loose leaf

Språk

Engelska

Antal sidor

680

Utgivningsdatum

2018-11-16

Upplaga

Seventh Edition

Förlag

Dimensioner

279 x 218 x 30 mm

Vikt

1839 g

Antal komponenter

1

ISBN

9781492570592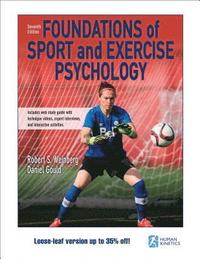 Foundations of Sport and Exercise Psychology 7th Edition With Web Study Guide-Loose-Leaf Edition
Skickas från oss inom 1-2 vardagar.

Fri frakt över 249 kr för privatkunder i Sverige.
This is the loose-leaf version of Foundations of Sport and Exercise Psychology, Seventh Edition With Web Study Guide, which offers students a lower-priced printed version of the text. Other binding options are also available. The leading textbook in sport and exercise psychology is back in a revised seventh edition, and it again raises the bar with its engaging introduction to the field. Foundations of Sport and Exercise Psychology, Seventh Edition With Web Study Guide, offers both students and new practitioners a comprehensive view of sport and exercise psychology, drawing connections between research and practice and capturing the excitement of the world of sport and exercise. Internationally respected authors Robert Weinberg and Daniel Gould continue to gather and incorporate feedback from teachers and students with each edition, building a text that addresses emerging trends and remains relevant and up to date. In-depth learning aids have been refreshed, including chapter objectives and summaries, sidebars, key terms, key points, and discussion questions to help students think more critically about applying the material. Other updates to the seventh edition include the following: A new chapter on diversity and inclusion addressing topics related to gender, ethnicity, race, sexual orientation, and disability New content on popular and emerging areas such as grit, mindfulness, organizational sport psychology, and technology in sport psychology Additional modern-day practical examples and anecdotes to better illustrate concepts Updated references, including more contemporary sources Foundations of Sport and Exercise Psychology provides a unique learning experience, taking students on a journey through the field's origins, key concepts, research development, and career options available in the field. After this introduction to the field, the text shifts focus to personal factors that affect performance and behavior in sport, physical education, and exercise settings. It augments those concepts by factoring in situational circumstances that influence behavior, group interaction and processes, and the use of psychological techniques to help people perform more effectively. Students will gain critical insights into the role psychological factors play in health and exercise and the psychological consequences of participation in sport and physical activity, including children's psychological development through sport participation, aggression in sport, and moral development and good sporting behavior in sport and physical activity contexts. The related web study guide serves as an important tool to support the educational journey. With over 100 engaging activities, it allows students to apply the concepts from the text by completing activities for each chapter that encourage critical thinking. Many of the study guide activities offer compelling audio and video clips that reveal how sport psychology consultants communicate with athletes and coaches to improve athletic experiences. These clips feature esteemed experts discussing concepts that they have studied and refined during their professional careers. To further emphasize practical application, the activities can be integrated throughout a full semester, turning course units into a unified whole that builds upon itself for greater understanding of the field. In addition to the web study guide, instructors will have access to a full suite of ancillaries: an instructor guide, test package, chapter quizzes, and presentation package plus image bank. Plus instructors have access to an instructor video library featuring over 120 video clips. Note: The web study guide is included with all new print books and some ebooks. For ebook formats that do not provide access, the web study guide is available separately.
Passar bra ihop
+
Fler böcker av Robert Weinberg
Robert Weinberg, Daniel Gould
Övrig information
Robert S. Weinberg, PhD, is a professor in the department of physical education, health, and sport studies at Miami University in Oxford, Ohio. He has more than 40 years of experience in both the scholarly and applied aspects of sport psychology. He has written numerous research articles, including more than 150 refereed articles in scholarly journals, as well as books, book chapters, and applied articles for coaches, athletes, and exercisers. Weinberg was voted one of the top 10 sport psychologists in North America by his peers. He is past president of the North American Society for the Psychology of Sport and Physical Activity (NASPSPA) and of the Association for Applied Sport Psychology (AASP). He is also a certified AASP consultant, consulting with athletes of all sports and ages. Weinberg was named a Distinguished Scholar at Miami University in 2005. In addition, he was the editor of the Journal of Applied Sport Psychology and was voted Outstanding Faculty Member in the School of Education and Allied Professions at Miami University in 1998. In his leisure time, he enjoys playing tennis, traveling, and gardening. Daniel Gould, PhD, is the director of the Institute for the Study of Youth Sports and a professor in the department of kinesiology at Michigan State University. He has taught sport psychology for more than 35 years. An active researcher, Gould was the founding coeditor of The Sport Psychologist and has published more than 200 articles on sport psychology. He is best known for conducting applied research that links research and practice. Gould was voted one of the top 10 sport psychology specialists in North America and is internationally known, having presented his work in more than 30 countries. When on the faculty of the University of North Carolina at Greensboro, he received the university's coveted Alumni Teaching Excellence Award, an all-campus teaching honor. He is certified as a consultant by the Association for Applied Sport Psychology (AASP) and is a member of the United States Olympic Committee Sport Psychology Registry. Gould is the former president of AASP and SHAPE America's Sport Psychology Academy. In addition to teaching sport psychology, he is extensively involved in coaching education, from youth sports to Olympic competition. He also serves as a mental skills training consultant for professional, Olympic, and world-class athletes. In recent years he has served as an executive coach for business leaders interested in enhancing their organizations' performance. He lives in Okemos, Michigan, with his wife, Deb. He is a proud father of two sons, Kevin and Brian. In his leisure time, he enjoys swimming, doing fitness activities, and spending time with his family.
Innehållsförteckning
Part I. Beginning Your Journey Chapter 1. Welcome to Sport and Exercise Psychology Defining Sport and Exercise Psychology Specializing in Sport Psychology Distinguishing Between Two Specialties Reviewing the History of Sport and Exercise Psychology Focusing on Sport and Exercise Psychology Around the World Learning Aids Chapter 2. Science and Professional Practice of Sport and Exercise Psychology Bridging Science and Practice Choosing From Many Sport and Exercise Psychology Orientations Understanding Present and Future Trends Learning Aids Part II. Learning About Participants Chapter 3. Personality and Sport Defining Personality Understanding Personality Structure Studying Personality From Six Viewpoints Measuring Personality Using Psychological Measures Focusing on Personality Research Examining Cognitive Strategies and Success Identifying Your Role in Understanding Personality Learning Aids Chapter 4. Motivation Defining Motivation Reviewing Three Approaches to Motivation Building Motivation With Five Guidelines Developing a Realistic View of Motivation Understanding Achievement Motivation and Competitiveness Identifying Four Theories of Achievement Motivation Developing Achievement Motivation and Competitiveness Using Achievement Motivation in Professional Practice Learning Aids Chapter 5. Arousal, Stress, and Anxiety Defining Arousal and Anxiety Measuring Arousal and Anxiety Defining Stress and Understanding the Stress Process Identifying Sources of Stress and Anxiety Connecting Arousal and Anxiety to Performance Applying Knowledge to Professional Practice Learning Aids Part III. Understanding Sport and Exercise Environments Chapter 6. Competition and Cooperation Defining Competition and Cooperation Viewing Competition as a Process Reviewing Studies of Competition and Cooperation Determining Whether Competition Is Good or Bad Enhancing Cooperation Learning Aids Chapter 7. Feedback, Reinforcement, and Intrinsic Motivation Principles of Reinforcement Approaches to Influencing Behavior Guidelines for Using Positive Reinforcement Guidelines for Using Punishment Behavior Modification in Sport Behavior Modification and Cognitive Behavior Therapy Intrinsic Motivation and Extrinsic Rewards Cognitive Evaluation Theory How Extrinsic Rewards Affect Intrinsic Motivation in Sport Strategies for Increasing Intrinsic Motivation Flow-A Special Case of Intrinsic Motivation Learning Aids Chapter 8. Diversity and Inclusion Definition of Culture, Diversity, Inclusion, and Cultural Competence Diversity and Inclusion Research in Sport and Exercise Benefits of Diversity and Inclusion Strategies for Diversifying Sport and Physical Activity and Creating Inclusive Environments Learning Aids Part IV. Focusing on Group Processes Chapter 9. Team Dynamics and Cohesion Recognizing the Difference Between Groups and Teams Identifying Three Theories of Group Development Understanding Group Structure Creating an Effective Team Climate Maximizing Individual Performance in Team Sports Definition of Cohesion Conceptual Model of Cohesion Tools for Measuring Cohesion Relationship Between Cohesion and Performance Other Factors Associated With Cohesion Strategies for Enhancing Cohesion Guidelines for Building Team Cohesion Learning Aids Chapter 10. Leadership Definition of Leadership Approaches to Studying Leadership Sport-Oriented Interactional Approaches to Leadership Research on the Multidimensional Model of Sport Leadership Leadership Training Interventions Four Components of Effective Leadership The Art of Leadership Learning Aids Chapter 11. Communication Understanding the Communication Process Sending Messages Effectively Receiving Messages Effectively Recognizing Breakdowns in Communicati