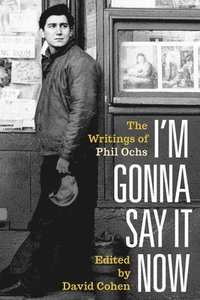 Fler böcker inom
Format

Inbunden (Hardback)

Språk

Engelska

Antal sidor

280

Utgivningsdatum

2020-06-15

Förlag

Medarbetare

Cohen, David (red.)

Illustrationer

2 Halftones, color; 24 Halftones, black and white; 27 Illustrations, color; 30 Illustrations, black

Dimensioner

229 x 152 x 28 mm

Vikt

605 g

Antal komponenter

1

ISBN

9781493051472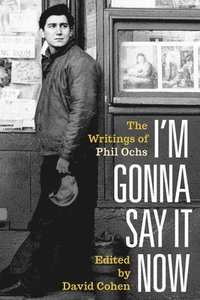 I'm Gonna Say It Now
The Writings of Phil Ochs
Bokens leverantör håller tillfälligt stängt på grund av Coronapandemin. Klicka "Bevaka" för att få ett mejl när boken går att beställa igen.
Phil Ochs is known primarily as a songwriter; however, his oeuvre extends far beyond that-to short stories, poetry, criticism, journalism, and satire, all of which are included in I'm Gonna Say It Now: The Writings of Phil Ochs, which represents the majority of what Ochs wrote outside of his large circle of songs. This comprehensive tome presents another side of the famous topical songwriter, showcasing his prose and poetry from across the full span of his life. From prizewinning stories and clear-eyed reporting while a journalism major in college to music criticism, satires, and political pieces written while part of the burgeoning folk scene of New York City in the early 1960s and during the tumultuous Vietnam War era; from sharp and lyrical poems (many previously unpublished) to reviews, features, and satires written while living in Los Angeles and the final, elegiac coda writings from near the end of his life-I'm Gonna Say It Now presents the complete picture. The book includes many rare or nearly impossible to find Ochs pieces, as well as previously unpublished works sourced from the unique holdings in the Ochs Archives at the Woody Guthrie Center. Additionally, never-before-seen reproductions from Ochs's journals, notebooks, and manuscripts provide a closer look at the hand of the artist, giving a deeper context and understanding to his writings. Never before published photographs of Ochs bestow the visual cherry on top.
Fler böcker av författarna
Carl Rogers

David Cohen

Carl Rogers was the psychiatrist who pioneered the practice of client-centred therapy, revolutionising the practice of psychotherapy, yet his own life was far from ideal. This biography explores his life - including his tortured marriage, his use ...
Recensioner i media
Phil Ochs has one of those minds. He wrote with such clear thinking, his words lift boulders off hypocracy's hide, and his wit whittles the readers distractions into justice.--Sean Penn Phil Ochs told the truth before it was ready to be accepted, before it was politically expedient. He was the kind of truth teller that made liberal allies nervous because his truth demanded an accountability to their own compromise, their own self serving pragmatism.--Tim Robbins, American actor, screenwriter, director, and producer Everything Phil Ochs wrote, including this new collection of journalism, poetry and calls to action, exudes great humanity, heart, and brilliant humor. He was and continues to be a great blessing.--Anne Lamott, American novelist and non-fiction writer I grew up listening to Phil Ochs, and his music had as much to do with my political awakening as did reading Rachel Carson or Allen Ginsberg, listening to John Lennon or Joan Baez or being given a chance to laugh at all the madness via Hunter S. Thompson or Lenny Bruce. Phil Ochs was that combination -- heart, rage, satire, a call to action, a moment of peace. When he died before his time I remember feeling crushed yet determined not for any of us to give up. The stakes are too high. That he still speaks to us today is a monument to his art and his enduring soul.--Michael Moore, American documentary filmmaker Phil Ochs was much more than simply a songwriter. He wrote obsessively, because he had to--from his heart, his soul, his conscience. This collection of Phil's many and varied writings throughout his life sheds new light on his brilliant mind.--Joan Baez, American singer, songwriter, musician and activist. The words (and melodies) of Phil Ochs have inspired me for over 50 years. They are "dances of delight" but also remind us that: "Can't add my name into the fight when I'm gone, so I guess I better do it while I'm here."--Russ Feingold, Former US Senator, WI As a teenager my life was changed by Phil Ochs' anti-war songs and his unique ability to combine fierce progressive ideology with a sentimental heart. This remarkable collection of his prose is a reminder that Ochs was simultaneously one of the intellectual leaders of the counter-culture, a writer whose moral clarity was balanced by humor, irreverence, and wisdom. I'm Gonna Say It Now is not merely a treasured relic for Ochs completists, it reveals a unique window into a pivotal moment in American history.--Danny Goldberg, Author of Serving The Servant: Remembering Kurt Cobain and In Search Of The Lost Chord:1967 and the Hippie Idea As much as has been written about the sixties, it's arguable that no one experienced that defining moment in American history more personally than Phil Ochs .--Steve Earle, American singer, songwriter, record producer, author and actor. Phil Ochs was a born writer. He played guitar because that was the language his generation was speaking. Today, his questioning voice chimes as clearly as it ever did.--Billy Bragg, British singer, songwriter, and activist Phil Ochs was a tireless crusader for justice. He is one of the all-time great activist troubadours. With wit and fire, his songs skewered the evildoers of his day and remain perfect examples of how to fight the power with guitar in hand.--Tom Morello, American musician, singer, songwriter, actor and political activist Phil Ochs, Joan Baez, and Bob Dylan were the most important and influential musical voices of the Sixties protest movement that encompassed civil rights, anti-war, feminism, political reform, and a general questioning of blind faith in authority. What made Phil stand out was not just his passion for social justice as expressed in his seminal songs "I Ain't Marchin' Anymore" and "There But for Fortune," or his sardonic wit that shined an unyielding light on society's petty hypocrisies as in "Love Me, I'm a Liberal" and "Outside of a Small Circle of Friends,"
Bloggat om I'm Gonna Say It Now
Övrig information
Phil Ochs was born in El Paso, Texas, in 1940. After attending Staunton Military Academy, Ochs became political while a journalism major at Ohio State University. Forsaking his college degree, Ochs moved to New York City in 1962 to join the burgeoning folk scene. Most well known as a topical singer-songwriter, Ochs was also an anti-Vietnam War and civil rights activist, performing at countless rallies, benefits and marches (authoring the seminal anti-war song "I Ain't Marching Anymore"). Ochs recorded three albums for Elektra Records before moving westward to Los Angeles and A&M Records. Ochs died, by his own hand, in Far Rockaway, Queens, in 1976.