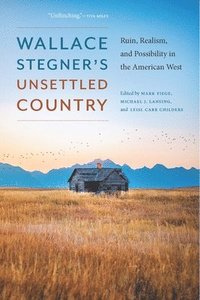 Fler böcker inom
Format

Häftad (Paperback / softback)

Språk

Engelska

Antal sidor

344

Utgivningsdatum

2024-02-01

Förlag

Medarbetare

Fiege, Mark (ed.), Carr Childers, Leisl (ed.), Lansing, Michael J. (ed.)

Illustrationer

27 photographs, 2 illustrations, 2 maps, index

Antal komponenter

1

ISBN

9781496236173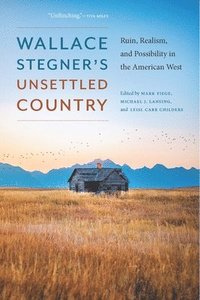 Wallace Stegner's Unsettled Country
Ruin, Realism, and Possibility in the American West
Ännu ej utkommen – klicka "Bevaka" för att få ett mejl så fort boken boken går att köpa.
Wallace Stegner is an iconic western writer. His works of fiction, including the Pulitzer Prizewinning Angle of Repose and Big Rock Candy Mountain, as well as his nonfiction books and essays introduced the beauty and character of the American West to thousands of readers. Wallace Stegners Unsettled Country assesses his life, work, and legacy in light of contemporary issues and crises. Along with Stegners achievements, the contributors show how his failures offer equally crucial ways to assess the past, present, and future of the region. Drawing from history, literature, philosophy, law, geography, and park management, the contributors consider Stegners racial liberalism and regional vision, his gendered view of the world, his understandings of conservation and the environment, his personal experience of economic collapse and poverty, his yearning for community, and his abiding attachment to the West. Wallace Stegners Unsettled Country is an even-handed reclamation of Stegners enduring relevance to anyone concerned about the American Wests uncertain future.
Fler böcker av författarna
Recensioner i media
Great writers present us with gifts as well as dilemmas. In this unflinching set of essays by scholars and practitioners of inclusive western history, Wallace Stegner is presented as bearing both. From various angles and social positions the contributors in this enlightening collection examine Stegners ideas, texts, political commitments, blind spots, and legacies, revealing not only Stegners mixed impact on American literature and culture but also how his critical vision can spark hope in these troubled times.Tiya Miles, author of All That She Carried: The Journey of Ashleys Sack, a Black Family Keepsake, winner of the National Book Award Reappraisal is the perpetual destiny of artists and writers, so revisiting the life and messages of Wallace Stegner, the quintessential literary voice of the American West, is inevitable. In a collection that transports Stegner into the twenty-first century, the gifts the famed writer bequeathed usbeautiful expression, insights that can shade into horror, and yet hope for the futureare on display from every contributor. For all who treasure Stegners prose, his promotion of the art of writing, and his immersion in epic environmental battles, this smart, cutting-edge anthology may be the best book about him yet.Dan Flores, New York Times best-selling author of Coyote America and Wild New World Wallace Stegner was one of the greatest original minds America ever produced, and I think hed be quietly happy to see his work expanded, challenged, and built on to great effect in this smart volume. Its a very high tribute.Bill McKibben, author of Falter: Has the Human Game Begun to Play Itself Out? The contributors to Wallace Stegners Unsettled County revisit Stegners work in a critical and thoughtful way that reminds us of the brilliance of Stegner without glossing over his many faults as an observer of the American West. By drawing on inspiration from Stegners poignant observations, in these essays we find insight into what makes the American West such a complex and compelling region of study. As the authors remind us, only by dealing critically with our past as an unsettled region can we hope to make a better future.Mara E. Montoya, author of Translating Property: The Maxwell Land Grant and the Conflict over Land in the American West, 18401900 To this day, Wallace Stegner continues to stand as the greatest writer on the modern American West. Wallace Stegners Unsettled Country captures his life and prominence beautifully. . . . As the authors ably show, his understanding of the past and vision for the future was based on his lifetime out on the ground in the arid West and his impeccable research into history, literature, and public policy. Stegners work was perhaps the most single important body of thought during the congressional action of the 1970s that is still the heart of modern conservation policy.Charles Wilkinson, author of Crossing the Next Meridian: Land, Water, and the Future of the West
Övrig information
Mark Fiege is a professor of history and Wallace Stegner Chair in Western American Studies at Montana State University. He is the author of The Republic of Nature: An Environmental History of the United States. Michael J. Lansing is a professor of history at Augsburg University. He is the author of Insurgent Democracy: The Nonpartisan League in North American Politics. Leisl Carr Childers is an associate professor of history at Colorado State University. She is the author of The Size of the Risk: Histories of Multiple Use in the Great Basin.
Innehållsförteckning
List of Illustrations Acknowledgments Prologue: Wallace Stegner in His Time and in Ours Mark Fiege, Michael J. Lansing, and Leisl Carr Childers Openings 1. Wallace Stegners Unsettled Country: Ruin, Realism, and Possibility in the American West Mark Fiege Ruin 2. The American West as Exploited Space: From One Nation to Poston Alexandra Hernandez 3. Creation as Erasure: Wallace Stegner and the Making and Unmaking of Regions Michael J. Lansing 4. Exploits against the Effete: Wallace Stegner and Bernard DeVoto, Men of Western Letters Flannery Burke 5. Returning to the Best Idea We Ever Had Michael Childers Realism 6. The Legacies of Wallace Stegner and the Stegner Fellowships in a Changing American West Nancy S. Cook 7. Sludge in the Cup: Wallace Stegners Philosophical Legacy and the Hard Job Ahead Michael A. Brown 8. Hope in Public Lands: A Conversation Leisl Carr Childers and Adam M. Sowards Possibility 9. The Education of Wallace Stegner Melody Graulich 10. Revisiting The Marks of Human Passage: Lessons from the Dinosaur and Bears Ears National Monument Controversies Robert B. Keiter 11. The Geography of Hope in an Age of Uncertainty Paul Formisano 12. The American West as Unlivable Space: Hope, Despair, and Adaptation in an Era of Climate Chaos Robert M. Wilson Epilogue: Richer for This Sorrow Mark Fiege, Michael J. Lansing, and Leisl Carr Childers Contributors Index