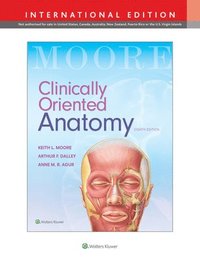 Fler böcker inom
Format

Häftad (Paperback / softback)

Språk

Engelska

Antal sidor

1168

Utgivningsdatum

2017-09-01

Upplaga

Eighth, International Edition

Förlag

Dimensioner

275 x 215 x 45 mm

Vikt

2816 g

Komponenter

,

ISBN

9781496354044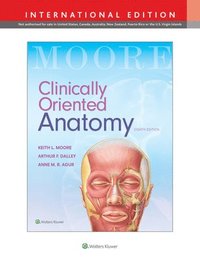 Clinically Oriented Anatomy
Skickas inom 3-6 vardagar.
Fri frakt inom Sverige för privatpersoner.
The world's most trusted clinically focused anatomy text! Renowned for comprehensive coverage, the best-selling Clinically Oriented Anatomy guides students from initial anatomy and foundational science courses through clinical training and practice. The eighth edition reflects significant new information and updates and maintains the highest standards for scientific and clinical accuracy. Comprehensive updates reflect changes in the clinical application of anatomy as well as new imaging technologies, focusing on the anatomy that students need to know. Extensively revised "Clinical Blue Boxes" explore the practical applications of anatomy, and helpful icons distinguish the type of clinical information covered in each. Clinically relevant anatomy focuses on physical diagnosis, interpretation of diagnostic imaging, and understanding the anatomical basis of emergency medicine and general surgery. Insightfully rendered, anatomically accurate illustrations, with updates throughout , make this book an aesthetically rewarding learning resource. Combined with many photographs and medical images, these stunning visuals facilitate comprehension of anatomical concepts and retention of "mental images" of anatomical structures. New and updated medical imaging and integrated surface anatomy within each chapter demonstrates the relationship between anatomy, physical examination, and diagnosis. Expanded "Overview and Basic Concepts" chapter includes functional systemic anatomy summaries and introduces approaches to studying anatomy, terminology, imaging, and more. Inclusion of new sections describing the enteric nervous system (considered by some as a "second brain") and its unique role in the innervation of the digestive system gives students cutting-edge insight into this significant scientific discovery. A more realistic approach to the musculoskeletal system explores the action and use of muscles and muscle groups in daily activities, emphasizing gait and grip. "Bottom Line" boxes summarize information to facilitate ongoing review and underscore the big-picture viewpoint. Clinical Blue Box animations, case studies, and interactive multiple-choice questions online at thePoint.lww.com facilitate review and self-testing.
Passar bra ihop
+
Kundrecensioner
Det finns 1 recension av Clinically Oriented Anatomy. Har du också läst boken?
Sätt ditt betyg »
Användbar

En bra bok som ger vad den lovar, fyllde definitivt en funktion under anatomikursen jag läste och hade många intressanta kliniska perspektiv. Man bör dock vara medveten om att alla anatomiska termer är på engelska samt att en separat bok behövs för neuroanatomin, som här endast är översiktligt presenterad.
Bloggat om Clinically Oriented Anatomy
Innehållsförteckning
Contents Preface / Acknowledgments / List of Clinical Blue Boxes / Figure Credits / 1 Overview and Basic Concepts / APPROACHES TO STUDYING ANATOMY / Regional Anatomy / Systemic Anatomy / Clinical Anatomy / ANATOMICOMEDICAL TERMINOLOGY / Anatomical Position / Anatomical Planes / Terms of Relationship and Comparison / Terms of Laterality / Terms of Movement / ANATOMICAL VARIATIONS / INTEGUMENTARY SYSTEM / FASCIAS, FASCIAL COMPARTMENTS, BURSAE, AND POTENTIAL SPACES / SKELETAL SYSTEM / Cartilage and Bones / Classification of Bones / Bone Markings and Formations Bone Development / Vasculature and Innervation of Bones / Joints / MUSCLE TISSUE AND MUSCULAR SYSTEM / Types of Muscle (Muscle Tissue) / Skeletal Muscles / Cardiac Striated Muscle / Smooth Muscle / CARDIOVASCULAR SYSTEM / Vascular Circuits / Blood Vessels / LYMPHOID SYSTEM / NERVOUS SYSTEM / Central Nervous System / Peripheral Nervous System / Somatic Nervous System / Autonomic Nervous System (ANS) / MEDICAL IMAGING TECHNIQUES / Conventional Radiography / Computed Tomography / Ultrasonography / Magnetic Resonance Imaging / Nuclear Medicine Imaging / 2 Back / OVERVIEW OF BACK AND VERTEBRAL COLUMN / VERTEBRAE / Structure and Function of Vertebrae / Regional Characteristics of Vertebrae / Ossification of Vertebrae / Variations in Vertebrae / VERTEBRAL COLUMN / Joints of Vertebral Column / Movements of Vertebral Column / Curvatures of Vertebral Column / Vasculature of Vertebral Column / Nerves of Vertebral Column / MUSCLES OF BACK / Extrinsic Back Muscles / Intrinsic Back Muscles / Surface Anatomy of Back Muscles / Suboccipital and Deep Neck Muscles / CONTENTS OF VERTEBRAL CANAL / Spinal Cord / Spinal Nerves and Nerve Roots / Spinal Meninges and Cerebrospinal Fluid (CSF) / Vasculature of Spinal Cord and Spinal Nerve Roots / 3 Upper Limb / OVERVIEW OF UPPER LIMB / COMPARISON OF UPPER AND LOWER LIMBS / BONES OF UPPER LIMB / Clavicle / Scapula / Humerus / Bones of Forearm / Bones of Hand / Surface Anatomy of Upper Limb Bones / FASCIA, EFFERENT VESSELS, CUTANEOUS INNERVATION, AND MYOTOMES OF UPPER LIMB / Fascia of Upper Limb / Venous Drainage of Upper Limb / Lymphatic Drainage of Upper Limb / Cutaneous Innervation of Upper Limb / Motor Innervation (Myotomes) of Upper Limb / ECTORAL AND SCAPULAR REGIONS / Anterior Axio-appendicular Muscles / Posterior Axio-Appendicular and Scapulohumeral Muscles / Surface Anatomy of Pectoral, Scapular, and Deltoid Regions / Axillary Artery / Axillary Vein / Axillary Lymph Nodes / Brachial Plexus / ARM / Muscles of Arm / Brachial Artery / Veins of Arm / Nerves of Arm / Cubital Fossa / Surface Anatomy of Arm and Cubital Fossa / FOREARM / Compartments of Forearm / Muscles of Forearm / Arteries of Forearm / Veins of Forearm / Nerves of Forearm / Surface Anatomy of Forearm / HAND / Fascia and Compartments of Palm / Muscles of Hand / Long Flexor Tendons and Tendon Sheaths in Hand / Arteries of Hand / Veins of Hand / Nerves of Hand / Surface Anatomy of Hand / JOINTS OF UPPER LIMB / Sternoclavicular Joint / Acromioclavicular Joint / Glenohumeral Joint / Elbow Joint / Proximal Radio-Ulnar Joint / Distal Radio-Ulnar Joint / Wrist Joint / Intercarpal Joints / Carpometacarpal and Intermetacarpal Joints / Metacarpophalangeal and Interphalangeal Joints / 4 Thorax / OVERVIEW OF THORAX / THORACIC WALL / Skeleton of Thoracic Wall / Thoracic Apertures / Joints of Thoracic Wall / Movements of Thoracic Wall / Muscles of Thoracic Wall / Fascia of Thoracic Wall / Nerves of Thoracic Wall / Vasculature of Thoracic Wall / Breasts / Surface Anatomy of Thoracic Wall / VISCERA OF THORACIC CAVITY / Pleurae, Lungs, and Tracheobronchial Tree / Overview of Mediastinum / Pericardium / Heart / Superior Mediastinum and Great Vessels / Posterior Mediastinum / Anterior Mediastinum / Surface Anatomy of Heart and Mediastinal Viscera / Auscultatory Areas / 5 Abdomen / OVERVIEW: WALLS, CAVITIES, REGIONS, AND PLANES / ANTEROLATERAL ABDOMINAL WALL / Fascia of Anterolateral Abdominal Wall