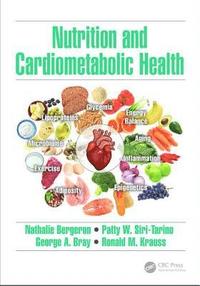 Fler böcker inom
Format

Inbunden (Hardback)

Språk

Engelska

Antal sidor

624

Utgivningsdatum

2017-11-08

Förlag

Illustrationer

four-page color insert, figs. 10.2, 15.1, 15.2, 30.1, follows page 296; 90 Illustrations, black and

Dimensioner

260 x 184 x 38 mm

Vikt

1270 g

Antal komponenter

1

ISBN

9781498704267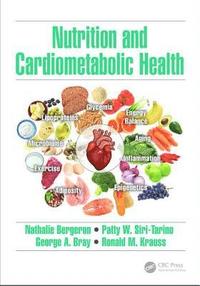 Nutrition and Cardiometabolic Health
Skickas inom 7-10 vardagar.
Fri frakt inom Sverige för privatpersoner.
Nutrition plays a key role in prevention of cardiovascular disease, the leading cause of death worldwide. Diet influences a broad spectrum of cardiometabolic risk factors, notably a cluster including excess adiposity, dyslipidemia, impaired glucose metabolism and high blood pressure. In the face of the rapidly increasing incidence of obesity and diabetes, maintaining cardiometabolic health through adoption of a healthy lifestyle is a top public health priority. In this book, Nutrition and Cardiometabolic Health, international experts present state-of-the-art scholarly reviews of dietary and lifestyle effects on metabolic systems associated with cardiovascular health and disease. It covers a broad range of topics including biological and behavioral processes regulating food intake; lifestyle and surgical approaches to weight loss; nutritional considerations for optimal cardiometabolic health across the lifespan; the relationship of macronutrients, whole foods and dietary patterns to diabetes and cardiovascular disease; and diet as a modulator of gene expression, epigenetics and the gut microbiome and the relationship of these traits to disorders of metabolism. This book provides its readers with an authoritative view of the present state of knowledge of dietary effects on cardiometabolic health and will be of interest to nutrition and healthcare professionals alike.
Passar bra ihop
+
Bloggat om Nutrition and Cardiometabolic Health
Övrig information
Nathalie Bergeron is Professor of Biological Sciences at Touro University California College of Pharmacy, and associate staff scientist in the Atherosclerosis Research Program at Children's Hospital Oakland Research Institute. She was trained in dietetics and nutritional biochemistry and graduated from Laval University, Canada, with a PhD in nutrition. She pursued her postdoctoral training at the Cardiovascular Research Institute of the University of California, San Francisco, where she specialized in postprandial lipoprotein metabolism. Dr. Bergeron began her academic career as a Research Professor at Laval University in 1996. She was a visiting professor at the Department of Nutritional Sciences and Toxicology at the University of California, Berkeley, from 2000-2002 and joined Touro University, California College of Pharmacy, at its inception in 2005. At Touro Dr. Bergeron teaches in the areas of pathophysiology of metabolic diseases, as well as nutrition. Dr. Bergeron also holds a Staff Scientist position at Children's Hospital Oakland Research Institute (CHORI). Dr. Bergeron's research is clinical in nature and focuses on dietary composition, with a special emphasis on carbohydrate quantity and quality, and its relationship to features of atherogenic dyslipidemia. Her more recent research activities include looking at variations of the DASH and Mediterranean dietary patterns and their relationship to cardiometabolic health. Over the course of her academic career, she has received research grants from the Medical Research Council of Canada, the Heart and Stroke Foundation of Canada, the American Diabetes Association and the National Institutes of Health, along with investigator-initiated funding from the Dairy Farmers of Canada, the Dairy Research Institute and the Almond Board of California. Patty W. Siri-Tarino is Associate Staff Scientist in the Atherosclerosis Research Program and Program Director of the Family Heart & Nutrition Center at Children's Hospital Oakland Research Institute. She obtained her undergraduate degree in Biology at Tufts University, Master's of Science in Epidemiology at the Netherlands Institute of Health Sciences and PhD in Nutrition and Metabolic Biology at Columbia University where she developed a transgenic mouse model of insulin resistance, obesity and dyslipidemia. Dr. Siri-Tarino began her post-doctoral work by developing and conducting studies in humans aimed at understanding variability in the postprandial response to high-fat meals and the role of cholesterol absorption inhibitors in its modulation. She subsequently worked on dietary intervention studies evaluating macronutrient effects on CVD risk profiles in the context of weight loss and stability as well as studies evaluating genetic effects on energy metabolism at rest and during exercise. Dr. Siri-Tarino has spoken nationally and internationally on the role of diet on lipoprotein profiles as biomarkers of cardiovascular disease and published peer-reviewed journal articles, reviews, book chapters and popular media articles on diet, lifestyle and genetic determinants of heart health. She is interested in community engagement and education. George A. Bray, M.D., MACP, MACE is a Boyd Professor Emeritus at the Pennington Biomedical Research Center of Louisiana State University in Baton Rouge, Louisiana, and Professor of Medicine Emeritus at the Louisiana State University Medical Center in New Orleans. After graduating from Brown University summa cum laude in 1953, Bray entered Harvard Medical School graduating magna cum laude in 1957. His post-doctoral training included an internship at The Johns Hopkins Hospital, Baltimore, MD, a fellowship at the NIH, residence at the University of Rochester, a fellowship at the National Institute for Medical Research in London and at the Tufts-New England Medical Center in Boston. In 1970, he became Director of the Clinical Research Center at the Harbor UCLA Medical Center, and the organiz
Innehållsförteckning
Contents Preface Editors Contributors Section I _Energy Balance, Adiposity, and Cardiometabolic Health Chapter 1 Regulation of Food Intake: The Gut-Brain Axis Surya Panicker Rajeev, Ian W. Seetho, and John P. H. Wilding Chapter 2 Overeating Behavior and Cardiometabolic Health: Mechanisms and Treatments Ashley E. Mason and Frederick M. Hecht Chapter 3 Energy Balance and Regulation of Body Weight: Are All Calories Equal? Kevin D. Hall Chapter 4 Diets for Weight Loss George A. Bray and Patty W. Siri-Tarino Chapter 5 Weight Loss by Surgical Intervention: Nutritional Considerations and Influence on Health Karim Kheniser and Sangeeta Kashyap Chapter 6 Physical Activity and Cardiometabolic Health Andrea M. Brennan and Robert Ross Chapter 7 Diet as a Potential Modulator of Body Fat Distribution Sofia Laforest, Genevi ve B. Marchand, and AndrZ Tchernof Chapter 8 Nutritional Considerations for Cardiometabolic Health in Childhood and Adolescent Obesity Elizabeth Prout Parks, Jennifer Panganiban, Stephen R. Daniels, and Julie Brothers Chapter 9 Aging and Cardiovascular Disease: Lessons from Calorie Restriction Jasper Most and Leanne M. Redman Section II Dietary Fats and Cardiometabolic Health Chapter 10 Omega-3 and Omega-6 Fatty Acids: Roles in Cardiometabolic Disease William S. Harris Chapter 11 Evolving Role of Saturated Fatty Acids Patty W. Siri-Tarino and Ronald M. Krauss Chapter 12 Effects of Dietary Trans Fatty Acids on Cardiovascular Risk Ronald P. Mensink Section III _Dietary Carbohydrates and Cardiometabolic Health Chapter 13 Epidemiologic and Mechanistic Studies of Sucrose and Fructose in Beverages and Their Relation to Obesity and Cardiovascular Risk George A. Bray Chapter 14 Effects and Mechanisms of Fructose-Containing Sugars in the Pathophysiology of Metabolic Syndrome Kimber L. Stanhope and Peter J. Havel Chapter 15 Dietary Carbohydrate Restriction in the Management of NAFLD and Metabolic Syndrome Grace Marie Jones, Kathleen Mulligan, and Jean-Marc Schwarz Chapter 16 Dietary Starches and Grains: Effects on Cardiometabolic Risk Nathalie Bergeron and Ronald M. Krauss Section IV Dietary Protein and Cardiometabolic Health Chapter 17 Interaction of Dietary Protein and Energy Balance Eveline A. Martens, Richard D. Mattes, and Margriet S. Westerterp-Plantenga Chapter 18 A Protein-Centric Perspective for Skeletal Muscle Metabolism and Cardiometabolic Health Donald K. Layman Chapter 19 Protein Sources, CVD, Type 2 Diabetes, and Total MortalityPeter Clifton Chapter 20 Consumption of Foods, Food Groups, and Cardiometabolic Risk Edward Yu and Frank B. Hu Chapter 21 Dietary Patterns and Cardiometabolic Disease Elizabeth M. Cespedes Feliciano and Frank B. Hu Chapter 22 The Mediterranean Diet to Prevent Type 2 Diabetes and Cardiovascular Disease Michel de Lorgeril Chapter 23 The DASH Diet Catherine M. Champagne Chapter 24 Nut Consumption and Coronary Heart Disease (CHD) Risk and Mortality Christina Link, Alyssa Tindall, Jordi Salas-Salvado, Caitlin Lynch, and Penny Kris-Etherton Chapter 25 Dairy Product Consumption, Dairy Fat, and Cardiometabolic Health Benoit Lamarche Chapter 26 Paleolithic Diets Staffan Lindeberg, Maelan Fontes Villalba, Pedro Carrera-Bastos, and Lynda Frassetto Chapter 27 Fasting Intermittently or Altering Meal Frequency: Effects on Plasma Lipids John F. Trepanowski and Krista A. Varady Section VI Other Nutritional Influences of Cardiometabolic Health Chapter 28 Early-Life Nutrition, Epigenetics, and Later Cardiometabolic Health Mark H. Vickers, Clare M. Reynolds, and Clint Gray Chapter 29 Gene-Diet Interactions Silvia Berciano and Jose M. Ordovas Chapter 30 Gut Microbiome: Its Relationship to Health and Its Modulation by Diet Brian J. Bennett and Katie A. Meyer Chapter 30 Gut Microbiome: Its Relationship to Health and Its Modulation by Diet Brian J.