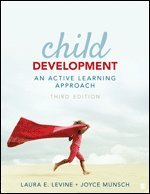 Fler böcker inom
Format

Häftad (Paperback)

Språk

Engelska

Antal sidor

760

Upplaga

3

Förlag

Medarbetare

Munsch, Joyce

Illustrationer

illustrations

Dimensioner

279 x 215 x 38 mm

Vikt

544 g

Antal komponenter

1

ISBN

9781506330693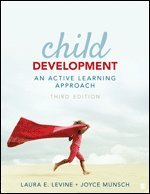 Child Development
An Active Learning Approach
Fåtal ex i lager. Skickas inom 1-2 vardagar.
Fri frakt inom Sverige för privatpersoner.
Finns även som
Skickas inom 3-6 vardagar
In the Third Edition of the topically organized Child Development: An Active Learning Approach, authors Laura E. Levine and Joyce A. Munsch invite students to take an active journey toward understanding the latest findings from the field of child development. Using robust pedagogical tools built into the chapter narratives, students are challenged to confront myths and misconceptions, participate in real-world activities with children and independently, and utilize video resources and research tools to pursue knowledge and develop critical thinking skills on their own.

This new edition covers the latest findings on developmental neuroscience, positive youth development, the role of fathers, and more, with topics of diversity and culture integrated throughout.

More than a textbook, this one-of-a-kind resource will continue to serve students as they go on to graduate studies, to work with children and adolescents professionally, and to care for children of their own.

 
Passar bra ihop
+
Recensioner i media
"Test Your Knowledge is a good introduction to inform students of what they do not know; thereby reinforcing their need to READ the chapter!"



"I appreciate this feature [Test Your Knowledge] because it sets the stage for learning and activates prior knowledge."
"Very engaging and effective. Attention grabber. The questions/your answers stick with you as you read the chapter allowing one to either confirm or change their thinking."
"I really like the learning goals and the end of chapter summaries. With so much content, it is helpful to have a reminder of the most important points from the chapter at the end."
"I really appreciated the Active Learning Exercises! Wow. These are probably the best that I have seen for these. I also appreciated the focus on careers, as well as being a good consumer of research…. I was especially impressed with the Test Your Knowledge openers. I could envision myself using these for each chapter as a discussion starter in class."
"The Active Learning sections are particularly engaging. I believe students will really enjoy doing these on their own, and it is also something that I can facilitate in the classroom…. The Test Your Knowledge section is also a favorite of mine. This is an engaging and useful tool to help students focus their learning…My students would enjoy a text that encourages such deeper and effective interaction – less passive reading – and pushes critical thinking."
Bloggat om Child Development
Övrig information
Laura E. Levine received her PhD in developmental and clinical psychology from the University of Michigan. After working with children and families at the Childrens Psychiatric Hospital and in private practice in Ann Arbor for 10 years, she moved to Connecticut and was a stay-at-home mother of her two children for 6 years. She returned to academia in 1994 and taught child psychology and life span development for 20 years at Central Connecticut State University, where she is currently a professor emerita of the Department of Psychological Science. She has received three university teaching awards, and her research on the social development of young children and on the relation between media use and attention difficulties has appeared in journals such as Developmental Psychology, the Journal of Applied Developmental Psychology, Infant Mental Health Journal, Infant and Child Development, Computers and Education, and CyberPsychology, Behavior, and Social Networking.
Dr. Levine has been very active in promoting excellence in college teaching. She was involved in the creation of the Center for Teaching Excellence at Central Connecticut State University and served on the board of the Connecticut Consortium to Enhance Learning and Teaching. She created numerous programs for faculty both at her university and at regional and national conferences. Her work on the scholarship of teaching and learning can be found in New Directions for Teaching and Learning, College Teaching and the International Journal for the Scholarship of Teaching and Learning.
Joyce Munsch received her PhD in human development and family studies from Cornell University. She was a faculty member in human development and family studies at Texas Tech University for 14 years, where she also served as associate dean for research in the College of Human Sciences for 2 years. In 2002, Dr. Munsch went to the California State University at Northridge as the founding chair and professor in the Department of Child and Adolescent Development. She currently is an emeritus professor in the Department.
Dr. Munschs research has focused on adolescent stress and coping and social network research. Her work has been published in the Journal of School Psychology, Adolescence, The Journal of Early Adolescence, the Journal of Research on Adolescence, and the American Journal of Orthopsychiatry. Throughout her career, Dr. Munsch administered grants that supported community-based programs. She was the codirector of the Early Head Start program at Texas Tech University and coprincipal investigator for three...
Innehållsförteckning
Part 1: Understanding Development: Why and How We Study Children and Adolescents Chapter 1: Issues in Child Development Why Study Childhood Understanding How Development Happens Contexts of Development Being a Smart Consumer of Information About Development Chapter 2: Theories of Development Basic Principles and Applications Theories of Child and Adolescent Development The Impact of Biology and Culture on Theory and Research on Child Development Chapter 3: How We Study Development The Scientific Method How Research is Designed Ethics in Research with Children and Adolescents Part 2: Biological Beginnings and Physical Development Chapter 4: How Children Develop: Nature Through Nurture The Study of Genetics and Behavior How Do Genes Work? Genetic Disorders Behavioral Genetics The Interaction of Genes and Environment Chapter 5: Prenatal Development, Birth and the Newborn Prenatal Development Health and Risks in Pregnancy The Birth Experience Risks to the Newborn's Health and Well-Being The Transition to Parenthood Chapter 6: Physical Development: The Body and the Brain Brain Development Development of the Senses Body Growth and Changes Motor Development Nutrition Part 3: Cognitive Development Chapter 7: Theories of Cognitive Development Piaget's Theory of Cognitive Development Theory of Core Knowledge Vygotsky's Sociocultural Theory of Cognitive Development Information Processing Comparing Four Theories of Cognitive Development Chapter 8: Intelligence and Academic Achievement Defining and Assessing Intelligence Variations in Intellectual Ability Academic Achievement: Learning in the School Context Group Differences in Academic Achievement Chapter 9: Language Development Aspects of Language Theories of Language Development Language and the Brain Stages of Language Development Literacy: Reading and Writing Bilingualism and Bilingual Education Language Disorders Part 4: Social and Emotional Development Chapter 10: Emotional Development and Attachment Emotions: Universality and Difference Temperament Regulation of Emotions and Self-control Normal Emotions and Emotional Problems The Development of Secure Attachment Biological and Cultural Underpinnings of Attachment Attachment Beyond Infancy Attachment Disorders Chapter 11: Identity: The Self, Gender, and Moral Development Development of the Self-Concept Development of Self-Esteem Gender Identity Ethnic and Racial Identity Moral Identity Chapter 12: Social Development Social Cognition: Theory of Mind Peer Relationships in Infancy and Early Childhood Peer Relationships in Middle Childhood Adolescents: The World of Peers Part 5: Contexts for Development Chapter 13: Families What Constitutes a Family? Family Roles and Relationships Socialization in Childhood and Adolescence Interventions for a Better Family Life Chapter 14: Beyond Family and School: Activities, Media and the Natural World The Daily Lives of Children and Adolescents Unstructured Time Structured Time The Role of Important Nonparental Adults Chapter 15: Health, Well-Being, and Resilience Stress and Coping Physical Illness and Mental Disorders Other Threats to Health and Well-Being Challenges to Positive Child Development Resilience