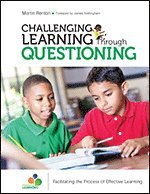 Fler böcker inom
Format

Häftad (Paperback)

Språk

Engelska

Antal sidor

224

Utgivningsdatum

2020-08-19

Upplaga

1

Förlag

Dimensioner

277 x 216 x 13 mm

Vikt

636 g

Antal komponenter

1

ISBN

9781506376578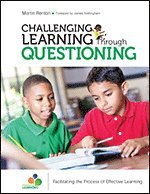 Challenging Learning Through Questioning
Facilitating the Process of Effective Learning
Skickas inom 7-10 vardagar.

Gratis frakt inom Sverige över 199 kr för privatpersoner.
Finns även som
Läs i DRM-kompatibel e-boksläsare.
Better questioning for better learning

Questioning is a process that sparks discussion and encourages deeper thinking. Effective questioning builds on students? natural curiosity, moving them out of their comfort zone and into the learning zone in a purposeful, accessible way. It also models the process of good thinking and fosters a culture of high expectations.

Like any skill, questioning takes practice. With this insightful guide, you?ll reframe your thinking and fine-tune the three essential questioning skills?know your intent, plan your responses, and stay purposefully silent?to elicit noticeably improved responses from students. Features include

·         Questioning sequences that work in any discipline

·         Techniques for deepening learning through questioning

·         Organizational strategies for pair, small-group, and whole-class dialogues

·         Best practices for balancing questioning, thinking tools, and strategic silences

·         Exercises, activities, and review and reflection sections

High-quality questioning supports a culture in which students are not only challenged, but expect to be challenged, and where they flourish intellectually. Through your questioning, you?ll give them the tools they need to become thoughtful, confident, and independent learners.


Passar bra ihop
+
Fler böcker av Martin Renton
James Nottingham, Martin Renton, Jill Nottingham
Recensioner i media
"James Nottingham's work on Challenging Learning is a critical element of creating Visible Learners. This new series will help teachers hone the necessary pedagogical skills of dialogue, feedback, questioning, and mindset. There's no better resource to encourage all learners to know and maximize their impact!"



Övrig information
Martin Renton is Challenging Learning's Director of Consultancy and Evaluations. He is a highly sought-after keynote speaker, leader, facilitator and coach.
Martins excellent reputation is well earned. His core belief that professional development is not a quick fix but a deep process of change has led to some very powerful effects in schools and colleges around the world. Teachers and leaders who have worked with Martin over an extended period of time refer to increased engagement, motivation and progress for all students.
Martin ensures that all our Challenging Learning trainers blend theories of learning with active tools for the classroom, giving teachers and leaders the opportunities to put into practice new skills and approaches. The effect can be seen most dramatically in our long-term projects around the world. The most significant of these are in Sweden, Denmark, Norway, Isle of Man, Northern Ireland, Australia and New Zealand.
Martins knowledge of pedagogy and leadership is borne out of his experiences in schools and colleges as a teacher, leader, consultant and coach. His early experiences as a nanny (2-9 year olds), then as a teacher and leader in middle schools (9-13 year olds), secondary schools (11-18 year olds) and colleges (16+) have given him a comprehensive insight into how people learn from the age of 2adulthood. Martin uses these insights to challenge, inspire and engage his audiences.
Innehållsförteckning
The Challenging Learning Story Contents Figures The Language of Learning A Foreword by James Nottingham Preview Introduction Part I: How to Question Chapter 1: Questioning Essentials 1.0 The Three Essential Skills 1.1 Know Your Intent 1.2 Identifying Your Intent 1.2.1 Identify Your Intent: Knowledge 1.2.2 Identify Your Intent: Understanding 1.2.3 Identify Your Intent: Skills and Attitudes 1.2.4 Identify Your Intent: HIgh Expectations 1.3 Plan Your Responses 1.4 Stay Silent 1.5 Review 1.6 Reflection Section Chapter 2: The Basic Questioning Sequence 2.0 The IRE Pattern 2.1 IRE as Closed Questioning 2.2 Problems in IRE 2.3 Rethinking the 'E' 2.4 Using the Explore Step to Focus on Process 2.5 Challenge and the IR-Explore Pattern 2.6 Questioning as Feedback 2.7 Review 2.8 Reflection Section Chapter 3: Questioning Tools: Planning Effective Sequences 3.0 The Starting Point: Initiate- Where Questions are Born 3.1 A Reflection Section 3.2 Your Options After the First Response: Planning With a Flow Chart 3.3 Planning to Explore: Stick With It! 3.4 Planning Questioning Sequences: The Funneling Technique 3.5 Using the Funneling Technique to Plan Longer Sequences 3.6 So Why Don't We Explore More? 3.7 Prompted to Explore 3.8 Review 3.9 Reflection Section Chapter 4: Questioning Flow 4.0 Pause and Paraphrase to Improve Flow 4.1 Paraphrasing 4.2 Getting in Flow 4.3 It's Not About Giving Up Control! 4.4 Managing Questioning Sequences in Whole-Class Dialogues: Get the IDEAR! 4.5 Questioning Moves in the IDEAR Framework 4.6 Questioning Example in the IDEAR Framework 4.7 Impact of the IDEAR Framework 4.8 Review 4.9 Reflection Section Chapter 5: Stay Silent and Listen 5.0 Less Time to Process Means Less Impact 5.1 Wait Time 5.2 Think Time 5.3 Think-Pair-Share 5.4 Don't Forget Think-Time 2! 5.5 A Taxonomy of Classroom Silences 5.5.1 Think-Time 1 5.5.2 Within-Response Wait-Time 5.5.3 Think-Time 2 5.5.4 Self-Regulation Wait-Time 5.5.5 Teaching Processing-Time 5.5.6 Perception Checks 5.5.7 Permissive Wait-Time 5.5.8 Standpoint Time 5.5.9 Dramatic Think-Time 5.6 The Skillful Use of Silences in Effective Questioning Sequences 5.7 Review 5.8 Reflection Section Part II: Questioning and Challenge Chapter 6: Questioning and Challenge 6.0 The Benefit of Struggle 6.1 How to Think About Challenge in Learning 6.2 Questioning to Encourage and Support Struggle 6.3 Know Your Intent: Get into the Learning Zone 6.4 The Learning Challenge 6.5 The Learning Challenge Stages 6.6 Review 6.7 Reflection Section Chapter 7: Questioning Activities to Challenge Thinking 7.0 Ranking Exercises 7.1 Diamond Nine 7.1.1 Questioning to Debrief the Learning 7.1.2 Extending the Diamond NIne 7.2 Extending Thinking with the Intention to Challenge 7.2.1 Challenge Intention 1: to clarify meaning using similar and different 7.2.2 Challenge Intention 2: to challenge the assumptions your students have made and encourage them to rethink previously unconscious ideas 7.2.3 Challenge Intention 3: to go from generic to specific and test if they work 7.3 Your Role During the Groupwork Stage 7.4 Varying the Groupwork to Share Perceptions 7.5 Example Diamond Nine Cards for Different Age Groups 7.6 Other Shapes for Ranking 7.7 Review 7.8 Next Steps Chapter 8: Questioning for Challenge 8.0 Questioning and the Learning Challenge 8.1 Questioning at Stage Two of the Learning Challenge: The Learning Pit 8.2 Intention to Challenge, 1: The Counter Example 8.3 Intention to Challenge, 2: Comparisons 8.4 Intention to Challenge, 3: Challenge Assumptions 8.5 Intention to Challenge, 4: Define Extent 8.6 Advanced Questioning Techniques for Increasing Challenge 8.6.1 Intention to Challenge, 5: A = B 8.6.2 Intention to Challenge, 6: Not A