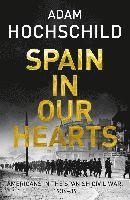 Fler böcker inom
Format

Inbunden (Hardback)

Språk

Engelska

Antal sidor

464

Utgivningsdatum

2016-04-07

Upplaga

Main Market Ed.

Utmärkelser

Long-listed for HWA Non Fiction Crown 2017 (UK)

Förlag

Illustrationer

32 Illustrations, unspecified

Dimensioner

247 x 171 x 40 mm

Vikt

754 g

ISBN

9781509810543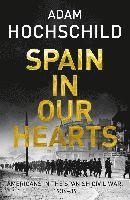 Spain in Our Hearts
Americans in the Spanish Civil War, 1936-1939
Skickas inom 3-6 vardagar.
Fri frakt inom Sverige för privatpersoner.
From the moment it began in 1936, the Spanish Civil War became the political question of the age. Hitler and Mussolini quickly sent aircraft, troops and supplies to the right-wing generals bent on overthrowing Spain's elected government. Millions of people around the world felt passionately that rapidly advancing fascism must be halted in Spain; if not there, where? More than 35,000 volunteers from dozens of other countries went to help defend the Spanish Republic. Adam Hochschild, the acclaimed author of King Leopold's Ghost, evokes this tumultuous period mainly through the lives of Americans involved in the war. A few are famous, such as Ernest Hemingway, but others are less familiar. They include a nineteen-year-old Kentucky woman, a fiery leftist who came to wartime Spain on her honeymoon; a young man who ran away from his Pennsylvania college and became the first American casualty in the battle for Madrid; and a swashbuckling Texas oilman who covertly violated US law and sold Generalissimo Francisco Franco most of the fuel for his army. Two New York Times reporters, fierce rivals, covered the war from opposite sides, with opposite sympathies. There are Britons in Hochschild's cast of characters as well: one, a London sculptor, fought with the American battalion; another, who had just gone down from Cambridge, joined Franco's army and found himself fighting against the Americans; and a third is someone whose experience of combat in Spain had a profound effect on his life, George Orwell.
Passar bra ihop
+
Recensioner i media
Hochschild tells nuanced tales of political awakenings and disillusionments, but also steadfast ethical commitment. He never descends into easy moralising . . . Spanish Civil War history is a minefield but Hochschild has entered it sure-footedly, with great respect for those whose lives where marked indelibly. -- Sebastiaan Faber * BBC History Magazine * [An] excellent portrait of the war and of the men and women drawn to Spain ... It is Hochschild's vivid account of what these people witnessed that gives his book its edge. Many other writers have described the Americans who went to Spain, but few have brought to their accounts such an enjoyable and balanced mixture of history and personal narrative ... Hochschild is good at conveying the barbarity on both sides without letting it swamp the story ... fascinating. -- Caroline Moorehead * Literary Review * In this beautifully written portrait of Americans caught up in the Spanish Civil War, Adam Hochschild brings to brilliant life the heroism and horror of that fratricidal conflict. His account of the David-and-Goliath fight between the ragtag army of idealistic, pro-democracy volunteers and the mechanized, murderous forces of Franco, Hitler, and Mussolini is one of the most powerful narratives I have ever read. -- Lynne Olson, author of <i>Citizens of London</i> George Orwell once explained that going to Spain, in 1936, 'seemed the only conceivable thing to do.' As soon as he got there, the right thing to do got a lot less clear. And how to write about it was immediately difficult, too. The twenty-eight hundred Americans who fought in the Spanish Civil War felt the same way, as Adam Hochschild recounts in this rich and fascinating book. Few writers grapple so powerfully with the painful moral and ethical choices of past actors as does Hochschild, who brings to Spain in Our Hearts his exceptional talents - and his moral seriousness - as a reporter, as a historian, and as a writer. -- Jill Lepore, author of <i>The Secret History of Wonder Woman</i> Adam Hochschild weaves a brilliant tapestry of colorful characters into a story that includes the young Ernest Hemmingway, the charismatic Robert Merriman, the scotch-drinking Milly Bennett, the glamorous reporter Virginia Cowles, and dozens of other Americans whose lives were dramatically altered by the Spanish Civil War. Hochschild's poignant narrative evokes E.L. Doctorow's great historical novel Ragtime-but Spain in Our Hearts is no novel but a tragic true story about a critical tipping point in the 20th century's slide into total warfare. Passionate, evocative, and gracefully written -- Kai Bird, Pulitzer Prize-winning author of <i>The Good Spy</i> Spain in Our Hearts is narrative non-fiction at its very best. Hochschild's achievement is to make this trial-by-combat story come alive, as if it were happening now. It is impossible for a reader not to identify and feel compassion for those sons and daughters of America who risked and often gave their lives for a cause that could not ultimately prevail against the darker forces of Franco, Hitler, Mussolini, Stalin - and Texaco. A seamlessly-woven, unputdownable tapestry of war in Europe; intensely, unforgettably moving. -- Nigel Hamilton, author of <i>The Mantle of Command</i> Beautifully written with a hawk-eye for the telling anecdote, Spain in Our Hearts constitutes an endlessly fascinating and utterly unputdownable survey of the war to defend democracy in Spain that was not only the first act of the Second World War but also, for many across the world, the last great cause. -- Paul Preston, author of <i>The Spanish Civil War: Reaction, Revolution, and Revenge</i>
Bloggat om Spain in Our Hearts
Övrig information
Adam Hochschild is an award-winning author of seven books, mostly on subjects related to human rights. King Leopold's Ghost was the winner of the prestigious Duff Cooper Prize and Bury the Chains was longlisted for the Samuel Johnson Prize. He lives in San Francisco and teaches at the Graduate School of Journalism at the University of California, Berkeley.
Innehållsförteckning
Section - i: List of Maps Section - ii: Author's Note Introduction - iii: Prologue: Far from Home Chapter - 1: Chasing Moneychangers from the Temple Chapter - 2: Promised Land, Black Wings Chapter - 3: "Those Who Do Not Think as We Do" Chapter - 4: A New Heaven and Earth Chapter - 5: "I Will Destroy Madrid" Chapter - 6: "Don't Try to Catch Me" Chapter - 7: Rifles from the 1860s Chapter - 8: Over the Mountains Chapter - 9: Civil War at the Times Chapter - 10: The Man Who Loved Dictators Chapter - 11: Devil's Bargain Chapter - 12: "I Don't Think I Would Write about That If I Were You" Chapter - 13: "As Good a Method of Getting Married as Any Other" Chapter - 14: Texaco Goes to War Chapter - 15: "In My Book You'll Be an American" Chapter - 16: "A Letter to My Novia" Chapter - 17: "Only a Few Grains of Sand Left in the Hourglass" Chapter - 18: At the River's Edge Chapter - 19: A Change of Heart? Chapter - 20: Gambling for Time Chapter - 21: The Taste of Tears Chapter - 22: Kaddish Acknowledgements - iv: Acknowledgements Section - iv: Notes Section - v: Bibliography Section - vi: Photo Credits Index - vii: Index Acknowledgements - viii: Permissions Acknowledgements