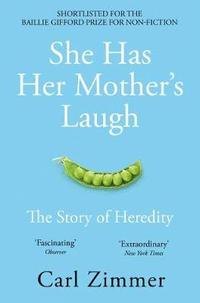 Fler böcker inom
Format

Häftad (Paperback / softback)

Språk

Engelska

Antal sidor

672

Utgivningsdatum

2019-06-13

Utmärkelser

Short-listed for Baillie Gifford Prize 2018 (UK)

Förlag

Dimensioner

197 x 130 x 40 mm

Vikt

460 g

ISBN

9781509818556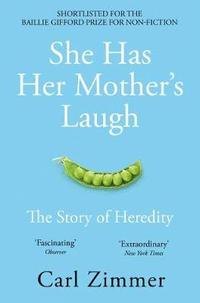 She Has Her Mother's Laugh
The Story of Heredity, Its Past, Present and Future
Skickas från oss inom 7-10 vardagar.

Fri frakt över 199 kr för privatkunder i Sverige.
SHORTLISTED FOR THE 2018 BAILLIE GIFFORD PRIZE FOR NON-FICTION She Has Her Mother's Laugh presents a profoundly original perspective on what we pass along from generation to generation. Charles Darwin played a crucial part in turning heredity into a scientific question, and yet he failed spectacularly to answer it. The birth of genetics in the early 1900s seemed to do precisely that. Gradually, people translated their old notions about heredity into a language of genes. As the technology for studying genes became cheaper, millions of people ordered genetic tests to link themselves to missing parents, to distant ancestors, to ethnic identities . . . But, award-winning science writer Carl Zimmer argues, heredity isn't just about genes that pass from parent to child. Heredity continues within our own bodies, as a single cell gives rise to trillions of cells that make up our bodies. We say we inherit genes from our ancestors but we inherit other things that matter as much or more to our lives, from microbes to technologies we use to make life more comfortable. We need a new definition of what heredity is and, through Carl Zimmer's lucid exposition and storytelling, this resounding tour de force delivers it. Weaving together historical and current scientific research, his own experience with his two daughters, and the kind of original reporting expected of one of the world's best science journalists, Zimmer ultimately unpacks urgent bioethical quandaries arising from new biomedical technologies, but also long-standing presumptions about who we really are and what we can pass on to future generations.
Passar bra ihop
+
Fler böcker av Carl Zimmer
Recensioner i media
Beautifully written . . . [A] grand and sweeping book. * The Times * Nuanced, entertaining and balances eloquent story-telling with well-researched science . . . Anyone interested in their path through history, and what they may hand on, will find much to excite them. -- Book of the Week * New Scientist * Fascinating . . . Absorbing . . . Deftly persuasive. * Observer * She Has Her Mother's Laugh is packed full of learning, and years of work . . . The book offers clear insights into a fast-moving area, and asks big questions. Scientists can eradicate diseases, alter DNA and change human heredity. Should they? What could be at stake if they get it wrong? * Guardian * This is cutting-edge stuff that could be heavy-going except that it is written by Carl Zimmer, one of our best science journalists . . . He makes complex topics accessible with his sparkling storytelling and beautiful writing . . . If you want to . . . know where the DNA revolution is headed, you can't do better than this book, which is a joy to read. * Evening Standard * She Has Her Mother's Laugh is a masterpiece - a career-best work from one of the world's premier science writers, on a topic that literally touches every person on the planet. -- Ed Yong, author of <i>I Contain Multitudes</i> Zimmer is a born story-teller. Or is he an inherited story-teller? The inspiring and heartbreaking stories in She Has Her Mother's Laugh build a fundamentally new perspective on what previous generations have delivered to us, and what we can pass along. An outstanding book and great accomplishment. -- Daniel Levitin, author of <i>This is Your Brain on Music and The Organized Mind</i> Extraordinary . . . This book is Zimmer at his best: obliterating misconceptions about science with gentle prose. * New York Review of Books * Expansive, engrossing, and often enlightening. * Wired * Why do children look like their parents and siblings, but still differ from one another? . . . Engrossing . . . Zimmer's book is an excellent way to get up to speed. * Washington Post * She Has Her Mother's Laugh is at once far-ranging, imaginative, and totally relevant. Carl Zimmer makes the complex science of heredity read like a novel, and explains why the subject has been-and always will be-so vexed. -- Elizabeth Kolbert, author of Pulitzer Prize winner <i>The Sixth Extinction</i> She Has Her Mother's Laugh is a superb guide to a subject that is only becoming more important. Along the way, it explains some remarkably complicated science with equally remarkable clarity-a totally impressive job all around. -- Charles C. Mann, author of <i>New York Times</i> bestseller <i>1491: New Revelations of the Americas Before Columbus</i> No one unravels the mysteries of science as brilliantly and compellingly as Carl Zimmer, and he has proven it again with She Has Her Mother's Laugh-a sweeping, magisterial book that illuminates the very nature of who we are. -- David Grann, #1 New York Times bestselling author, award-winning staff writer at <i>The New Yorker</i>, and author of <i>The Lost City of Z</i> A thoroughly enchanting tour of big questions, oddball ideas, and dazzling accomplishments of researchers searching to explain, manipulate, and alter inheritance. * Kirkus Reviews (starred review) * A magnificent work . . . Journalist Zimmer masterfully blends exciting storytelling with first-rate science reporting. His book is as engrossing as it is enlightening. * Publishers Weekly (starred review) * 11 Fantastic Science Books to Binge Over the Holidays -- The Year in Review, 2018 * Wired *
Övrig information
Carl Zimmer writes the Matter column for the New York Times and has contributed to the Atlantic, National Geographic, Time, and Scientific American. He has won the Stephen Jay Gould Prize among many other awards for his journalism. Zimmer teaches science writing at Yale University. His previous books include Parasite Rex, Evolution: The Triumph of an Idea, and Microcosm, which was shortlisted for the Los Angeles Times Science Book Prize and longlisted for the Royal Society Science Book Prize.
Innehållsförteckning
Unit - Part I: A Stroke on the Cheek Chapter - 1: The Light Trifle of His Substance Chapter - 2: Traveling Across the Face of Time Chapter - 3: This Race Should End with Them Chapter - 4: Attagirl Unit - Part II: Wayward DNA Chapter - 5: An Evening's Revelry Chapter - 6: The Sleeping Branches Chapter - 7: Individual Z Chapter - 8: Mongrels Chapter - 9: Nine Foot High Complete Chapter - 10: Ed and Fred Unit - Part III: Other Channels Chapter - 11: Ex Ovo Omnia Chapter - 12: Witches'- Broom Chapter - 13: Chimeras Unit - Part IV: Other Channels Chapter - 14: You, My Friend, Are a Wonderland Chapter - 15: Flowering Monsters Chapter - 16: The Teachable Ape Unit - Part V: The Sun Chariot Chapter - 17: Yet Did He Greatly Dare Chapter - 18: Orphaned at Conception Chapter - 19: The Planet's Heirs