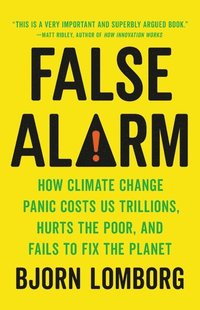 Fler böcker inom
Format

Inbunden (Hardback)

Språk

Engelska

Antal sidor

320

Utgivningsdatum

2020-08-13

Förlag

Dimensioner

236 x 155 x 30 mm

Vikt

522 g

Antal komponenter

1

ISBN

9781541647466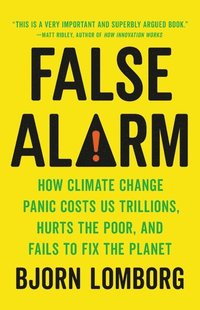 False Alarm
How Climate Change Panic Costs Us Trillions, Hurts the Poor, and Fails to Fix the Planet
Tillfälligt slut – klicka "Bevaka" för att få ett mejl så fort boken går att köpa igen.
Finns även som
Skickas inom 7-10 vardagar
With hurricanes battering coast lines, sea level rise threatening entire countries with extinction and wildfires raging across broad swaths of America and the planet, it is hardly surprising that countering global warming has become a top priority for the developing world. In ten years, we have gone from arguing about whether climate change is real to wagering on how soon it will actually extinguish planet Earth. David Wallace-Wells' book The Uninhabitable Earth tops bestseller lists and Greta Thunberg is an international hero. Children panic about their future, and adults wonder if it is even ethical to bring new life into the world. Enough, argues political scientist and bestselling author Bjorn Lomborg. Climate change, while real, is not the apocalyptic threat that we've been told it is. There is no scientific evidence, for instance, that the world is suffering from more droughts, wildfires, or hurricanes than ever before. In fact, global death due the natural disaster is at an all-time low. The real problem is that with increasing affluence, more people are moving to riskier parts of the world - coastlines, areas with high wildfire risk - and building more expensive property there. So the costs of natural disasters are rising, even though their incidence isn't - contributing to the impression that the world has become a far more dangerous place. Climate panic is based on bad science, and generates even worse policy. Around the world, we are currently spending about $500 billion annually on environmental issues and, with the many promises of zero carbon emissions soon, those costs could escalate to $10-20 trillion annually. But these policies are not paying dividends in terms of solving global warming. The Paris Agreement, for instance, is the most expensive treaty in the history of the world -- and a terrible investment in the human future, destined to return only eleven cents on the dollar. Worse still, the money that goes to fund environmental initiatives crowds out other measures that could have a far more dramatic impact on human well-being, particularly in the developing world: by focusing on issues like immunization, education, birth control, and nutrition, we could increase GDP at a vastly higher rate than climate change threatens to lower it. Measured and data-driven, False Alarm will convince you that almost everything you think about climate change is wrong -- and points the way towards making the world a vastly better, if slightly warmer, world for all.
Kundrecensioner
Det finns 1 recension av False Alarm. Har du också läst boken? Om du har köpt den på Bokus.com vill vi gärna höra vad du tyckte om den!
Sätt ditt betyg »
Falsk attityd

Björn Lomborgs bok är egentligen bra skriven och skriver varför han tycker att klimatkrisen egentligen inte är så allvarlig som nästan alla klimatvetare påstår. Även om författaren argumenterar bra så undrar man dock hela tiden hur författaren kom till denna slutsatsen; vetenskapliga faktorer om allvarlighet av klimatförändringarna ignoreras och istället är klimatpolitikens aktuellt (och otillräckligt) verkan jämfört med några osannolika scenarier. Om man känner till vetenskapen är det här en... Läs hela recensionen
Fler böcker av Bjorn Lomborg
Recensioner i media
"This is a very important and superbly argued book. Those who have been persuaded that climate change is not happening, and those who think catastrophe is imminent should both read it and know they can rely on Lomborg's meticulous analysis to put them right. The rest of us can be alarmed by his relentless revelation that the world is spending a fortune on making the plight of the poor and the state of the environment worse with foolish and expensive policies."--Matt Ridley, author of How Innovation Works "Bjorn Lomborg's new book offers a data-driven, human-centered antidote to the oft-apocalyptic discussion characterizing the effect of human activity on the global climate. Careful, compelling, and above all sensible and pragmatic."--Jordan Peterson, author of 12 Rules for Life "False Alarm is a timely and important book. Based on the latest scientific evidence and rigorous economic analysis, it provides a welcome antidote to widespread, irrational panic about a coming climate apocalypse. Instead, it provides a set of smart, rational policies for addressing global warming -- while not losing sight of the myriad other problems that beset our planet, including poverty and inequality. This book is essential reading for anyone who cares about our shared human future."--Justin Yifu Lin, former chief economist, the World Bank "This is a fantastic book. In it, Bjorn Lomborg examines through the lens of statistics the apocalyptic projections of the future of climate change. He points out, rightly, that the doomsday scenarios are misguided and that policy decisions driven by panic have real costs, particularly for the poor. False Alarm is a must-read."--Bibek Debroy, Chairman, Economic Advisory Council to the Prime Minister of India "Bjorn Lomborg is that rare thing: a clear-sighted realist about climate change. In False Alarm, he argues that it would be foolish to do nothing to prepare for a warmer planet, but it would be more foolish to pretend that we are doing things that will significantly reduce carbon dioxide emissions when we are not. At the same time, getting serious about cutting CO2 emissions will have a cost. As Lomborg says, vastly more people die as a consequence of poverty and disease each year than die as a consequence of global warming. As in the past, we humans are capable of adapting to climate change in ways that can significantly mitigate its adverse effects, without choking off economic growth. To learn how, you must read False Alarm."--Niall Ferguson, the Hoover Institution, Stanford University "[Lomborg] follows his previous critiques of climate change policy...with a hard-hitting analysis of failing strategies for addressing what he acknowledges is 'a real problem.'...A serious, debatable assessment of a controversial global issue."--Kirkus "The best way to deal with global warming is to increase global prosperity.... The choice we face, Lomborg writes, is between a human future driven by fear and one driven by ingenuity. On that, he is exactly right."--The Bulwark "Meticulously researched, and well worth a read."--Forbes "Lomborg's most basic premise remains that there are better ways to alleviate human misery than spending taxpayer subsidies than on panic-driven, political non-solutions to a changing climate. Few would argue with that goal."--American Thinker "Lomborg does not lack solutions. In False Alarm, he advocates a range of cost-benefit tested policies to address both climate change and global poverty.... Lomborg does a service in calling out the environmental alarmism and hysteria that obscure environmental debates rather than illuminate them."--National Review "Lomborg brands climate change warnings as alarmist, and argues that a massive reduction in fossil fuels would exacerbate global poverty, in this detailed account.... Lomborg is careful to back his cost-benefit analyses of climate policies
Övrig information
Bjorn Lomborg is the best-selling author of The Skeptical Environmentalist and Cool It. He is a visiting professor at Copenhagen Business School and at the Hoover Institution at Stanford. His work appears regularly in New York Times, Wall Street Journal, the Economist, the Atlantic, and Forbes. His monthly column appears in around 40 papers in 19 languages, with more than 30 million readers. In 2011 and 2012, Lomborg was named Top 100 Global Thinker by Foreign Policy. In 2008 he was named "one of the 50 people who could save the planet" by the Guardian. He lives in Prague.