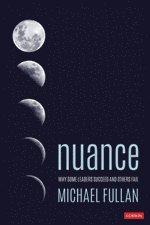 Fler böcker inom
Format

Häftad (Paperback)

Språk

Engelska

Antal sidor

160

Utgivningsdatum

2019-03-07

Upplaga

1

Förlag

Dimensioner

228 x 152 x 12 mm

Vikt

226 g

Antal komponenter

1

ISBN

9781544309927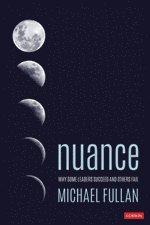 Nuance
Why Some Leaders Succeed and Others Fail
Skickas inom 7-10 vardagar.
Fri frakt inom Sverige för privatpersoner.
Watch the video!


Break the cycle of surface-level change and failure
How do leaders become clearer as complexity increases? We live in a world where decisions require judgment, getting people on board, drawing on local knowledge, ingenuity, and commitment. As leaders, how do you get beneath surface-level change to tackle complex challenges with depth and clarity.
Nuance is the answer.
Michael Fullan returns with an eminently readable, compelling and practical guide on the three habits of nuance:
joint determination, adaptability, and culture-based accountability
. Learn how you can:
·         Combine the power of networks and humanity to get to desired destinations.
·         Embrace complexity and understand context to develop better judgment
·         Change the culture of your organization to harness the forces of nuance.
·         Develop quality change that sticks
With tons of examples and case studies of this book makes explicit the hidden habits and mind frames of leaders who deliver lasting change.
Passar bra ihop
+
Recensioner i media
Nuance is Fullan at his impressive best—enabling leaders to see what was under their nose with sharp action-oriented clarity. Contexts—of people, time, and place—are such key factors in managing change and here he uncovers the subtlety of "nuance," which is the essential bedfellow of "judgment" without which disaster will threaten any leader. Wise system leaders will buy a copy for all their school leaders and keep a copy for themselves.

Discover the subtle power of nuance leadership and get dramatic new results. A courageous and timely book that goes to the heart of our complex leadership times. Why do some leaders get extraordinary results while others, ostensibly doing the same things, simply replicate existing patterns? Blending experience and uncommon intellectual acuity, Fullan explains both the key connected dimensions and the exceptional leverage of nuance.

I continue to be in awe that Michael Fullan is able to describe and explain so clearly the kind of leadership I am intuitively trying to do. Nobody else I have ever read can do this as well as he does. Fullan, more than anyone else, has given me the language for my leadership over the years.

Nuance is a powerful call for a different type of leadership—one that rejects the quick fixes, oppositional thinking, and superficial innovations that make no lasting impact on our most pressing and complex educational problems. In Nuance, Fullan provides a richly illustrated account of how nuanced leadership embraces complexity and integrates competing forces in ways that foster deep understanding, collaborative learning and accountability, and sustainable rather than superficial solutions. It's not a recipe; it's an inspiration and a call to action.

If you have been waiting to have your thinking on leadership provoked once again, Michael Fullan's latest book will not disappoint you. Nuance raises the bar and challenges thinking about leadership while providing those willing to work for it the concrete examples, actions, and steps necessary to do so. As followers of his work have come to expect, in Nuance, Fullan "leads from what he has learned" and artfully weaves together complex ideas into a pattern that accomplishes the "simplexity" that makes the seemingly impossible become possible.

I have to say that reading this manuscript was like looking in the mirror and seeing something of myself that I hadn't noticed before, or valued before, or even been able to put language to. I feel simultaneously com-forted by what [Fullan has] written in that I feel validated and understood and even a bit more hopeful about myself, but it has also left me hungry for more.

I get what [Fullan is] saying about nuance. I mean there are 5, 10, 15 different ways to do something; depending on a particular context, it's going to hav...
Övrig information
Michael Fullan, OC, is the former Dean of the Ontario Institute for Studies in Education and Professor Emeritus of the University of Toronto. He is co-leader of the New Pedagogies for Deep Learning global initiative. Recognized as a worldwide authority on educational reform, he advises policymakers and local leaders in helping to achieve the moral purpose of all children learning. Michael Fullan received the Order of Canada in December 2012. He holds honorary doctorates from several universities around the world.
Fullan is a prolific, award-winning author whose books have been published in many languages. His book Leading in a Culture of Change received the 2002 Book of the Year Award by Learning Forward. Breakthrough (with Peter Hill and Carmel Crvola) won the 2006 Book of the Year Award from the American Association of Colleges for Teacher Education (AACTE), and Turnaround Leadership in Higher Education (with Geoff Scott) won the Bellwether Book Award in 2009. Change Wars (with Andy Hargreaves) was named the 2009 Book of the Year by Learning Forward, and Professional Capital (with Andy Hargreaves) won the AACTE 2013 Book of the Year and the Grawemeyer Award in Education in 2015.
Michael Fullans latest books are The Principal: Three Keys for Maximizing Impact ; Coherence: The Right Drivers in Action for Schools, Districts, and Systems (with Joanne Quinn); Deep Learning: Engage the Change the World (with Joanne Quinn and Joanne McEachen); Surreal Change: The Real Life of Transforming Public Education (autobiography); and Nuance: Why Some Leaders Succeed and Others Fail.
For more information on books, articles, and videos, please go to www.michaelfullan.ca.
Innehållsförteckning
Introduction: Making the World Go Round Chapter 1. The Nature and Need for Nuance Nuance: A Subtle Difference in or Shade of Meaning, Expression, or Sound Surfacers vs. Nuancers Leonardo da Vinci: The Patron Saint of Nuance Nuance: Never More Needed Than Now The Nature of Nuanced Leadership The Nuanced Leadership Framework Chapter 2. Jointly Determined: Be Right at the End of the Meeting The Prevalence of Bad Leadership Joint Determination Case Example One: Bastow Institute-The Problem of Declining Levels of Principal Well-Being Case Example Two: Districtwide Transformation to "Deep Learning" Case Example Three: Garden Grove Unified School District-School Turnaround Case Example Four: Turning Around Persistently Failing Schools Benjamin Adlard Primary School: England Conclusion: Integrative Leadership Chapter 3. Adaptability: Learn and Lead in Equal Measure Case Example Five: Rescuing Education From Technology Case Example Six: The Toronto District School Board Malloy's Startup Process and Content Adaptability Chapter 4. Culture-Based Accountability: Trust and Interact The Fruitless Pursuit of Top-Down Accountability Ingredients of Culture-Based Accountability 1. Use the Group 2. Precision Over Prescription 3. Feedback: Collaboration, Candor, and Autonomy 4. Trust and Interact vs. Trust but Verify 5. See the Forest and the Trees 6. Accountability as Culture Examples of Natural Accountability Linked to Results Case Example Nine: Queensland, Australia Case Example Ten: Whittier Unified School District, California Culture Counts Chapter 5. Nuanced Leaders and the World More Macro Learners and Change Agents: Attack Inequity and Thrive on Every Level Being and Becoming a Nuanced Leader References Index Acknowledgements About the Author