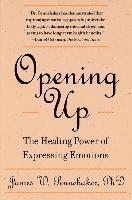 Fler böcker inom
Format

Häftad (Paperback)

Språk

Engelska

Antal sidor

240

Utgivningsdatum

1997-10-01

Förlag

Dimensioner

230 x 155 x 20 mm

Vikt

380 g

Antal komponenter

1

ISBN

9781572302389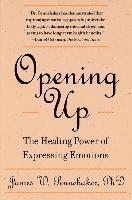 Opening Up
The Healing Power of Expressing Emotions
Slutsåld
Anyone who has ever entrusted a troubling secret to a journal, or mourned a broken heart with a friend, knows the feeling of relief that expressing painful emotions can bring. This book presents astonishing evidence that personal self-disclosure is not only good for our emotional health, but boosts our physical health as well. In controlled clinical research funded by the National Science Foundation and the National Institutes of Health, psychologists James W. Pennebaker sheds new light on the powerful mind/body connection. Dr Pennebaker asks ordinary people to discuss their most difficult memories - including traumatic experiences they have never revealed to a soul - and traces the medical effects of this disclosure. The book interweaves the resulting data with insightful case studies on secret-keeping, confession and the hidden price of silence. Filled with information and encouragement, Opening Up explains: Why suppressing inner problems takes a devastating toll on health How long-buried trauma affects the immune system How writing about your problems can improve your health Why it's never too late to heal old emotional wounds When self-disclosure may be risky - and how to know whom to trust This book would appeal to readers interested in understanding the relationship between emotional and physical health, and in minimizing the harmful effects of stress. Written for a general audience, the book also contains much of value to practitioners and students of psychology and psychotherapy.
Recensioner i media
"So talk about it, and if it seems no one is listening, then write it down. It's such a relief!" --Kathryn LaBarbera, "Booklist" ..".There is something freeing about getting things off one's chest.'...According to Pennebaker's book however, confession is good not only for one's soul but for one's blood pressure, insomnia, psychological well-being, and immune function. In "Opening Up: The Healing Power of Confiding in Others," Pennebaker summarizes findings from his 10 year research program on the consequences of confiding one's secrets and offers advice regarding how to use confession to enhance psychological and physical health...Pennebaker buttresses conclusions based on his extensive research with case studies, which include not only cases of individuals but of entire cities....I found them to be engaging and useful...He does an exemplary job of walking the fine line between a professional volume and a trade book...Pennebaker's research has already made a valuable contribution to the study of psychological processes in health, and this book pulls together his findings and speculations about this fascinating line of work. "Opening Up" is an engaging, provocative book that will be of interest to lay readers, behavioral researchers, and therapists alike." --Mark R. Leary, "Contemporary Psychology" .."Superb book." --Henry Dreher, "Natural Health" "Written more for general consumption, Pennebaker gives a gripping look at how psychological science is best done. He makes his results relevant and exciting, but the science seems solid. Pennebaker provides substantial empirical support for significant mental and physical health effects arising from religious practices such as confession, reconciliation, and forgiveness."--Robert J. Lovinger, PhD, Professor of Psychology, Central Michigan University "Dr. Pennebaker has demonstrated that expressing emotions appears to protect the body against damaging internal stresses and seems to have long-term health benefits." --Daniel Goleman, in "The New York Times" "This book is the very best that scientific psychology has to offer. Pennebaker has made remarkable discoveries that show how disclosing our deepest secrets can make us well...throws open new doors of understanding and offers new hope for gaining control of our lives." --Daniel M. Wegner, author of "White Bears and Other Unwanted Thoughts" "Some of the most important findings published in psychology in the past decade. This work, if followed, would change the lives of millions of people." --Robert Ornstein, PhD, co-author of "Healthy Pleasures""
Övrig information
James W. Pennebaker, PhD, is Professor of Psychology at the University of Texas at Austin. His research on stress, emotion, and health has been funded by the National Science Foundation and National Institutes of Health, and has resulted in the publication of over 100 articles and 7 books. Since receiving his doctoral degree in 1977, Pennebaker has taught at the University of Virginia and Southern Methodist University. His recent honors include an Honorary Doctorate degree from the University of Louvain (Belgium), the Pavlov Award, and the Hilgard Visiting Professorship at Stanford University. He lives in Austin with his wife, Ruth (a writer), and two children.
Innehållsförteckning
Preface. Confession and Inhibition: The Beginnings of an Approach. Inhibition as a Health Threat. Becoming Healthier Through Writing. Confession in the Laboratory. The Battle to Inhibit Our Thoughts. On Speeding Up Coping. Understanding the Value of Writing. The Social Price of Disclosure: Whom to Tell and How to Listen. Love, Passion, and Thrills. The Inhibited Personality. Inhibited Cities. Confession in Context: Therapy, Religion, and Brainwashing. Beyond Traumas: Writing and Well-Being.