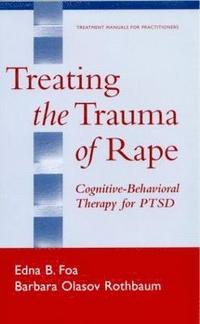 Fler böcker inom
Format

Häftad (Paperback / softback)

Språk

Engelska

Antal sidor

286

Utgivningsdatum

2002-03-01

Förlag

Dimensioner

228 x 155 x 23 mm

Vikt

450 g

Antal komponenter

1

ISBN

9781572307360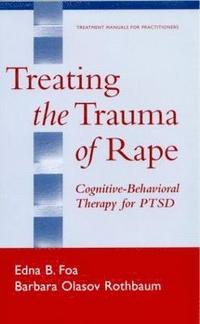 Treating the Trauma of Rape
Cognitive-Behavioral Therapy for PTSD
Skickas från oss inom 7-10 vardagar.

Fri frakt över 249 kr för privatkunder i Sverige.
Finns även som
Skickas inom 3-6 vardagar
Informed by the latest research and written by two of the leading authorities in the field, this invaluable resource presents step-by-step guidelines for assessing and treating sexual assault survivors suffering from PTSD. The book provides a clear review of the treatment literature and guides the clinician in designing individualized cognitive-behavioral treatment programs for traumatized women. Complete instructions are given for sensitively gathering needed information and delivering effective time-limited interventions. Enhancing the book's clinical utility are numerous case examples illustrating how to implement core cognitive-behavioral techniques and deal with common problems and complications in treatment.
Passar bra ihop
+
Fler böcker av författarna
Edna B Foa, Elizabeth A Hembree, Barbara Olasov Rothbaum, Sheila A M Rauch

Barbara Olasov Rothbaum, Edna B Foa, Elizabeth A Hembree, Sheila A M Rauch
Recensioner i media
A splendid book.... The book opens with a vivid, gripping account of rape trauma that underscores the terror of sexual violence. Turning next to the scientific literature, the authors review studies on epidemiology, psychopathology, and treatment for rape-related posttraumatic stress disorder, and interpret these data within the framework of Foa's emotional processing theory. In addition to being a first-rate work of scholarship, this book provides detailed, explicit guidance on how to conduct state-of-the-art treatment for survivors of sexual assault. Accordingly, this excellent book is essential reading for mental health professionals who work with women who have been raped. --Richard J. McNally, PhD, Department of Psychology, Harvard University All of the treatment description chapters are particularly wonderful. They provide great detail on length of sessions and all of the specific procedures. In addition, invaluable case examples are provided and specific problems that may come up are addressed. This book will be an incredible resource for clinicians and academicians. The authors are to be commended on this excellent body of work and their ability to describe it with such thoroughness and detail. --Heidi Resnick, PhD, Associate Professor, National Crime Victims Research and Treatment Center, Medical University of South Carolina Written by internationally acknowledged experts in research and practice, this excellent book provides clear, step-by-step guidance in how to plan and implement an empirically validated treatment for rape trauma. It is essential reading for trauma researchers and clinicians. --David M. Clark, PhD, Professor of Psychiatry, University of Oxford, Warneford Hospital This book is at once both scholarly and practical. It blends state-of-the-art scientific information about the nature of traumatic reactions with practical clinical guidelines for conducting cognitive-behavioral therapy with rape victims. The step-by-step instructions for conducting individual exposure therapy are especially well-formulated. This is certainly the book I will use in my graduate school teaching and for guiding my own treatment efforts with rape victims. The book is outstanding! --David W. Foy, PhD, Professor of Psychology, Graduate School, Education and Psychology, Pepperdine University - This volume exemplifies manualized treatment....Given the authors' empirical grounding, clear thinking, lucid writing, and extensive clinical experience, this volume should be of great value to any therapist who is treating PTSD regardless of theoretical bent. There is no more straightforward, empirically based approach to treating psychological trauma. --Bulletin of the Menninger Clinic, 10/26/2001 Although Foa and Rothbaum are known above all for their achievements as researchers, their book also displays the compassion and refined sensitivity that are hallmarks of accomplished clinicians....[This book] contains coverage of a spectrum of cognitive-behavioral interventions for PTSD at a level of detail that is not readily available elsewhere. --Psychotherapy in Private Practice, 10/26/2001 This book is an excellent training tool for both experienced and novice therapists....An outstanding resource. --Psychotherapy Research, 10/26/2001 [The authors] succeed in helping all of us who work with victims of trauma develop a treatment approach that we can use not only to understand our patients' suffering but also to teach them that recovery can and does occur. --Psychiatric Services, 10/26/2001
Övrig information
Edna B. Foa, PhD, Professor at the Allegheny University of the Health Sciences, Director of the Center for the Treatment and Study of Anxiety, is an internationally renowned authority on the psychopathology and treatment of anxiety. Her research aiming at delineating etiological frameworks and targeted treatment has been highly influential and she is currently one of the leading experts in the areas of posttraumatic stress disorders. The program she has developed for rape victims is considered to be the most effective therapy for post-trauma sequela. She has published several books and over 200 articles and book chapters, has lectured extensively around the world, and was chair of the PTSD work group of the DSM-IV. Dr. Foa is the recipient of numerous awards and honors, including the Distinguished Scientist Award from the Scientific section of the American Psychological Association, the First Annual Outstanding Research Contribution Award from the Association for the Advancement of Behavior Therapy, and the American Psychological Association Award for Distinguished Scientific Contributions to Clinical Psychology.
Innehållsförteckning
I. What Do We Know About PTSD Following Assault? 1. The Clinical Picture: A Rape Victim and Her Father Tell their Stories 2. Diagnosis and Prevalence of PTSD Following Assault 3. Other Common Responses to Assault 4. What Do We Know about Treatment Efficacy for PTSD? 5. Theoretical Bases for PTSD and its Treatment II. How to Conduct Effective Treatment of PTSD 6. An Overview of Cognitive-Behavioral Techniques and Programs for PTSD 7. Assessment of PTSD and Related Problems 8. The Beginning of Treatment 9. In Vivo Exposure: Confronting the Feared Situations 10. Imaginal Exposure: Reliving the Trauma 11. Cognitive Techniques I: Cognitive Restructuring 12. Cognitive Techniques II: Thought Stopping and Preparing for a Stressor 13. Relaxation Training: Deep Muscle, Cue-Controlled, and Differential Relaxation 14. Role Playing and Covert Modeling 15. Common Problems, Termination, and a Full Case Example Appendix: Assault Information and History Interview (AIHI)