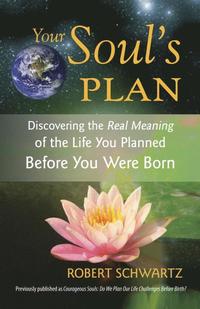 Fler böcker inom
Format

Häftad (Paperback / softback)

Språk

Engelska

Antal sidor

344

Utgivningsdatum

2009-03-28

Förlag

Dimensioner

215 x 138 x 25 mm

Vikt

455 g

Antal komponenter

1

ISBN

9781583942727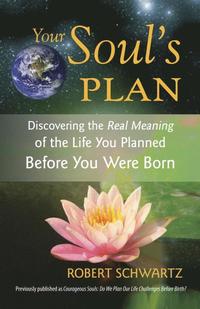 Your Soul's Plan
Discovering the Real Meaning of the Life You Planned Before You Were Born
Skickas inom 5-8 vardagar.
Fri frakt inom Sverige för privatpersoner.
Would you like to understand the deeper spiritual meaning of physical illness, parenting handicapped children, drug addiction, alcoholism, the death of a loved one, accidents, deafness, and blindness?

Your Soul's Plan (which was originally published under the title Courageous Souls: Do We Plan Our Life Challenges Before Birth?) explores the premise that we are all eternal souls who plan our lives, including our greatest challenges, before we are born for the purpose of spiritual growth. Through compelling profiles of people who knowingly planned the experiences mentioned above, Your Soul's Plan shows that suffering is not purposeless, but rather imbued with deep meaning. Working with four gifted mediums, author Robert Schwartz reveals the significance of each person's life plan and allows us a fascinating look into the "other side."

Each personal story focuses on a specific life challenge, organized by type for easy reference. Accessible both to those familiar with the metaphysical aspects of spirituality and to the general reader, the moving narratives that comprise Your Soul's Plan help readers awaken to the reality that they are transcendent, eternal souls. With this stirring book as a guide, feelings of anger, resentment, guilt, and victimization are healed and transformed into acceptance, forgiveness, gratitude, and peace.

Robert Schwartz is also the author of Your Soul's Gift: The Healing Power of the Life You Planned Before You Were Born, which explores the pre-birth planning of spiritual awakening, miscarriage, abortion, caregiving, abusive relationships, sexuality, incest, adoption, poverty, suicide, rape, and mental illness. There's also a chapter about the pre-birth planning we do with our future pets.

Robert Schwartz is a hypnotherapist who offers general Spiritual Guidance Sessions, Past Life Soul Regressions, and Between Lives Soul Regressions. Visit Robert online at www.yoursoulsplan.com.
Passar bra ihop
+
Kundrecensioner
Det finns 1 recension av Your Soul's Plan. Har du också läst boken?
Sätt ditt betyg »
Som en vilsen person kan det här vara din lösning på...

Som en vilsen person kan det här vara din lösning på livets gåtfulla utspel. Att förstå varför oförklarliga saker händer, både goda och onda, kan med hjälp av Robert Schwartz få en annan innebörd. Den kommer förändra din syn på livet och du kommer att se enklare på motgångar. För det ärva själva som har valt våra egna mot- och medgångar!
Fler böcker av Robert Schwartz
Recensioner i media
"The more we know about the meaning of life, the better we understand the important choices we must make. Robert Schwartz has done an excellent job of presenting the possible explanations of what we are doing here and why we are here. I highly recommend this book."<br>--Dannion Brinkley, author of "Saved by the Light" and "The Secrets of the Light" <br>""Your Soul's Plan" is a deeply insightful guide as to why our lives unfold as they do and how to direct them to a deeper place. A powerful book . . . I highly recommend it."<br>--Sonia Choquette, author of "The Answer is Simple . . . Love Yourself, Live Your Spirit!" <br>"One of the most detailed explorations I have seen into understanding why we have chosen certain paths in our lives and how we may use that information to continue our journey as a soul here and now. This book will help thousands of people. A book you "have "to have in your library!" <br>--John Holland, author of "Power of the Soul: Inside Wisdom for an Outside World" <br>""Your Soul's Plan" is highly recommended to anyone trying to understand the suffering, tragedy or loss that has caused them to question life, death and/or God. And who among us is not inflicted by such challenges and questions in our lifetime? In my eight years researching life after death, spirituality and life purpose, I have discovered no better explanation of why human challenges exist than what is so eloquently written in Robert Schwartz's book."<br>--Bob Olson, OfSpirit.com Editor <br>"The serene cover of "Your Soul's Plan" belies the punch with which Robert Schwartz communicates the results of his research into pre-birth planning. Working with four experienced channelers, he asked 10 people, each facing different challenges . . . to delve into the reasons why they agreed, before birth, to put themselves in such difficult situations. Each entry begins with an interview in which the person's story is told from his or her point-of-view. Information via a medium is used to provide insight and sometimes actual pre-birth conversations about the goals or life lessons desired, contributing past-life factors, and the people who contracted to play major roles in the person's present incarnation. Moving us away from the idea of karma as punishment, Schwartz introduces the idea of learning through contrast, for instance, a soul wishing to fully experience her or his compassionate side might choose to be born into a family that lacks compassion. <br>"In addition to the considerable wisdom provided from the spirit side, Schwartz writes a summary at the end of each chapter in which he adds some of his own insight garnered during years of metaphysical study. Overall, it is one of the best books of this kind I have come across."<br>--Anna Jedrziewski, "New Age Retailer" Magazine <br>"Robert Schwartz is an eloquent spokesman for his explorations in the realm few of us have even considered, much less explored fully: the concept of pre-birth planning as a convention of souls who make decisions about incarnation--place, time, circumstances, and challenges--that will heighten the overall improvement of not only their repeated growth in the process of rebirth but also the gift to the betterment of mankind. <br>"Schwartz's manner of writing is so tender and so lacking in preaching that he gradually draws the reader into his realm of thinking in a way that allows us to suspend any doubt orprejudice we may have about spirituality or after life or universal karma. He uses conversations with people who share their experiences of living with such 'handicaps' as physical illness, parenting handicapped children, deafness and blindness, drug addiction and alcoholism, accidents, death of a loved one and alters the word 'handicapped' to 'challeng
Bloggat om Your Soul's Plan