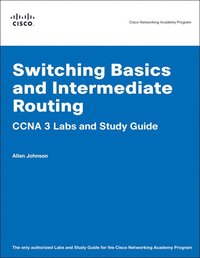 Fler böcker inom
Format

Häftad (Paperback)

Språk

Engelska

Antal sidor

416

Utgivningsdatum

2006-08-01

Upplaga

1

Förlag

Illustrationer

illustrations

Dimensioner

275 x 215 x 22 mm

Vikt

960 g

Antal komponenter

1

ISBN

9781587131714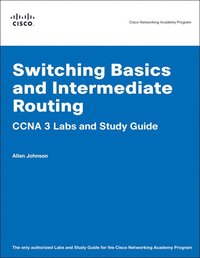 Switching Basics and Intermediate Routing CCNA 3 Labs and Study Guide (Cisco Networking Academy Program)
Slutsåld
Switching Basics and Intermediate Routing
CCNA 3 Labs and Study Guide  
The only authorized Labs and Study Guide for the Cisco Networking Academy Program  
Allan Johnson  
Switching Basics and Intermediate Routing CCNA 3 Labs and Study Guide supplements version 3.1.1 of the Cisco Networking Academy Program CCNA 3 course. This guide maximizes your understanding of:
Advanced IP addressing techniques, including variable-length subnet mask (VLSM)
Routing protocols, including RIPv2, OSPF, and EIGRP
Switching technologies and LAN design
Switch configuration, including port security, Spanning Tree Protocol (STP), VLANs, and VLAN Trunking Protocol (VTP)
Each chapter contains a Study Guide section and a Lab Exercises section. Keep all your completed work on hand in this book to study from later, or take advantage of the perforated pages to tear out and hand in specific material for homework assignments.  
Study Guide
The 90 exercises in this book help you learn the concepts and configurations crucial to your success as a CCNA exam candidate. Each chapter is slightly different and includes some or all of the following types of exercises:
Vocabulary matching and completion
Skill-building activities and scenarios
Configuration scenarios
Concept questions
Journal entries
Internet research
Lab Exercises
The Lab Exercises sections begin with a Command Reference exercise to help you review all the commands covered in the chapter. The book includes all 32 labs from the online course, with an additional 10 labs in which you can apply your knowledge about the technologies and concepts introduced. Youll get ample opportunity for hands-on practice in three different types of labs:
Curriculum Labs are step-by-step exercises designed to introduce you to new concepts. Presented with detailed instructions and sometimes additional explanations for completing the lab, the Curriculum Labs come directly from the CCNA 3 online course.
Comprehensive Labs combine the concepts learned from the course and Curriculum Labs into new experiments. These exercises provide minimal guidance. You are encouraged to complete the Curriculum Labs before moving on to a Comprehensive Lab.
Challenge Labs require a thorough understanding of the previously learned network concepts. You should complete all Curriculum and Comprehensive Labs in a chapter before attempting a Challenge Lab.
Additionally, the appendix includes three CCNA 3 Skills-Based Assessment practice labs.
After completing all the exercises and hands-on labs in this book, you will be well prepared to continue your networking education in the CCNA courses that follow.  
Use this book with:
Switching Basics and Inter...
Bloggat om Switching Basics and Intermediate Routing...
Övrig information
Allan Johnson entered the academic world in 1999 after 10 years as a business owner/operator to dedicate his efforts to his passion for teaching. He has an MBA and an M.Ed in occupational training and develop­ment. Allan is currently pursuing an MS in information security. He is an information technology instruc­tor at Mary Carroll High School and Del Mar College in Corpus Christi, Texas. Since 2003, Allan has committed much of his time and energy to the CCNA Instructional Support Team providing services for instructors worldwide and creating training materials. He is a familiar voice on the Cisco Networking Academy Community forum, "Ask the Experts" series. He currently holds CCNA and CCAI certifications.
Innehållsförteckning
Chapter 1 Introduction to Classless Routing
Study Guide
VLSM
RIP Version 2
Lab Exercises
Command Reference
Curriculum Lab 1-1: Calculating VLSM Subnets (1.1.4)
Curriculum Lab 1-2: Review of Basic Router Configuration with RIP (1.2.3)
Curriculum Lab 1-3: Converting RIPv1 to RIPv2 (1.2.4)
Curriculum Lab 1-4: Verifying RIPv2 Configuration (1.2.5)
Curriculum Lab 1-5: Troubleshooting RIPv2 Using debug (1.2.6)
Comprehensive Lab 1-6: Default Routing and RIPv2
Challenge Lab 1-7: VLSM Design, RIPv2, and Default Routing
Chapter 2 Single-Area OSPF
Study Guide
Link-State Routing Overview
Single-Area OSPF Concepts
Single-Area OSPF Configuration
Lab Exercises
Command Reference
Curriculum Lab 2-1: Configuring the OSPF Routing Process (2.3.1)
Curriculum Lab 2-2: Configuring OSPF with Loopback Addresses (2.3.2)
Curriculum Lab 2-3: Modifying OSPF Cost Metric (2.3.3)
Curriculum Lab 2-4: Configuring OSPF Authentication (2.3.4)
Curriculum Lab 2-5: Configuring OSPF Timers (2.3.5)
Curriculum Lab 2-6: Propagating Default Routes in an OSPF Domain (2.3.6)
Comprehensive Lab 2-7: OSPF Configuration
Challenge Lab 2-8: OSPF Design and Configuration
Chapter 3 EIGRP and Troubleshooting Routing Protocols
Study Guide
EIGRP Concepts
EIGRP Configuration
Troubleshooting Routing Protocols
Lab Exercises
Command Reference
Curriculum Lab 3-1: Configuring EIGRP Routing (3.2.1)
Curriculum Lab 3-2: Verifying Basic EIGRP Configuration (3.2.3)
Comprehensive Lab 3-3: Comprehensive EIGRP Configuration
Challenge Lab 3-4: EIGRP Design and Configuration
Chapter 4 Switching Concepts
Study Guide
Introduction to Ethernet/802.3 LANs
Introduction to LAN Switching
Switch Operation
Lab Exercises
Chapter 5 LAN Design and Switches&nb...