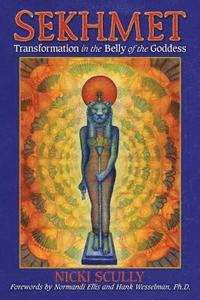 Fler böcker inom
Format

Häftad (Paperback / softback)

Språk

Engelska

Antal sidor

288

Utgivningsdatum

2017-06-20

Förlag

Medarbetare

Ellis, Normandi (foreword)/Wesselman, Hank (foreword)/Ellis, Normandi (foreword)/Wesselman, Hank (foreword)

Illustratör/Fotograf

Illustrationer

Includes 16-page color insert and 25 b&w illustrations

Dimensioner

226 x 150 x 18 mm

Vikt

477 g

Antal komponenter

1

ISBN

9781591432074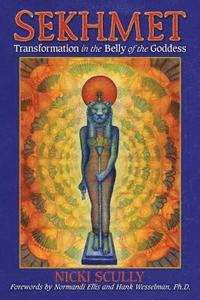 Sekhmet
Transformation in the Belly of the Goddess
Skickas inom 7-10 vardagar.
Fri frakt inom Sverige för privatpersoner.
Sekhmet is the lioness goddess of the Egyptian Pantheon, a fierce protector of truth, balance, and the Cosmic order of Ma'at. Known and feared as the goddess of war and destruction, she also represents the transformative power of kundalini energy, or sekhem, and is the main goddess to harness this power for healing. As "She Who Comes in Times of Chaos," she takes offerings of fear, rage, and weakness and transforms them into alchemical gold, the universal medicine for physical, emotional, and soul healing. This journey of shamanic death, illumination, and rebirth in the belly of Sekhmet provides an opportunity to heal on all levels and allows you to release your rage, anger, and fear as you transform the energies that maintained them into creative and constructive solutions that benefit yourself, your community, and the planet.
Passar bra ihop
+
Recensioner i media
"Nicki Scully's latest book, Sekhmet, leads the reader to new depths of understanding and connection with the mighty Sekhmet. Sa Sekhem Sahu." * Candace Ross, resident priestess at The Temple of Goddess Spirituality, dedicated to Sekhmet * "Are you ready for transformation? If so, this is the book for you. The belly of the goddess is a haven of peace, a cauldron of illumination and ultimate rebirth. Now, more than ever, we need Sekhmet in our lives and she is available at her finest in this book." * Kathryn W. Ravenwood, author of How to Create Sacred Water * "Sekhmet enlivens the alchemical fire of transmutation within and offers a pathway to become one's most refined and potent self. All who choose to partake in this primal alchemical process and embrace Sekhmet as ally and friend have an opportunity to self-initiate into an empowered state of grace. What a gift Nicki is giving to readers. " * Danielle Rama Hoffman author of The Tablets of Light * "This is an amazing book, beautiful in both images and words, empowering readers to deal with the profound issues and challenges of our time. Read it to gain knowledge, surrender to its wisdom to heal yourself, and work it to transform your ability to act for the good of all our relations!" * Brooke Medicine Eagle, author of Buffalo Woman Comes Singing * "I have heard many accounts of Sekhmet and her powerful, ongoing manifestations through select individuals. This goddess refuses to be forgotten. She serves as a hierophant or bridge to a world of vast psychic potentialities. She beckons us to visit her small and obscure shrine located amid the magnificent Temple of Karnak. Nicki Scully takes us further into her mysteries as only a daughter of the goddess can do." * Jeffrey Mishlove, Ph.D., host and producer of New Thinking Allowed video channel * "Nicki Scully has decades of leading tours to the sacred sites of ancient Egypt, in two of which I participated many years ago. In the course of this book, while focused on Sekhmet, the reader will also encounter Thoth the god of wisdom; Ptah the inventor; Ma'at the cosmic truth, justice, and balance; Knum the potter who rebuilds the body; and Khepera, the protector. The reader learns not only about these mythic figures but learns how to access these deities in a ritualistic way for spiritual transformation. Lavishly illustrated with striking photographs, this book is a treasure chest of healing meditations!" * Ralph Metzner, Ph.D., author of Ecology of Consciousness * "Sekhmet is a potent amalgamation of Nicki Scully's Alchemical Healing and the wisdom of Sekhmet, the transformative goddess of the threshold who arrives when the Great Ages shift. As the most intense Aquarian shift comes--Sekhmet's hour--Nicki Scully's guidance for regenerating our brains and body systems is a lifesaver--an exquisite healing balm." * Barbara Hand Clow, author of Awakening the Planetary Mind * "Just reading Nicki's fierce and fearless book can begin the process of transformation. Ah, but if you actually do the work--if you let Sekhmet devour you, digest you, heal you, change you--that is when the magic happens. Let Nicki be your loving and wise guide on this transmutational journey. It will be scary. There will be fire. But oh, it will be worth it." * M. Isidora Forrest, author of Isis Magic * "I'm truly impressed with this remarkable book. While Nicki shares the magic of Sekhmet's power to create healing and transformation in your life, she gifts you with sacred stories and extraordinary photos to illustrate your journey. Nicki's mastery is clear as she guides you through an alchemical process comprised of many initiations and exercises that will change your life." * Sandra Ingerman, M.A., author of Soul Retrieval * "Nicki Scully is a master of the sacred mysteries of Egypt, as evident in the process of transformation this unique book delivers. Her deep connectio
Övrig information
Nicki Scully has been a healer and teacher of shamanism and the Egyptian mysteries since 1983. Her many books include Alchemical Healing, Shamanic Mysteries of Egypt, The Anubis Oracle, and The Union of Isis and Thoth. Founder of Shamanic Journeys, Ltd., which specializes in spiritual tours to sacred sites in Egypt, she teaches at conferences and festivals throughout the world. Nicki lives with her husband, Mark Hallert, in Eugene, Oregon, where she offers retreats, private sessions, and teleseminars.
Innehållsförteckning
FOREWORD It's the Feeling You Get When You Are Sekhmetized By Normandi Ellis FOREWORD My First Encounter with Sekhmet By Hank Wesselman, Ph.D. PREFACE The Origins of This Alchemical Process Introduction Part I Who, What, and How--Beginning the Alchemical Journey 1 Sekhmet Face-to-Face 2 Preparing for the Work Heart Breath Invocation 3 Paying Respects to the Mysteries Sphinx Journey 4 Dealing with Fear Fear Journey with Sekhmet Part II The Offering 5 Taking Your Offering to Sekhmet Journey to Karnak 6 Feeding Sekhmet Journey to Sekhmet's Chapel Merging with Sekhmet 7 Fierce Compassion Fierce Compassion Journey 8 Lost Hopes and Forgotten Dreams Journey to the Land of False Hopes and Broken Dreams A Fresh Start 88 Part III Dissolution, Emptiness, and Regeneration 9 A Sunset Walk Journey to Luxor Temple in the Belly of the Goddess 10 In the Soup with Wadjet Alphabet Soup--Rewriting Your Genetic Blueprint 11 The Oasis Journey to the Oasis to Clarify Your Direction 12 First, There Was the Word Meditation on the Still Point between Energy and Matter Meeting with the Pantheon 13 Akasha and the Elements Reconstruction Begins with Akasha--An Elemental Journey 14 Rebuilding Your Bones Journey to Retrieve Your Skeletal System 15 Reconstructing the Network of Body Systems Sekhmet's Transmission to Restore Your Body Systems 16 Reconstructing the Brain Brain Reconstruction and Reconciliation with Horus and Sobek 17 Energizing the Meridians, Eyes, Ears, and Nose Journey to Align Your Energy with the Energy of the Earth 18 Khnum's Temple at Elephantine Journey to Complete the Creation of Your New Body 19 Divine Intervention Accepting Blessings from the Cosmos Part IV Transformation 20 Emerging Meditation on the Regeneration of Your New Self 21 Completion Your Completion Ceremony Acknowledgments Glossary Bibliography Index About the Author