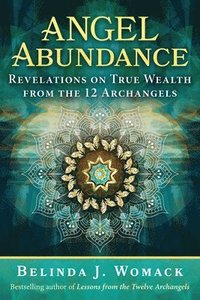 Fler böcker inom
Format

Häftad (Paperback / softback)

Språk

Engelska

Antal sidor

272

Utgivningsdatum

2023-08-17

Förlag

Dimensioner

228 x 156 x 17 mm

Vikt

436 g

Antal komponenter

1

ISBN

9781591434986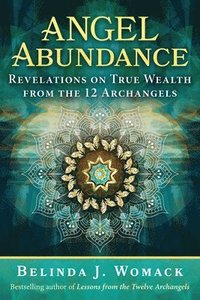 Angel Abundance
Revelations on True Wealth from the 12 Archangels
Skickas från oss inom 3-6 vardagar.

Fri frakt över 249 kr för privatkunder i Sverige.
Finns även som
Ladda ned och lyssna i Bokus Reader.

Läs i DRM-kompatibel e-boksläsare.
Attract wealth and healing with the guidance of the 12 Archangels. You are personally invited by the 12 Archangels to receive all that you desire from Source, especially the true happiness that often seems out of reach. Your Soul has the clear guidance and tools to help you move from lack to abundance and attract wealth and healing and the Archangels will show you how. Speaking through Belinda Womack, who has been a channel for the 12 Archangels for more than 30 years, the Angels explain the root issue behind our lack of abundance is the fear of not enough. Sharing 63 healing visualizations, the Angels guide you to dissolve the deep subconscious layers of guilt and shame that keep you stuck in a fear-induced lack of wealth and become receptive to the infinite bounty of the Universe. Reading the visualizations from the 12 Archangels, with intention, helps you tap in to the singing colors and undiluted love of the Central Sun mirrored in your chakras. The visualizations raise the vibration of your thoughts, feelings, and beliefs to attract wealthnot only financial gain, but all that you need to receive from Source to feel safe, happy, healthy, and free. The 12 Archangels share lessons on the relationship between money and Divine Law, how to cultivate your garden of intuition and creativity, and how to resolve financial debt with understanding and love. They offer nighttime practices that support your transformation into a vessel to receive the full blessings of Source. They also offer advanced practices on harnessing your innate power to transform suffering. Helping you connect with the boundless care and deep pockets of your Soul to transform financial struggles and eliminate self-doubt, the 12 Archangels show that life keeps improving when you make room for the vast flow of creative genius and abundance coming from the Universe through the Divine Feminine.
Passar bra ihop
+
Fler böcker av Belinda J Womack
Belinda J Womack

Angels are loving forces in our lives. Each of us has the ability to communicate with them if we open our minds to their teachings. Belinda Womack was a believer in Angels until the age of 12, when she decided she wanted to become a scientist. Yea...

Belinda J Womack, Catherine Shainberg

Poderosa guía para abrir tu vida a la sabiduría y la sanación de los Ángeles • Contiene instrucciones de los 12 Arcángeles sobre cómo transformar nuestros miedos y heridas más profundas del pasado • Inc...
Recensioner i media
In their new book, the 12 Archangels make it clear that to solve the problems we face as human beings we must transform our own heartache, both known to us as well as what is hidden in the deep subconscious. In this practical guide, channeled at the pure frequency of love, the Angels show us the way to free ourselves, and the collective, from lack and suffering. It begins with connecting with Source through the feminine so that we rise from limitations imposed on us by the old male patriarchy. Bravo, Belinda and the Angels, for revealing the truth about money and lighting the path to real abundance. * Regina Meredith, host of Open Minds on Gaia TV * Angel Abundance is mesmerizing. Written with the wisdom that comes from facing real-life financial challenges, it inspires the reader to truly know and feel our connection with God and the Angels. Abundance is our birthright. This book will guide you to that reality. * Christiane Northrup, M.D., New York Times bestselling author of Goddesses Never Age * Belinda and the 12 Archangels work in this book is profound, to say the least. Angel Abundance is a guiding light for all those souls who want to connect to inner wealth in this age of massive awakening around the world. * Alex Ferrari, host of the Next Level Soul podcast * "I highly recommend Angel Abundance. Womack did an amazing job of imparting to us the love and wisdom of the 12 Archangels. The words were soothing but they also captured my rapt attention. I felt the loving support behind each and every word that I read. I truly believed that my highest good was at the forefront of what the Archangels were imparting. Who could ask for more? Ask and receive. Amazing." * Anne Greco, Musing Mystical *
Övrig information
Belinda J. Womack has been a clear and trustworthy messenger for the 12 Archangels of the Central Sun for more than 30 years. She offers a multitude of online courses, advanced trainings, and consultations on the ageless and practical wisdom of the Angels through her website, BelindaWomack.com. The author of the bestselling book Lessons from the 12 Archangels, she lives in Kalispell, Montana.
Innehållsförteckning
Preface: Living in Abundance with the 12 Archangels PART 1 Accepting the Invitation The Invitation Receiving the Invitation Spiritual Laws That Help You A New Beginning PART 2 Raising Your Vibration Definition of Wealth The Singing Colors of the Central Sun Rainbow Embrace The Purple Door Stepping through the Purple Door Restoring in the Energy Fountains Keeping Watch for the Old Male and the Old Female Love Alarm The Healing Gifts of the Divine Inner Child Receiving Guidance and Healing Changing the Repetitive Story of Lack Transforming Subconscious Unworthiness and Guilt Healing the Wounded Self Transmuting Lack Beliefs Releasing Ancestral and Past-Life Trauma PART 3 Receiving Your Wealth What Does Wealth Look Like to You? Releasing the Expectation of Being Abandoned by Creator Filling Up with All You Could Ever Want Freedom Within, Freedom Without Undiluted Love for You Doubt Out, Trust In The Twin Sisters of Intuition and Creativity Releasing the Negative Parent Voice Letting Go of the Magic Parent Your Creativity Garden Preparation: Clearing Repression of the Feminine Planting Your Creativity Garden Germination: Freeing the Repressed Masculine Playing in the Garden of Your Creative Imagination Firing Up Your Creativity Cultivating with Heart Power Transforming Your Heartache Activating Heart Power Harvesting Your Garden Rescuing the Ego PART 4 Creating a New Financial Reality The Divine Laws and Money Clearing Financial Trauma and Suffering Transforming the Fear Held within the Thoughtform of Money Releasing the Puppet Strings of Attachment to Money Dissolving Financial Debt with Understanding and Love Conquering Doubt Credit and Validation for You Transforming Family Patterns of Debt Creativity and Sustainable Flow Clearing the Pipeline Receive, Attract, Focus, and Grow! PART 5 What Is Still Missing? The 12 Archangels' Formula to Change Your Reality To Love and Be Loved Forgiving the Past The Freedom to Choose Transforming Fear Caused by Religion and Government Living the Mission of Your Soul Entering the Sanctuary of Soul Mental, Emotional, and Physical Health Healing Session with the Angel Physicians Graceful Exit from the Dance Floor Peace and Balance: So Within, So Without Bringing Peace and Balance to Earth PART 6 Moving Schoolroom Earth Out of Suffering Transforming Poverty Letting Go of Fear's Old Female Poverty Beliefs Transforming Poverty from the Inside Out Transforming Exile and Homelessness Violet Fire for Releasing the Trauma of Exile Transforming Neglect and Abuse of Children Forgiving the Traumas of Childhood DNA Scrub for Clearing Neglect and Abuse Transforming Hatred, Violence, and Evil with Undiluted Love Divine Rescue Transforming Inequality, Racism, and Discrimination Transmuting the Judges Transforming Leadership and the Misuse of Power Reclaiming Your Highest Vibrational Will Transforming the Games of Warfare and Military Action Working with the Young Masculine Transforming or Eliminating Conflict from the Inside Out Transforming the Patriarchal Hierarchy Deep Cleansing for the Old Male and Old Female Transforming Pollution and the Exploitation of Natural Resources Rebalancing the Power of the Divine Feminine Transforming Fear into Love Healing the Divine Inner Child PART 7 Healing Experiences to Support Restful Sleep and Happy Receiving Goodbye Negativity and Good Night! Dragons Roost with the Divine Inner Child Divine Mothers' Palace of Renewal Surfing with the 12 Archangels Merlins Cabin and Cocoa Into the Purple Sea Emerald and Ruby in a Golden Nest Egg Mother Earths Haven Gratitude for You Emerald Forest Orchard of Ever-Growing Currency Trees Golden Pyramid of Initiation with the 12 Archangels Acknowledgments The 12 Archangels' Glossary of Terms Index