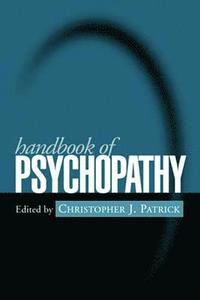 Format

Häftad (Paperback / softback)

Språk

Engelska

Antal sidor

651

Utgivningsdatum

2007-07-01

Förlag

Illustratör/Fotograf

Illustrationer

black & white illustrations

Dimensioner

253 x 178 x 30 mm

Vikt

1140 g

Antal komponenter

1

Komponenter

,

ISBN

9781593855918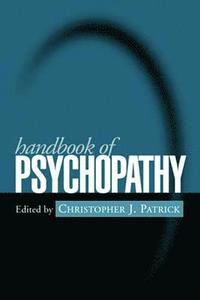 Handbook of Psychopathy
Tillfälligt slut – klicka "Bevaka" för att få ett mejl så fort boken går att köpa igen.
Finns även som
Skickas inom 5-8 vardagar
This book has been replaced by Handbook of Psychopathy, Second Edition, ISBN 978-1-4625-3513-2.
Fler böcker av Christopher J Patrick
Recensioner i media
"Patrick has assembled a remarkably diverse group of cutting-edge scholars to explore in depth the etiology, assessment, and treatment of psychopathy. Clinically astute and scientifically rock-solid, the Handbook of Psychopathy is the single indispensable volume for researchers, practitioners, and students on what may be the most important forensic concept of the early 21st century."--John Monahan, PhD, University of Virginia School of Law "Patrick's masterful volume on psychopathy brings additional sophistication to this important and developing topic. Special strengths of the Handbook include its exceptional coverage of etiology and its applications to critical subpopulations. It documents the pressing need for more specialized interventions that target individual facets of psychopathy in forensic and nonforensic populations."--Richard Rogers, PhD, Department of Psychology, University of North Texas "The last two decades have seen a massive growth in biological, psychological, clinical, and epidemiological research on psychopathy. This authoritative, scholarly handbook, edited by one of the leaders in the field, brings together contemporary theoretical concepts and empirical research findings, and does so in an admirable fashion. The impressive range of authors includes senior figures and some of the best of the rising generation of younger researchers. There is no better source of current knowledge on all aspects of psychopathy, as well as on the research challenges that remain and the paradoxes still to be resolved."--Sir Michael Rutter, MD, FRS, FRCPsych, Institute of Psychiatry, London, UK "This is an outstanding volume that provides the most comprehensive account of psychopathy currently available. The editor has selected a first-rate panel of contributors to provide in-depth coverage of all that is known about the nature, origins, and treatment of psychopathy. The result is an indispensable resource for all serious students of personality disorder, whether in the mental health or forensic fields."--W. John Livesley, MD, PhD, Department of Psychiatry, University of British Columbia, Canada "I was thrilled to adopt this text for my graduate course on the psychology of criminal behavior. I loved the book and have been really pleased with the classroom outcomes and student evaluations of the book. Very few texts are able to provide such broad and timely coverage of a topic as polarizing as psychopathy. The collection of experts is impressive, their work is incisive, and the contribution to the field is immense. I recommend this definitive text to educators without reservation."--Kim A. Gorgens, PhD, Graduate School of Professional Psychology, University of Denver
Bloggat om Handbook of Psychopathy
Övrig information
Christopher J. Patrick, PhD, is Starke R. Hathaway Distinguished Professor and Director of Clinical Training in the Department of Psychology at the University of Minnesota. He has published extensively in the areas of psychopathy, antisocial behavior, and substance use and abuse. Dr. Patrick's other research interests include emotion, personality, psychophysiology, and cognitive neuroscience. He is the recipient of Distinguished Early Career Contribution awards from the American Psychological Association (1995) and the Society for Psychophysiological Research (1993). He is currently a consulting editor for Psychological Assessment and for the Journal of Abnormal Psychology, as well as a former associate editor of Psychophysiology.
Innehållsförteckning
I. Theoretical and Empirical Foundations 1. Psychopathic Personality: The Scope of the Problem, David T. Lykken 2. A Dual-Deficit Model of Psychopathy, Don C. Fowles and Lilian Dindo 3. Other Theoretical Models of Psychopathy, Ronald Blackburn 4. The PCL-R Assessment of Psychopathy: Development, Structural Properties, and New Directions, Robert D. Hare and Craig S. Neumann II. Issues in Conceptualization and Assessment 5. Facets of Clinical Psychopathy: Toward Clearer Measurement, David J. Cooke, Christine Michie, and Stephen D. Hart 6. The Self-Report Assessment of Psychopathy: Problems, Pitfalls, and Promises, Scott O. Lilienfeld and Katherine A. Fowler 7. Psychopathy and Personality, Donald R. Lynam and Karen J. Derefinko 8. Psychopathy and DSM-IV Psychopathology, Thomas A. Widiger 9. Disaggregating Psychopathy: Where and How to Look for Subtypes, Norman G. Poythress and Jennifer L. Skeem 10. Perspectives on the Conceptualization of Psychopathy: Toward an Integration, Robert F. Krueger III. Etiological Mechanisms 11. Genetic and Environmental Influences on Psychopathy and Antisocial Behavior, Irwin D. Waldman and Soo Hyun Rhee 12. Family Background and Psychopathy, David P. Farrington 13. Neurochemistry and Pharmacology of Psychopathy and Related Disorders, Michael J. Minzenberg and Larry J. Siever 14. The Neuroanatomical Bases of Psychopathy: A Review of Brain Imaging Findings, Adrian Raine and Yaling Yang 15. Subcortical Brain Systems in Psychopathy: The Amygdala and Associated Structures, R. J. R. Blair 16. The Functional Architecture of the Frontal Lobes: Implications for Research with Psychopathic Offenders, Robert D. Rogers 17. Understanding Psychopathy: The Cognitive Side, Kristina D. Hiatt and Joseph P. Newman 18. Psychopathy and Developmental Pathways to Antisocial Behavior in Youth, Paul J. Frick and Monica A. Marsee 19. Toward an Integrated Perspective on the Etiology of Psychopathy, Angus W. MacDonald III and William G. Iacono IV. Psychopathy in Specific Subpopulations 20. Psychopathy in Children and Adolescents, Randall T. Salekin 21. Psychopathy in Women: Assessment, Manifestations, and Etiology, Edelyn Verona and Jennifer Vitale 22. Ethnic and Cultural Variations in Psychopathy, Elizabeth A. Sullivan and David S. Kosson 23. The ""Successful"" Psychopath: Adaptive and Subclinical Manifestations of Psychopathy in the General Population, Jason R. Hall and Stephen D. Benning V. Clinical and Applied Issues 24. Psychopathy and Aggression, Stephen Porter and Michael Woodworth 25. Psychopathy and Substance Use Disorders, Jeanette Taylor and Alan R. Lang 26. The Role of Psychopathy in Sexual Coercion against Women, Raymond A. Knight and Jean-Pierre Guay 27. Risk for Criminal Recidivism: The Role of Psychopathy, Kevin S. Douglas, Gina M. Vincent, and John F. Edens 28. Treatment of Psychopathy: A Review of Empirical Findings, Grant T. Harris and Marnie E. Rice 29. Legal and Ethical Issues in the Assessment and Treatment of Psychopathy, John F. Edens and John Petrila 30. Toward the Future: Translating Basic Research into Prevention and Treatment Strategies, Michael C. Seto and Vernon L. Quinsey IV. Conclusions and Future Directions 31. Back to the Future: Cleckley as a Guide to the Next Generation of Psychopathy Research, Christopher J. Patrick