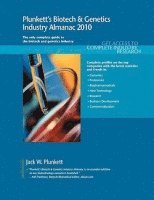 Fler böcker inom
Format

Häftad (Paperback / softback)

Språk

Engelska

Antal sidor

559

Utgivningsdatum

2009-09-09

Upplaga

2010 ed.

Förlag

Medarbetare

Plunkett, Jack W. (red.)

Illustrationer

black & white illustrations

Dimensioner

285 x 215 x 31 mm

Vikt

1369 g

Antal komponenter

2

Komponenter

Contains 1 Paperback and 1 CD-ROM

ISBN

9781593921507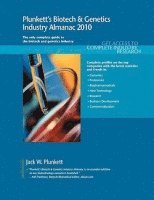 Plunkett's Biotech &; Genetics Industry Almanac 2010
Biotech & Genetics Industry Market Research, Statistics, Trends & Leading Companies
Skickas inom 10-15 vardagar.
Fri frakt inom Sverige för privatpersoner.
Plunkett's Biotech & Genetics Industry Almanac is a complete reference guide to the business side of biotechnology, genetics, proteomics and related services. This new book contains complete profiles of the leading biotech companies, in-depth chapters on trends in genetics, technologies, statistics and finances, a handy glossary and thorough indexes. Plunkett's Biotech & Genetics Industry Almanac, our easy-to-understand reference to the biotech and genetics industry, is an absolutely vital addition to your office. For the first time, in one carefully-researched volume, you'll get all of the data you need. Topics include: A Short History of Biotechnology; The State of the Biotechnology Industry Today; Biotechnology funding and investments; Patents; Biotech activities in Singapore and China; FDA; Gene Therapies; Personalised Medicine; Systems Biology; Drug Development; Clinical Trials; Controversy over Drug Prices; Stem Cells Research; Therapeutic Cloning; Regenerative Medicine Nanotechnology; Agricultural Biotechnology; Drug Delivery Systems; BioShield; Ethical Issues. The book also includes complete profiles on over 400 Biotech & Genetics companies, our own unique list of companies that are the leaders in biotechnology. These are the largest, most successful corporations in all facets of this exploding business. All of the corporate profile information is indexed and cross-indexed, including contact names, addresses, Internet addresses, fax numbers, toll-free numbers, plus growth and hiring plans, finances, research, marketing, technology, acquisitions and much more for each firm. Purchasers of either the book or PDF version can request a free copy of the company profiles database on CD-ROM, enabling export of contact names, addresses and more.
Passar bra ihop
+
Recensioner i media
- A book/CD-ROM reference guide to the business side of biotech, genetics, proteomics and related services. Offers profiles of 400 leading biotech companies, plus overviews of trends in biotech, technology, finances and careers which will help readers understand the uses and implications of such technologies as tissue engineering, recombinant DNA and genetically engineered agricultural products - The CD-ROM contains corporate profiles (of 400 leading biotech companies) and executive names by title, and can be used for mail merge and financial charts.A" SciTech Book News For business researchers and job seekers, this almanac provides an overview of leading biotechnology firms and descriptions of emerging technology - The company and industry overviews make this a worthwhile addition to business and career reference collections.A" CHOICE magazine Extensive indexing adds to the volume's usefulness.A" Booklist magazine This volume - has pulled together a large collection of companies in this industry and provides a ready reference for a variety of information in one place.A" RUSQ Quarterly Magazine The simple and straight-forward structure and presentation of information is a real asset, making for very intuitive application. A companion CD enables the creation of mailing lists, permits the creation of customized spreadsheets and databases and the ability to sort, filter and view the corporate profiles.A" Plunkett's Biotech and Genetics Industry Almanac is an essential addition to any biotechnology executive's bookshelf.A" Yali Friedman, Biotech/Biomedical Editor, About.com One more fine example of the fine publications offered by Plunkett Research. This reference book is particularly timely given the considerable interest in biotech and genetics from scientific, investment and entrepreneurial audiences - Will be an excellent source for nearly any kind of library.A" American Reference Books Annual
Bloggat om Plunkett's Biotech &; Genetics Industry A...
Övrig information
Jack W. Plunkett is CEO & Publisher of Plunkett Research, Ltd., a Houston-based provider of market research and industry information in printed and electronic formats. Plunkett Research provides analysis, statistics and other vital data on all major industry sectors, from InfoTech to Retailing to Banking and Nanotechnology. Plunkett's client list includes 10,000 leading corporations, universities and government agencies worldwide. Plunkett's research products are distributed electronically through subscriptions to its website and around the globe by major booksellers and news distributors, including Bloomberg and ThomsonReuters. Jack Plunkett is the author of numerous books, including The Next Boom: What you absolutely, positively have to know about the world between now and 2025. This book won a 2011 gold medal in the Business Book Awards competition sponsored by Axiom and INC Magazine. Plunkett is frequently interviewed as an expert source by publications such as Time magazine, The Wall Street Journal, The New York Times and Investor's Business Daily, media outlets such as NPR's Marketplace, ABC, and CBS Marketwatch, as well as local and regional newspapers and national columnists. Plunkett received an Academic Book of the Year Award for his Plunkett's Health Care Industry Almanac, and he was a regional finalist in the Entrepreneur of the Year Awards sponsored by Ernst & Young.
Innehållsförteckning
PLUNKETT'S BIOTECH & GENETICS INDUSTRY ALMANAC 2010 CONTENTS A Short Biotech & Genetics Industry Glossary xii Introduction 1 How to Use This Book 3 Chapter 1: Major Trends Affecting the Biotech & Genetics Industry 7 1) The State of the Biotechnology Industry Today 7 2) A Short History of Biotechnology 11 3) Ethanol Production Soared, But a Market Glut May Slow Expansion 12 4) New Money Pours into Biotech Firms/Mergers and Acquisitions Surge Ahead 15 5) Major Drug Companies Bet on Partnerships With Smaller Biotech Research Firms 16 6) From India to Singapore to Australia, Nations Compete Fiercely in Biotech Development 16 7) Medical Trials Conducted Abroad Spark Concerns 18 8) Gene Therapies and Patients' Genetic Profiles Promise a Personalized Approach to Medicine 18 9) Breakthrough Drugs for Cancer Treatment-Many More Will Follow 20 10) Few New Blockbusters: Major Drug Patents Expire While Generic Sales Growth Continues 21 11) Biotech and Orphan Drugs Pick Up the Slack as Blockbuster Mainstream Drugs Age 23 12) Biogenerics (Follow-on Biologics) are in Limbo in the U.S. 24 13) Breakthrough Drug Delivery Systems Evolve 25 14) Stem Cells-Multiple Sources Stem from New Technologies 26 15) U.S. Government Reverses Ban on Funding for New Stem Cell Research 28 16) Stem Cells-Therapeutic Cloning Techniques Advance 29 17) Stem Cells-A New Era of Regenerative Medicine Takes Shape 30 18) Nanotechnology Converges with Biotech 31 19) Agricultural Biotechnology Scores Breakthroughs but Causes Controversy/Selective Breeding Offers a Compromise 32 20) Focus on Vaccines 35 21) Ethical Issues Abound 36 22) Technology Discussion-Genomics 36 23) Technology Discussion-Proteomics 37 24) Technology Discussion-Microarrays 37 25) Technology Discussion-DNA Chips 37 26) Technology Discussion-SNPs ( SnipsA") 38 27) Technology Discussion-Combinatorial Chemistry 38 28) Technology Discussion-Synthetic Biology 38 29) Technology Discussion-Recombinant DNA 39 30) Technology Discussion-Polymerase Chain Reaction (PCR) 39 Chapter 2: Biotech & Genetics Industry Statistics 40 Biotech Industry Overview 41 Global Biotechnology at a Glance: 2008 42 Growth in Global Biotechnology: 2007-2008 43 U.S. Biotechnology at a Glance: 2007-2008 44 Biotechnology Financing, U.S., Europe & Canada: 2007-2008 45 Quarterly Breakdown of Biotechnology Financings, U.S. & Canada: 2008 46 Ernst & Young Survival Index, U.S. & Canadian Biotechnology Companies: 2007-2008 47 The U.S. Drug Discovery & Approval Process 48 U.S. FDA Approval Times for New Drugs: 1993-2008 49 U.S. FDA Approval Times for New Molecular Entities (NMEs): 1993-2008 50 U.S. Pharmaceutical R&D Spending Versus the Number of New Molecular Entity (NME) Approvals: 1993-2008 51 Employment in Life & Physical Science Occupations by Business Type, U.S.: May 2008 52 Federal R&D & R&D Plant Funding for General Science & Basic Research, U.S.: Fiscal Years 2007-2009 53 National Health Expenditure Amounts by Type of Expenditure, U.S.: Selected Calendar Years, 2003-2018 54 U.S. Exports & Imports of Pharmaceutical Products: 2003-1st Quarter 2009 55 U.S. Prescription Drug Expenditures, Aggregate & Per Capita Amounts, Percent Distribution: Selected Calendar Years, 2003-2018 56 Prescription Drug Expenditures, U.S.: 1965-2018 57 Total U.S. Biotechnology Patents Granted per Year by Patent Class: 1977-2008 59 Research Funding for Biological Sciences, U.S. National Science Foundation: Fiscal Year 2009-2010 60 Global Area of Biotech Crops by Country: 2008 61 R&D as a Percentage of U.S. Biopharmaceutical Sales, PhRMA Member Companies: 1970-2008 62 Biologics & Biotechnology R&D, PhRMA Member Companies: 2007 63 Domestic & Foreign Pharmaceutical Sales, PhRMA Member Companies: 1970-2008 64 Sales By Geographic Area, PhRMA Member Companies: 2007 65 Domestic Biopharmaceutical R&D Breakdown, PhRMA Member Companies: 2007 66 R&D by Global Geographic Area, PhR