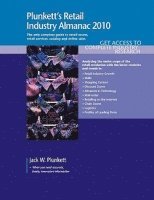 Fler böcker inom
Format

Häftad (Paperback / softback)

Språk

Engelska

Antal sidor

672

Utgivningsdatum

2009-12-30

Upplaga

2010 ed.

Förlag

Medarbetare

Plunkett, Jack W. (red.)

Illustrationer

black & white illustrations

Dimensioner

273 x 209 x 31 mm

Vikt

1587 g

Antal komponenter

1

Komponenter

Contains 1 Paperback and 1 CD-ROM

ISBN

9781593921583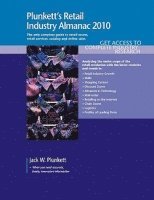 Plunkett's Retail Industry Almanac 2010
Retail Industry Market Research, Statistics, Trends & Leading Companies
Skickas inom 10-15 vardagar.
Fri frakt inom Sverige för privatpersoner.
No other guide covers the complete retail picture like this exciting new volume. America's retail industry is in the midst of vast changes - superstores and giant discounters are popping up on major corners. Malls are lagging while ""power centers"" are surging ahead. Savvy firms are combining bricks, clicks and catalogs into multi-channel retail powerhouses. Which are the hottest retailers? What lies ahead? Our market research section shows you the trends and a thorough analysis of retail technologies, chain stores, shopping centers, mergers, finances and future growth within the industry. Included are major statistical tables showing everything from monthly U.S. retail sales, by sector, to mall sales per square foot, to the 10 largest malls in the US. Meanwhile, the corporate profiles section covering nearly 500 firms gives you complete profiles of the leading, fastest growing retail chains across the nation. From Wal-Mart and Costco to Barnes & Noble and Amazon, we profile the major companies that marketing executives, investors and job seekers most want to know about. These profiles include corporate name, address, phone, fax, web site, growth plans, competitive advantage, financial histories and up to 27 executive contacts by title. Purchasers of the printed book or PDF version may receive a free CD-ROM database of the corporate profiles, enabling export of vital corporate data for mail merge and other uses.
Passar bra ihop
+
Recensioner i media
business, governmental and college libraries. Those with strong business references will consider it an important acquisition: the only complete reference to the American retail industry's trends and leading companies, from chain stores to specialty stores. The contact names of executives, phone numbers, and corporate analysis details on each Retail 500 firm will prove invaluable.A" Deja.com In this retail trade guide, Plunkett covers the retail industry in detail. The introductory chapter contains an overview of the retail industry with trends and statistics. Chapters 2 through 5 discuss useful retail industry contact sources with World Wide Web addresses; online retailing and nonstore retailers; retail sites on the Web by broad subject and Web addresses; malls, superstores and shopping centers; and employment, careers, earnings and job outlook in the retail trade.A" Chapter 6, the main section of the book, provides profiles - store data; types of business; brands, divisions, and affiliates; chief officers to contact, telephone and fax numbers; address and Internet address; financial information; salaries and benefits information; competitive advantage; locations; and growth plans and special features. Appendix 1 contains monthly sales and inventory statistics, explanatory material on terms, information on reliability of data, factors for adjusting seasonal variations, and Standard Industrial Classifications. In the back of the book, a helpful combined index lists companies by store name, subsidiaries, brand names, and selected affiliations to provide a variety of access.A" The detailed and varied information found here on retail trade is difficult to easily access elsewhere in one volume. The almanac should be a welcome addition to business and large public and academic libraries that deal with the retail trade side of business.A" American Reference Books Annual - This audience should consider this reference essential: it analyzes the latest statistics on retail industry growth and trends, covering everything from malls and superstores to mail-order businesses, and presents in-depth profiles on companies which provide keys to overall industry operations. An important reference.A" Midwest Review of Books Large discounters like Wal-Mart that offer customers a wide array of low-priced merchandise in one convenient location dominate today's retail scene. One might guess that Plunkett's aspires to a similar niche in the business reference market as a convenient one-stop source of information about the American retail industry. Included in this premier edition are an overview of the retail industry; a chapter on careers in retailing; lists of retail industry contacts, selected retailing sites on the World Wide Web, shopping center and outlet center mall owners and managers; and profiles of - companies selected for 'their prominence in retail fields and related support industries - Plunkett's is recommended for libraries with demand for information about the retail industry.A" CHOICE magazine of the American Library Association
Bloggat om Plunkett's Retail Industry Almanac 2010
Övrig information
Jack W. Plunkett is CEO & Publisher of Plunkett Research, Ltd., a Houston-based provider of market research and industry information in printed and electronic formats. Plunkett Research provides analysis, statistics and other vital data on all major industry sectors, from InfoTech to Retailing to Banking and Nanotechnology. Plunkett's client list includes 10,000 leading corporations, universities and government agencies worldwide. Plunkett's research products are distributed electronically through subscriptions to its website and around the globe by major booksellers and news distributors, including Bloomberg and ThomsonReuters. Jack Plunkett is the author of numerous books, including The Next Boom: What you absolutely, positively have to know about the world between now and 2025. This book won a 2011 gold medal in the Business Book Awards competition sponsored by Axiom and INC Magazine. Plunkett is frequently interviewed as an expert source by publications such as Time magazine, The Wall Street Journal, The New York Times and Investor's Business Daily, media outlets such as NPR's Marketplace, ABC, and CBS Marketwatch, as well as local and regional newspapers and national columnists. Plunkett received an Academic Book of the Year Award for his Plunkett's Health Care Industry Almanac, and he was a regional finalist in the Entrepreneur of the Year Awards sponsored by Ernst & Young.
Innehållsförteckning
A Short Retail Industry Glossary xii Introduction 1 How To Use This Book 3 Chapter 1: Major Trends Affecting the Retail Industry 7 1) Introduction to the Retail Industry 7 2) Wal-Mart Dominates as the World's Biggest Retailer (and now America's Biggest Grocer) 9 3) Department Stores have Evolved into Giant Apparel, Cosmetics and Accessories Stores 10 4) Discounting and Discount Stores Evolve 13 5) Private Label Brands Boom 13 6) Sophistication and Success for Direct Marketers 14 7) Rise of Showcase Stores and Super-Merchandisers 17 8) For the Long Term in the U.S, a Decline in Consumer Spending and Debt, along with an Increase in Saving 19 9) Bricks, Clicks and Catalogs Create Synergies While Online Sales Growth Slows 19 10) GPS and Location Based Services (LBS) Enhance Cellphone Subscriptions 21 11) Retail Technologies Leap Ahead 22 12) RFID Drives Inventory Management Evolution 24 13) Self Service Retail and Travel Technologies Take Off 26 14) Retailers Find New Markets in China While India's Retail Industry Sees Lukewarm Growth/ Russia Attracts Retail Interest 27 15) Lifestyle Centers and Super-Regional Malls Falter/Mall Glut Anticipated 29 16) Entertainment-Based Retailing, including Power Towns 30 17) Shopping Center Tenants Face Slow Sales/Store Closings force Landlords to Become Creative 31 18) Malls Morph to Stay Afloat 32 19) Luxury Item Sales Slow/Discreet Discounts Become the Norm 32 20) LOHAS- Socially Conscious Consumers Create Challenges and Opportunities for Advertisers and Marketers 33 21) How to Interpret Reports of Retail Sales 34 Chapter 2: Retail Industry Statistics 36 U.S. Retail Industry Overview 37 Annual Consumer Price Index, 1913-2009 38 Exports, General Imports & Trade Balance in Goods, U.S.: 1981-3rd Quarter 2009 39 Types of U.S. Shopping Centers 40 Total U.S. Retail Sales & Annual Percent Change: 1992-2009 41 U.S. Retail Trade Corporation Statistics, Q2 2009 42 Total Estimates of Annual Sales of Merchant Wholesalers: 2002-2008 43 Total Monthly Sales and Inventories of Merchant Wholesalers: Monthly, through August 2009 44 Retail & Food Services Sales by Kind of Business, U.S.: 2003-September 2009 46 Retail & Food Services Sales by Kind of Business, U.S.: Monthly, through September 2009 48 Estimated Quarterly U.S. Retail Sales, Total & E-Commerce: 1st Quarter 2001-2nd Quarter 2009 50 Total U.S. Disposable Income, Expenditures & Gross Domestic & National Product Per Capita: 1960-2009 51 Average Annual U.S. Household Expenditures: 2003-2008 52 Distribution of Total U.S. Annual Household Expenditures, by Major Category: 2008 53 Resident Population Estimates by Age, U.S.: 2002-2010 54 Employment in the Retail Industry, U.S.: 2003-September/October 2009 55 Chapter 3: Important Retail Industry Contacts 56 Addresses, Telephone Numbers and Internet Sites Chapter 4: THE RETAIL 500: Who They Are and How They Were Chosen 83 Industry List, With Codes 84 Index of Rankings Within Industry Groups 86 Alphabetical Index 99 Index of Headquarters Location by U.S. State 103 Index of Non-U.S. Headquarters Location by Country 108 Index by Regions of the U.S. Where the Firms Have Locations 109 Index of Firms with International Operations 124 Individual Profiles on each of THE RETAIL 500 128 Additional Indexes Index of Hot Spots for Advancement for Women/Minorities 618 Index of Subsidiaries, Brand Names and Selected Affiliations 620