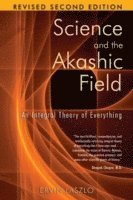 Fler böcker inom
Format

Häftad (Paperback / softback)

Språk

Engelska

Antal sidor

240

Utgivningsdatum

2007-05-01

Upplaga

2nd Edition, Updated Second Edition

Förlag

Illustratör/Fotograf

Illustrationer

1 black and white ill

Dimensioner

230 x 150 x 15 mm

Vikt

340 g

Antal komponenter

1

ISBN

9781594771811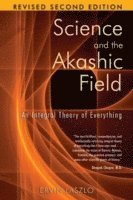 Science and the Akashic Field
An Integral Theory of Everything Revised 2nd Edition
Skickas inom 5-8 vardagar.
Fri frakt inom Sverige för privatpersoner.
Mystics and sages have long maintained that there exists an interconnecting cosmic field at the roots of reality that conserves and conveys information, a field known as the Akashic record. Recent discoveries in vacuum physics show that this Akashic Field is real and has its equivalent in science's zero-point field that underlies space itself. This field consists of a subtle sea of fluctuating energies from which all things arise: atoms and galaxies, stars and planets, living beings, and even consciousness. This zero-point Akashic Field is the constant and enduring memory of the universe. It holds the record of all that has happened on Earth and in the cosmos and relates it to all that is yet to happen. In SCIENCE AND THE AKASHIC FIELD, philosopher and scientist Ervin Laszlo conveys the essential element of this information field in language that is accessible and clear. From the world of science he confirms our deepest intuitions of the oneness of creation in the Integral Theory of Everything. We discover that, as philosopher William James stated, "We are like islands in the sea, separate on the surface but connected in the deep." * Explains how modern science has rediscovered the Akashic Field of perennial philosophy * New edition updates ongoing scientific studies, presents new research inspired by the first edition, and includes new case studies and a section on animal telepathy
Passar bra ihop
+
Recensioner i media
"Laszlo easily and ably presents the scientific case in terms everyone can understand. There is an extensive bibliography of technical journals for those who wish to know more." * W. Ritchie Benedict, New Dawn * "With extraordinary intellectual clarity, Laszlo provides a vision that links the best of modern science to the wisdom of the great spiritual traditions." * Stanislav Grof, M.D., Ph.D., president and founder of the International Transpersonal Association an * "This important work unifies the realms of science and consciousness in a truly integral 'theory of everything.'" * Ralph Abraham, Ph.D., professor of mathematics, University of California, and coauthor of Chaos, Cre * ". . . lends credance to our deepest intuitions of the oneness of life and the whole of creation." * Share Guide, Sept-Oct 2005, Issue #81 * "Decoding GUTs, WIMPs, and The Big Crunch, Ervin Laszlo brings the ancient Indian concept of akasha into the new millennium and convincingly details how science is turning this metaphor into a viable scientific theory." * Spirit of Change, March-April 2005 * "Ervin Laszlo is, arguably, the most profound thinker alive today." * Lady Montagu of Beaulieu, First Ambassador of the Club of Budapest * "If you ever wanted to hold the universe in your hand . . . . You can hardly do better than join cosmologist Ervin Laszlo in the ultimate quest: for a theory of everything." * Christian de Quincey, Ph.D., professor of philosophy, John F. Kennedy University, editor of Institut * "This is a solidly grounded vision of our cosmos, with perspectives that are wide and deep and have profound implications for all of us." * Henrik B. Tschudi, chairman of the Flux Foundation, Oslo, Norway * ". . . Ervin Laszlo's brilliant new work, Science and the Akashic Field, surpasses previous explorations. . . . This is a 'make-sense-of-the-complex' opus, accessible to every reader." * A. Harris Stone, Ed.D., founder of The Graduate Institute in Milford, Connecticut, and author of The * "Science and the Akashic Field . . . . offers humanity the perspective of more peace and security, not as an idealistic goal but as a reflection of reality." * Jurriaan Kamp, editor in chief of Ode Magazine and author of Because People Matter * "Science and the Akashic Field provides the pioneering scientific answer to . . . fundamental questions our species faces at this critical time in human evolution." * David Loye, Ph.D., former research director of the Program on Psychosocial Adaptation and the Future * "In his admirable 40-year quest for an integral theory of everything, Laszlo has. . . presented a coherent global hypothesis of connectivity between quantum, cosmos, life and consciousness." * Zev Naveh, Ph.D., professor emeritus, Israel Institute of Technology, and author of Landscape Ecolog * "Laszlo's book opens the way toward a great synthesis. Whoever reads Laszlo's book witnesses the greatest awakening of the human spirit. Not since Plato and Democritus has there been such a transformation in the history of thought!" * Laszlo Gazdag, Ph.D., physicist and professor of Social Sciences, Science University of P& * "This is one of the most important books to be published in the last decades. Ervin Laszlo's Science and the Akashic Field has the power and coherence to explain the major phenomena of cosmos, life, and mind as they occur at the various levels of nature and society. In demonstrating that an information field is a fundamental factor in the universe, Ervin Laszlo catalyzes a radical paradigm-shift in the contemporary sciences." * Ignazio Masulli, Ph.D., professor of history, University of Bologna, Italy, and coauthor of The Evol * "In a visionary way based on profound knowledge of modern science, Laszlo creates a genuine architecture of human and cosmic evolution. He provides the bridge between all
Bloggat om Science and the Akashic Field
Övrig information
Ervin Laszlo holds of the highest degree of the Sorbonne (the State Doctorate), and was nominated for the 2004 and 2005 Nobel Peace Prize. He is also president of the international think-tank The Club of Budapest as well as of the General Evolution Research Group. The author of 75 books, translated into 20 languages, he lives in Italy.
Innehållsförteckning
Introduction: A Meaningful Scientific Worldview for Our Time PART ONE THE FOUNDATIONS OF AN INTEGRAL THEORY OF EVERYTHING How Information Connects Everything to Everything Else 1 The Challenge of an Integral Theory of Everything Approaches to a Genuine TOE 2 On Puzzles and Fables: Drivers of the Next Paradigm Shift in Science 3 A Concise Catalog of the Puzzles of Coherence The Puzzles of Coherence in Quantum Physics The Puzzles of Coherence in Cosmology The Puzzles of Coherence in Biology The Puzzles of Coherence in Consciousness 4 The Crucial Science Fable--In-formation in Nature The Quantum Vacuum--or Plenum "In-formation" in the Quantum Vacuum The Parable of the Sea Enter the Akashic Field PART TWO THE IN-FORMED UNIVERSE Perennial Questions and Fresh Answers from the Integral Theory of Everything 5 The Origins and Destiny of Life and the Universe Where Everything Came From--and Where It Is Going Origins and Evolution of Our Universe Life on Earth and in the Universe The Future of Life in the Cosmos Glimpses of Ultimate Reality 6 Consciousness--Human and Cosmic The Roots of Consciousness Evolutionary Panpsychism The Wider In-formation of Consciousness The Next Evolution of Human Consciousness Cosmic Consciousness The Farthermost Reaches of Consciousness 7 The Poetry of Akashic Vision The Phenomenon of Coherence: A Deeper Look at the Scientific Evidence Over Four Decades in Quest of an Integral Theory of Everything: An Autobiographical Retrospective References Essential Reading: A Bibliography of Additional Research Reports and Theories Index