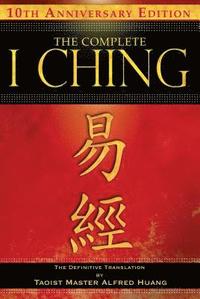 Fler böcker inom
Format

Häftad (Paperback / softback)

Språk

Engelska

Antal sidor

576

Utgivningsdatum

2010-11-17

Upplaga

2nd Edition, Revised, Revised Two-Color Edition

Förlag

Illustratör/Fotograf

Illustrationer

Two-color throughout

Dimensioner

229 x 152 x 30 mm

Vikt

772 g

Antal komponenter

1

ISBN

9781594773860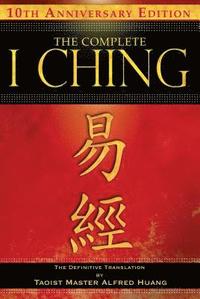 The Complete I Ching - 10th Anniversary Edition
The Definitive Translation by Taoist Master Alfred Huang
Skickas inom 7-10 vardagar.
Fri frakt inom Sverige för privatpersoner.
Translated by the eminent Taoist Master Alfred Huang, The Complete I Chinghas been praised by scholars and new students of the I Ching since its first edition. A native Chinese speaker, Master Huang first translated the original ideograms of the I Ching into contemporary Chinese and then into English, bringing forth the intuitive meanings embodied in the images of the I Ching and imbuing his translation with an accuracy and authenticity not possible in other English translations. However, what makes his translation truly definitive is his return to prominence of the Ten Wings, the commentaries by Confucius that are essential to the I Ching's insights. This 10th anniversary edition offers a thorough introduction to the history of the I Ching, how to use it, and several new divination methods; in-depth and easy-to-reference translations of each hexagram name, description, and pictogram; and discussions of the interrelations between the hexagrams and the spiritual meaning of their sequence.
Passar bra ihop
+
Kundrecensioner
Det finns 1 recension av The Complete I Ching - 10th Anniversary Edition. Har du också läst boken?
Sätt ditt betyg »
omfattande och tydlig

Detta var den fjärde versionen jag köpte av I Ching. Har R.Wilhelm 3rd ed, Jing Nuan Wu 2nd ed och Richard John Lynn sedan tidigare. Detta är för tillfället den jag vänder mig till mest, tillsammans med Lynn.
Recensioner i media
"This book is an absolute requirement for those who rely upon the I-Ching, and most highly recommended as a primary text for anyone wishing to learn how to use it. Highest recommendations to author and publisher - excellent!" * Elizabeth Hazel, FacingNorth.net, September 2011 * ". . . this 10th Anniversary Edition of Master Huang's translation brings new light to understanding and utilizing this ancient wisdom." * Light of Consciousness Journal, April 2011 * "Impressive for its scope and the clarity of its translation, this 10th anniversary edition features a new introduction by Huany on the history and application of the I-Ching, with descriptions of the commentary and divination methods." * Book News, Inc., February 2011 * "Huang succeeds, also, in producing a work that keeps opening up new vistas of understanding and inviting the reader to explore the many layers of discovery offered by the mathematical, visual and literary dimensions of the classic." * Reg Little, New Dawn * "This translation, from a Taoist master, is the most extensive treatment of the subject I have ever encountered. . . . the quality of the work is so exceptional that it is hard to find fault with it. . . . if you wish to learn this system, this book will be an indispensable aid to your education. There is such a wealth of information contained in this book (each page contains the hexagram being discussed and the ideograph of the name, so there is no confusion) that it is hard to overstate the usefulness of this work. . . . This it is of use and benefit for both the novice and the more experienced user." * Mike Gleason, Witchgrove * "What is constant through this translation is both a sense of tradition and an appreciation of modernity. Throughout is a philosophical calmness, a sense of the intellectual mingling with the spirit of things. Most importantly, Huang makes this a useful I Ching, more useful for the current temperament than older, more self-conscious translations." * The Book Reader * "A careful comparison of Huang's translation with the Wilhelm, Legge, and Blofeld versions reveals its superiority in nearly every respect. Readers interested in acquainting themselves with the I Ching for the first time need to look no further; those who have formed a deep personal attachment to a previous translation owe it to themselves to explore this one as well." * Intuition *
Bloggat om The Complete I Ching - 10th Anniversary E...
Övrig information
Born in 1921, Master Alfred Huang is a professor of Taoist philosophy, former Dean of Students at Shanghai University, and a third-generation master of Wu-style Tai Chi Chuan, Chi Kung, and Oriental meditation with more than 60 years experience. He studied the I Ching--a forbidden book at the time--in secret with one of China's greatest I Ching masters, only to be branded an antirevolutionary by the Communist government and forced into manual labor in 1957 and imprisonment in 1966. During his 22 years of confinement, he found the strength to survive through meditation on the I Ching. Released in 1979, he emigrated to the United States. The founder of New Harmony, a nonprofit organization devoted to self-healing, and the author of The Numerology of the I Ching and Complete Tai-Chi, Master Huang lives on the island of Maui.
Innehållsförteckning
Acknowledgments Preface Ten Contributions of This Translation About the Translation How to Use This Book Introduction Flying with the I Ching The Upper Canon 1. Qian - Initiating 2. Kun - Responding 3. Zhun - Beginning 4. Meng - Childhood 5. Xu - Needing 6. Song - Contention 7. Shi - Multitude 8. Bi - Union 9. Xiao Xu - Little Accumulation 10. Lu - Fulfillment 11. Tai - Advance 12. Pi - Hindrance 13. Tong Ren - Seeking Harmony 14. Da You - Great Harvest 15. Qian - Humbleness 16. Yu - Delight 17. Sui - Following 18. Gu - Remedying 19. Lin - Approaching 20. Guan - Watching 21. Shi He - Eradicating 22. Bi - Adorning 23. Bo - Falling Away 24. Fu - Turning Back 25. Wu Wang - Without Falsehood 26. Da Xu - Great Accumulation 27. Yi - Nourishing 28. Da Guo - Great Exceeding 29. Kan - Darkness 30. Li - Brightness The Lower Canon 31. Xian - Mutual Influence 32. Heng - Long Lasting 33. Dun - Retreat 34. Da Zhuang - Great Strength 35. Jing - Proceeding Forward 36. Ming Yi - Brilliance Injured 37. Jia Ren - Household 38. Kui - Diversity 39. Jian - Hardship 40. Jie - Relief 41. Sun - Decreasing 42. Yi - Increasing 43. Guai - Eliminating 44. Gou - Encountering 45. Cui - Bringing Together 46. Sheng - Growing Upward 47. Kun - Exhausting 48. Jing - Replenishing 49. Ge - Abolishing the Old 50. Ding - Establishing the New 51. Zhen - Taking Action 52. Gen - Keeping Still 53. Jian - Developing Gradually 54. Gui Mei - Marrying Maiden 55. Feng - Abundance 56. Lu - Traveling 57. Xun - Proceeding Humbly 58. Dui - Joyful 59. Huan - Dispersing 60. Jie - Restricting 61. Zhong Fu - Innermost Sincerity 62. Xiao Guo - Little Exceeding 63. Ji Ji - Already Fulfilled 64. Wei Ji - Not Yet Fulfilled A Brief History of the Zhou Dynasty About the Author Glossary Index Chart of the Trigrams and Hexagrams