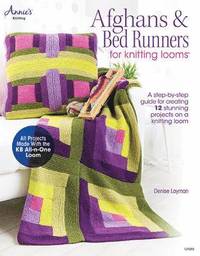 Fler böcker inom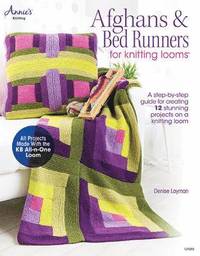 Afghans &; Bed Runners for Knitting Looms
A Step-by-Step Guide for Creating 12 Stunning Projects on a Knitting Loom
Slutsåld
Most crafters are familiar with the colorful plastic knitting loom sets but those are very limited in what can be created. They have a specific number of pegs per loom so if you want a smaller or a bigger project you're out of luck. With the KB All-in-Loom and Afghans & Bed Runners you can create throws off all sizes from a small tagalong blanky for baby to covers big enough for your bed. It has floor pillows. And a blanket with arms, perfect for when you want total coverage but still need to keep your hands free. This book even includes Bed Runners that can easily be used as a wrap when you are just looking to cover your shoulders. Learn a variety of construction techniques from working all at once to adding on as you go to seaming smaller pieces together at the end. Great variety of stitch patterns that can easily be applied to other projects as you become more adept at loom knitting.
Fler böcker av Denise Layman
How to Knit Fashionable Scarves on Circle Looms

Denise Layman

Learn new loom techniques that you never knew were possible. Discover new techniques for stockinette and garter stitch that allow you to create neater, tighter stitches, improving the look of all your designs. Learn to make eyelet lace (including ...
Bloggat om Afghans &; Bed Runners for Knitting Looms
Övrig information
Denise Layman has a bachelor's degree in Early Childhood Education and uses her degree to homeschool her four children - that is when she is not counting stitches and is done with her current row of knitting. She lives in Uniontown, Ohio, where she is also the president of the local knitting guild. Denise has been designing patterns for knitting looms for seven years. She is also the author of Learn to Knit on Circle Looms published by American School of Needlework and is a featured crafter in Craft Corps: Celebrating the Creative Community One Story at a Time, by Vickie Howell. More of Denise's designs can also be found in the Loom Knitting Pattern Book, and on her blog: Knitting Without Needles, www.knitchat.com.