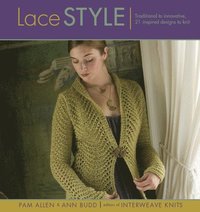 Fler böcker inom
Format

Häftad (Paperback)

Språk

Engelska

Antal sidor

160

Utgivningsdatum

2007-01-01

Upplaga

illustrated ed

Förlag

Illustrationer

100 colour illustrations

Dimensioner

230 x 218 x 13 mm

Vikt

560 g

Antal komponenter

1

ISBN

9781596680289
Following the success of Scarf Style and Wrap Style - with more than 100,000 copies sold - Lace Style contains a stunning collection of quick knits that take a modern twist on a traditional pattern. Revel in ways to use lace as allover patterns, trims and edgings, and inserts. Innovative designs include a lace pattern typically used for baby wear boldly translated into a striking woman's scalloped jacket, a delicate lace edging used to accent a featherlight lingerie dress, a chic skirt made lacy with intentionally dropped stitches, a wide-brim garden hat with a decidedly vintage feel, a sophisticated bracelet knitted from fine silver wire, and much more. Each pattern has detailed step-by-step instructions and lavish lifestyle photographs with plenty of detail shots. A special design chapter demystifies the elements of knitted lace, and details several ways to achieve lacy effects. Whether you're an experienced knitter looking for inspiration or a beginner trying lace knitting for the first time, Lace Style has everything you need to knit lace with confidence.
Recensioner i media
June 2007 Lace knitting might conjure up images of old-fashioned shawls and bed spreads but this new book shows how this addictive knitting technique can look fresh, exciting and fashionable. Traditional lace stitches are used in this collection of 21 patterns for modern knitters to create a wardrobe of lacy garments. There are projects large and small from a pair of lacy mohair cuffs to a full length evening dress. Along with this impressive dress there are other signature patterns that really stand out such as the featherweight dress with a handkerchief hemline that looks like it could be worn by a prima ballerina. As for everyday lacewear, there are several patterns to choose and there is none more flattering that the feather and fan scallop cardigan featured ln the cover. With light summertime tops, an intriguing dropped stitch ruffle skirt, a dramatic hat, silver bracelet and many more patterns this book should keep lace knitters busy for a while. It is an American publication but the yarn weight is given for each project so it is easy to make substitutions. There is a design notebook at the end with tops on increases, decreases and different effects with swatches to experiment with. The best advise is in the section on common mistakes and easy fixes for those missed manoeuvres. Knit Today Oct 07 Lace is making the big leap from the catwalk on to the high street this season and knitters have the great advantage of being able to take this trend and truly run with it. One step ahead of the game are the editors of Interweave Knits, Pam Allen and Ann Budd, who have written Lace Style, a wonderful collection of lace knit patterns, that we simply love. The book is beautifully put together and packed from cover to cover with ideas, techniques and innovative designs to inspire all knitters to knit lace. With 21 gorgeous patterns to choose from, and each design taking a modern twist on a traditional idea, you will be well and truly hooked! The authors encourage you to creatively make the lace designs your own by adding your own personal trims, buttonholes and neckbands. So don't hold back! Hot on the heels of the authors' previous books, Scarf Style and Wrap Style, which sold more than 100,000 copies each, Lace Style follows in the same enjoyable and easy-to-follow fashion, offering detailed step-by-step instructions and elaborate lifestyle photos, showing the fabulous detail in each pattern. Original designs include the wardrobe essential tank top, beautifully translated into an elegant garment that can be worn with jeans or a floaty dress, and a stunning, featherlight dress with a unique handkerchief hem and lace motif bodice. If you're an experienced knitter, then this book is the one for you, or if you are new to the glory of lace knitting, Lace Style will give you the confidence to get going and create garments beyond your wildest dreams. Enjoy and get knitting! Simply Knitting No. 116, June 2007 21 designs from 18 designers, compiled by the editors of Interweave Knits...Photography in this 160 page paperback is for knitters: clear stitch detail and close-ups of pattern features are accompanied by side and back views of garments where necessary. The number of designers is reflected in the wide range of patterns: cuffs in wire, a skirt, two shrugs, gloves, anklets, a wide-brimmed hat (complete with detailed instructions on wiring and shaping it) and several tops are followed by a comprehensive and beautifully inspired section on knitting lace. Labelled as 'traditional to innovative' there is probably something for adult females of all ages, although it seems unlikely that any one person would want every item in the book. Lesley Fidler SlipKnot April 2007 Lace knitting, with its elaborate patterning of solid fabric punctuated at regular intervals with decorative holes, is the caviar of knitting techniques. Interweave Knits editors Allen and Budd present a varied selection of 21 designs from such leading knitwear designers as No
Övrig information
Pam Allen is the editor of Interweave Knits, an avid knitter and knitwear designer. She authored the very successful book Knitting for Dummies, and her designs have been published in many magazines and featured in Melanie Falick's Knitting in America. Pam lives in Camden, Maine, and is the mother of two almost-grown children and two forever-young cats. Ann Budd is a best-selling author of many books includign The Knitter's Handy Book series, Getting Started Knitting Socks, Sock Knitting Masterclass, as well as co-author f a variety of books in the Style series. She teaches workshops throughout North America and beyond.
Innehållsförteckning
Introduction Projects Just Right Wrap- Sometimes two yarns are better than one, especially when they're two weights of the same luscious alpaca as Mari Lynn Patrick demonstrates in this wear-everywhere wrap jacket. The Point About Cuffs- For centuries, a white lace louse has been a wardrobe staple, but when that blouse is covered with a jacket, all that shows are the cuffs. With this notion in mind, Vicki Square designed a pair of mohair cuffs that can be worn with any garment. Lily of the Valley Shawl- Some of the most beautiful lace patterns come from Eastern Europe. The lily of the valley pattern Nancy Bush used in this shawl is a traditional but enduringly popular motif that originated in Estonia. Floral Lace Anklets- Evelyn A. Clark nearly always has a pair of socks on her needles. In this pair, she worked a small scalloped lace border that evolves into columns of little lace flowers. Lace-Edged Corset- Michele Rose Orne is an expert in designing sophisticated feminine knitwear. In this delicate corset top, she chose a silk yarn for the body and a very fine, crisp cotton yarn for the delicate lace edging at the neck and hem. Featherlight Lingerie Dress- We're all familiar with gossamer shawls, but Mari Lynn Patrick went a step further and created a featherweight dress with handkerchief hem. Little Silk Shrug- A lace garment doesn't get much simpler than this little shrug. The lace motif has a four-row repeat-and two of those four rows are simple purl rows-that is easily memorized. The Essential Tank Top- A large-scale lace motif worked in fine yarn on large needles creates an appealing airy fabric in Laura Zukaite's lace tank. Tailored Scallops- A longtime fan of the traditional feather and fan stitch pattern, Pam Allen worked it on a grand scale for this classic jacket. Ooh La Lace Dress and Stole- In this elegant dress and stole ensemble, Shirley Paden proves that sometimes you can't have too much of a good thing. Retro Redux Shrug- A wardrobe mainstay of the 1940s and 1950s, shrugs helped ensure warmth when sleek, backless dresses were all the rage. Katharine Hepburn Cardigan- Lace and cables. Cables and lace. However you pair the two, you're bound to come up with a winning combination. Long Long Lacy Gloves- Simultaneously elegant and whimsical, Lois S. Young's over-the-elbow fingerless gloves accessorize any sleeveless top or dress. Peek-a-Boo Cloche- For the most part, lace patterns do not make insulating fabric and are rarely considered appropriate for warm winter hats. But by layering a decorative lace pattern over dense stockinette stitch, Mona Schmidt found a way to make this hat both lacy and warm. Show-Off Ruffle Skirt- For this knitted skirt, Kat Coyle worked the bobble lace ruffle back and forth in rows. She then joined the ruffle in to a circle and worked slimming twisted-rib pattern in the round to the waist. Leg Cozies- Openwork zigs and zags give a ribbed appearance to Lisa Daehlin's casually dressy leg warmers. Ribbed edgings at top and bottom border a pattern that alternates fagot lace with panels of wavy stockinette stitch. Lacy Waves Top- In this striking sweater Norah Gaughan carved out a broad notch at the front neckline and filled it with an asymmetrical lace motif that forms scalloping ripples at the neck. Greta Garbo Garden Hat- For those days when a wide-brimmed hat is still in order, Annie Modesitt has designed a knitted version of this elegant staple. Never Wimpy Wimple Priscilla- Whether you wear it up over your head or down around your neck, a wimple, especially one that's edged in lace, makes a delicate frame for your face. Sterling and Crystal Cuff- Annie Modesitt has used fine silver wire to knit this classy little bracelet on large needles that exaggerate the open stitches of a simple pattern. Shetland Shawl Turned Vest- Veronik Avery took inspiration from the classic Shetland shawl