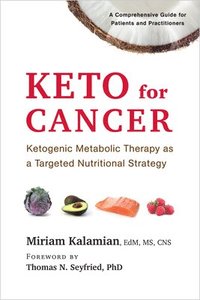 Fler böcker inom
Format

Häftad (Paperback / softback)

Språk

Engelska

Antal sidor

288

Utgivningsdatum

2017-10-11

Förlag

Medarbetare

Seyfried, Thomas N.

Illustrationer

10-20 Black and white images and charts/graphs

Dimensioner

215 x 152 x 25 mm

Vikt

612 g

Antal komponenter

1

ISBN

9781603587013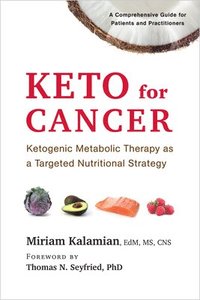 Keto for Cancer
Ketogenic Metabolic Therapy as a Targeted Nutritional Strategy
Skickas inom 7-10 vardagar.
Fri frakt inom Sverige för privatpersoner.
A Comprehensive Guide for Patients and Practitioners Although evidence supporting the benefits of ketogenic diet therapies continues to mount, there is little to guide those who wish to adopt this diet as a metabolic therapy for cancer. Keto for Cancer fills this need. Inspired by the work of Dr. Thomas N. Seyfried, PhD, nutritionist Miriam Kalamian has written the first book to lay out comprehensive guidelines that specifically address the many challenges associated with cancer, and particularly the deep nutritional overhaul involved with the ketogenic diet. Kalamian, a leading voice in the keto movement, is driven by passion from her own experience in using the ketogenic diet for her young son. Her book addresses the nuts and bolts of adopting the diet, from deciding whether keto is the right choice to developing a personal plan for smoothly navigating the keto lifestyle. It is invaluable for both beginners and seasoned users of the ketogenic diet, as well as for health-care professionals who need a toolkit to implement this targeted metabolic therapy. The book guides readers to a deeper understanding of the therapeutic potential of the ketogenic diet--which extends well beyond simply starving cancer--emphasizing the powerful impact the diet has on the metabolism of cancer cells. Nutritional nuances are explored in sections such as "Fasting Protocols" and "Know What's in the Foods You Eat" while meal templates and tracking tools are provided in "Preparing Keto Meals." Kalamian also discusses important issues such as self-advocacy. Readers of Keto for Cancer are empowered to "get off the bench and get in the game." To that end, Kalamian offers tips on how to critically examine cancer-care options then incorporate what resonates into a truly personalized treatment plan.
Passar bra ihop
+
Fler böcker av Miriam Kalamian
Keto gegen Krebs

Miriam Kalamian

Ein umfassender Leitfaden für Patienten, Ärzte und Therapeuten Obwohl sich Beweise für die Vorteile der ketogenen Ernährungstherapie häufen, gibt es kaum Anleitungen für jene, die diese Ernährung als Stoffwechseltherapie bei Krebs anwenden möchten...
Recensioner i media
Booklist- "Starve a cancer cell? Indeed. Kalamian, a nutritionist and educator whose 13-year-old son died of brain cancer, argues that research efforts focus too much on genetics and drugs and not enough on the environment and diet. Tumor cells seem to feed on glucose, so she argues that it makes sense to try a low-carb, high-fat ketogenic diet. With his introduction, biology professor Thomas Seyfried adds credibility to what he calls a 'playbook' for patients and caregivers who would like to try incorporating 'therapeutic ketosis' into their standard-of-care oncology treatment. In her how-to guide, Kalamian covers meal planning (many fats are friends), fasting (mostly good), calorie restriction (just don't go overboard), chemo and radiation (the weight loss they often cause might drive some of the early response to treatment), side effects (an increased risk of kidney stones), and long-term benefits of the keto diet (improved blood pressure, more energy). Though she is an unapologetic advocate, Kalamian does advise readers not to force a loved one to embrace this nutritional therapy." "I had the pleasure of first meeting Miriam at a conference in Berkeley a few years back, she was speaking on a panel about the ketogenic diet and cancer. Her story touched me deeply as did her articulate way of expressing how to implement a ketogenic diet. I was actively searching for a good resource for cancer patients as all that was available back then was directed to epilepsy and the fitness world. She was gracious enough to share with me a coveted, paper copy of her ebook, Getting Started With a Ketogenic Diet. I presented it a week later to a group of clients at a cancer retreat in northern California and started a snowball effect of finally finding a community to talk to about the ketogenic diet and cancer. Since then, I have watched Miriam reach superstardom with her brilliant mind and compassionate heart. This book is a culmination of what she has learned, shared, gleaned from others, and inspired in the world of both bench (her collaborations with world renowned researchers) and bedside (real-life application by respected clinicians) medicine. This is the most thorough discussion on ketogenic diet and cancer in the industry and I expect it to continue to inspire change in how we approach cancer today."--Nasha Winters, ND, coauthor of The Metabolic Approach to Cancer "Cancer nutrition expert Miriam Kalamian has poured every ounce of her hard-earned wisdom, deep scientific knowledge, and compassion into Keto for Cancer. Within this masterful guide, she explains how ketogenic diets limit tumor cell access to key nutrients while nourishing healthy cells, quieting inflammation, and improving quality of life. Let Kalamian empower you to take aim at cancer's soft underbelly and begin reclaiming your health."--Georgia Ede, MD, Psychiatrist and Nutrition Specialist "Miriam Kalamian's Keto for Cancer provides the most comprehensive and organized step-by-step information to easily understand and efficiently implement a lifesaving ketogenic diet. Using rigorous scientific evidence-based rationale, Kalamian explains why a ketogenic diet is crucial for anticancer management. In this extraordinary book, she shares her deep expertise in the science of cancer metabolism with her profoundly compassionate empathy and loving kindness to accomplish a landmark in this field. The book is an academic, scientific primer for clinicians (who will greatly benefit from the lucid, crisp explanations), as well as a detailed, easy-to-follow manual for patients and their families to carry out their daily anticancer ketogenic diets. This diligent, gifted work gives real life and authentic hope to its readers in a unique tour de force which will remain a landmark for generations."--J. William (Will) LaValley, MD, Molecular Integrative Oncology "I have gotten to know Miriam personally and professionally over the years. Her
Bloggat om Keto for Cancer
Övrig information
Miriam Kalamian is a nutrition consultant, educator, and author specializing in the implementation of ketogenic therapies. She earned her master of education (EdM) from Smith College and her master of human nutrition (MS) from Eastern Michigan University. She is board certified in nutrition (CNS) by the Board for Certification of Nutrition Specialists. Inspired by the work of Thomas N. Seyfried, PhD, Miriam draws on a decade of experience to provide comprehensive guidelines that specifically address the many diet and lifestyle challenges associated with a cancer diagnosis. Miriam is a leading voice in the keto movement. Her passion for helping others implement this diet comes directly from her personal experience. Her son Raffi was diagnosed with a brain tumor in December 2004. Standard of care therapies failed to stop the relentless progression of his disease, and it became painfully clear that she needed to switch gears quickly. That is what originally led her to Dr. Thomas Seyfried's research supporting the use of the ketogenic diet for cancer. Beyond cancer, Miriam integrates nutritional strategies with metabolic therapies and lifestyle modifications to develop personalized treatments that address a broad spectrum of conditions that are currently considered intractable, including age-related, neurodegenerative, and bariatric diseases. Miriam lives in Montana.