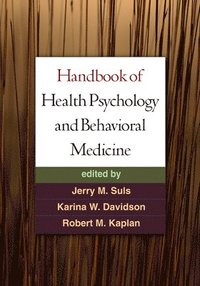 Fler böcker inom
Format

Inbunden (Hardback)

Språk

Engelska

Antal sidor

608

Utgivningsdatum

2010-10-04

Förlag

Illustratör/Fotograf

Illustrationer

Illustrations

Dimensioner

254 x 184 x 31 mm

Vikt

1270 g

Antal komponenter

1

ISBN

9781606238950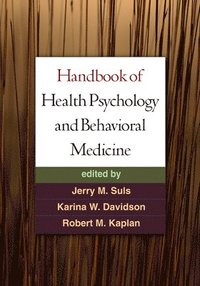 Handbook of Health Psychology and Behavioral Medicine
Skickas inom 5-8 vardagar.
Fri frakt inom Sverige för privatpersoner.
What psychological and environmental forces have an impact on health? How does behavior contribute to wellness or illness? This comprehensive volume answers these questions and others with a state-of-the-art overview of theory, research, and practice at the interface of psychology and health. Leading experts from multiple disciplines explore how health and health behaviors are shaped by a wide range of psychological processes and social-environmental factors. The book describes exemplary applications in the prevention and clinical management of today's most pressing health risks and diseases, including coronary heart disease, depression, diabetes, cancer, chronic pain, obesity, sleep disturbances, and smoking. Featuring succinct, accessible chapters on critical concepts and contemporary issues, the Handbook integrates psychological perspectives with cutting-edge work in preventive medicine, epidemiology, public health, genetics, nursing, and the social sciences.
Passar bra ihop
+
Recensioner i media
"Behavioral factors are key to both disease prevention and recovery. This comprehensive volume examines multiple models of behavior change and applies them to a wide array of health concerns. Detailed and accessible, the book contains invaluable resources for practitioners and researchers across the health disciplines who need to address not only the human body, but also the human spirit within it. It will doubtless become a core resource for those engaged in health-related interventions. I also would recommend this book for students in all the health sciences, from advanced undergraduates to those at the highest levels of professional training."--Richard M. Ryan, PhD, Department of Clinical and Social Psychology, University of Rochester "This handbook is really outstanding. Compared to many other books in the field, it avoids poorly defined constructs, uses clear definitions, and is grounded in empirical psychological research, which makes it an unrivaled contribution. In a heterogeneous and complicated field, the editors have produced a state-of-the-art work. It is a 'must' for all students, trainees, and professionals who want to deepen their knowledge about psychological aspects of medical illnesses and their treatment."--Winfried Rief, PhD, Department of Clinical Psychology and Psychotherapy, University of Marburg, Germany "These distinguished editors and contributors provide an engaging, comprehensive presentation of the current state of the science; a tutorial in how to think about the overarching issues in this dynamic field; and a guide to applying the research to meet challenges in health care. Advanced students and a wide range of health researchers and professionals will appreciate this cutting-edge review. This forward-looking view of how health psychology fits into the broader agenda of health research, services, and policy will serve the field well for many years."--Timothy W. Smith, PhD, Department of Psychology, University of Utah "Suls, Davidson, and Kaplan are leaders in the fields of health psychology and behavioral medicine. Their new handbook features 36 chapters by outstanding contributors who cover every facet of these interrelated disciplines. Each chapter is up to date and highly readable. This is a 'must-have' reference for graduate students and researchers in health psychology, behavioral medicine, and related disciplines, such as medical sociology and nursing science. It would make a terrific text for a one- or two-semester course."--Kenneth A. Wallston, PhD, School of Nursing, Vanderbilt University "I teach health psychology at the doctoral level and have been frustrated with the lack of available texts that reach the level of scholarly presentation I demand for my students. Until now, I 'made do' by assigning many, many articles to read--but this still failed to meet the need for an in-depth overview. This book has made my life much easier and my students' education more thorough. Well done!"--Suni Petersen, PhD, Associate Professor of Clinical Psychology, California School of Professional Psychology
Bloggat om Handbook of Health Psychology and Behavio...
Övrig information
Jerry M. Suls, PhD, is Professor of Psychology and Collegiate Fellow at the University of Iowa and also an affiliate of its College of Public Health. Dr. Suls has published over 150 articles and chapters and edited over 10 volumes. He has also served as Chair of the National Institutes of Health Behavioral Medicine Interventions and Outcomes Study Section and as President of Division 38 (Health Psychology) of the American Psychological Association. His research focuses on psychological risk factors for cardiovascular disease, symptom perception, and social norms about health behaviors. Karina W. Davidson, PhD, is Vice-Dean and Executive Director of the Center for Behavioral and Cardiovascular Health and Professor of Behavioral Medicine in Medicine and Psychiatry at Columbia University Irving Medical Center. She is also Chief Academic Officer for NewYork Presbyterian Hospital. She has authored over 250 peer-reviewed articles as well as numerous editorials and book chapters, and has served on multiple scientific journal editorial boards. Dr. Davidson's research focuses on interventions for, and the biopsychosocial mechanisms implicated in, anger and depression as predictors of worse outcomes for patients with cardiovascular disease. She has served as president of multiple professional organizations and was recently appointed to the United States Preventive Services Task Force. Robert M. Kaplan, PhD, is Regenstrief Distinguished Fellow at Purdue University and Professor of Medicine at Stanford University, where he serves as Director of Research at Stanford's Clinical Excellence Research Center. He has served as Chief Science Officer at the U.S. Agency for Health Care Research and Quality and Associate Director of the National Institutes of Health, where he led the behavioral and social sciences programs. He is also Distinguished Emeritus Professor of Health Services and Medicine at the University of California, Los Angeles. Dr. Kaplan is a past president of several organizations, including Division 38 (Health Psychology) of the American Psychological Association, Section J of the American Association for the Advancement of Science (Pacific), the International Society for Quality of Life Research, the Society for Behavioral Medicine, and the Academy of Behavioral Medicine Research. He is a former Editor-in-Chief of Health Psychology and the Annals of Behavioral Medicine. With more than 550 articles, chapters, and books, Dr. Kaplan is one of the most cited authors in his field. He is an elected member of the National Academy of Medicine.
Innehållsförteckning
I. Health Psychology in the Context of Medicine and Theory1. The Great Debate on the Contribution of Behavioral Interventions, Robert M. Kaplan and Karina W. Davidson2. The Biopsychosocial Model and the Use of Theory in Health Psychology, Jerry Suls, Tana Luger, and Rene MartinII. Psychological Foundations of Health Psychology3. Emotions and Stress, William R. Lovallo4. Cognitive and Affective Influences on Health Decisions, Angela Fagerlin, Ellen Peters, Alan Schwartz, and Brian J. Zikmund-Fisher5. Specifying the Determinants of People's Health Beliefs and Health Behavior: How a Social Psychological Perspective Can Inform Initiatives to Promote Health, Marc T. Kiviniemi and Alexander J. Rothman 6. Clinical Psychology and Health Psychology: Toward an Integrated Perspective on Health, Perry M. Nicassio, Melanie A. Greenberg, and Sarosh J. Motivala7. Contributions of Personality to Health Psychology, Howard S. Friedman and Margaret L. Kern8. Anger, Anger Expression, and Health, Padmini Iyer, Maya Rom Korin, Laura Higginbotham, and Karina W. Davidson9. Developmental Influences in Understanding Child and Adolescent Health Behaviors, Dawn K. Wilson, Sara St. George, and Nicole Zarrett10. Adult Development, Aging, and Gerontology, Ilene C. Siegler, Karen Hooker, Hayden B. Bosworth, Merrill F. Elias, and Avron Spiro11. Animal Models in Health Psychology Research, Daniel A. Nation, Neil Schneiderman, and Phillip M. McCabe12. All Roads Lead to Psychoneuroimmunology, Christopher L. Coe III. Contributions of Other Sciences to Health Psychology13. Behavioral Epidemiology, Robert M. Kaplan14. Depression and Illness, Madeline Li and Gary Rodin15. Self-Direction toward Health: Overriding the Default American Lifestyle, John Mirowsky and Catherine E. Ross16. How Genetics Will Change Medicine and Health Psychology, Jeanne McCaffery17. Nursing Science and Psychological Phenomena, Diane Lauver, Rebecca West, and Jean E. Johnson18. Medical Anthropology, William W. Dressler19. Health Psychology Meets Health Economics, Yaniv Hanoch and Thomas Rice20. The Evidence-Based Movement in Health Psychology, Maya Rom Korin, Robert M. Kaplan, and Karina W. DavidsonIV. Health Psychology, Public Health, and Prevention21. Impacts of Being Uninsured, Dylan Habeeb Roby22. Health Services Research, Alison Herrmann23. Primary Care and Prevention, JoEllen Patterson, Joseph E. Scherger, and Ann Marie Smith24. Prevention of Coronary Heart Disease, Gerdi Weidner and Friederike Kendel25. The Role of Behavior in Cancer Prevention, Deborah Bowen and Ulrike Boehmer26. Community HIV Preventive Interventions, Maria Luisa Zuniga, Steffanie A. Strathdee, Estela Blanco, Jose L. Burgos, and Thomas L. Patterson27. The Contribution of Health Psychology to the Advancement of Global Health, Brian Oldenburg, Maximilian de Courten, and Emma FreanV. Health Psychology and the Medical Specialties28. Cardiology, Manjunath Harlapur, Dennis Abraham, and Daichi Shimbo29. The Management of Diabetes, Ian M. Kronish and Devin Mann30. Sleep Medicine, Amy M. Sawyer and Terri E. Weaver31. Psychosocial Interventions for Patients with Cancer, Michael A Diefenbach, Nihal E. Mohamed, Gina Turner, and Catherine S. Diefenbach32. Pain and Painful Syndromes (Including Rheumatoid Arthritis and Fibromyalgia), David A. Williams33. Coping with Chronic Illness, Austin S. Baldwin, Quinn D. Kellerman, and Alan J. Christensen34. Managing the Obesity Epidemic, Lucy F. Faulconbridge and Thomas A. Wadden35. Pharmacology and Behavior: The Case of Tobacco Dependence, Kenneth A. Perkins36. Theory-Based Behavioral Interventions for Smoking Cessation: Efficacy, Processes, and Future Directions, Jonathan B. Bricker