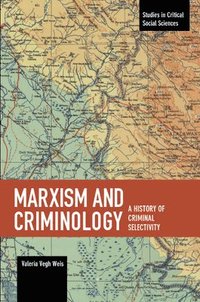 Fler böcker inom
Format

Häftad (Paperback / softback)

Språk

Engelska

Antal sidor

340

Utgivningsdatum

2018-08-16

Förlag

Dimensioner

228 x 152 x 25 mm

Vikt

508 g

Antal komponenter

1

ISBN

9781608469307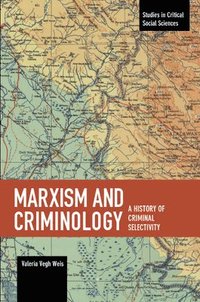 Marxism And Criminology
A History of Criminal Selectivity
Skickas inom 2-5 vardagar.
Fri frakt inom Sverige för privatpersoner.
Since the publication of Michele Alexander's The New Jim Crow books on the criminal justice system have proliferated. In distinction from most of those often excellent investigative reports and analyses of the contemporary moment, this title attempts to sketch a history of crime and punishment's role in the development of capitalist society on explicitly Marxist terms. Title will benefit from the growing academic audience for the book series of which it is a part Peer reviewed nature of the book series provides an inbuilt credibility to other academics working within the field.
Passar bra ihop
+
Recensioner i media
"[This] path-breaking book compels us to revisit the insights of Marx and Engels and she challenges the dated, but often stated, claim made by orthodox Marxists (e.g., Hirst, 1975) that Marxist theory cannot be applied to the study of crime and law. Vegh Weis demonstrates that nothing can be further from the truth. As well, throughout her book, she contests the frequently cited declarations that Marx and Engels had very little to say about crime and that the sociology of law was little more than a secondary interest to them." -Walter S. DeKeseredy, Punishment & Society, "Marxism and Criminology is an excellent contribution to renew the debate on the causes of the growing demand for punitiviness and, at the same time, a questioning of the legal field auto-perception as emancipated from the conditions of production and reproduction of the life and the world." -Jorge Elbaum, Delito y Sociedad, Santa Fe, 2018. "[C]ertainly since Rusche and Kirchheimer and Foucault, we have an attempt at a general synthesis which brings together a vast range of empirical material on the dimensions of criminalisation which is then theorised in terms of a clearly articulated relationship to the central dynamic of capitalist development. The contribution of this book to the development of Marxist criminology and, reciprocally, criminologically-sensitive Marxism, is immense. If we want to understand where the world is heading, and the urgency of reform, then this is precisely the type of contribution we need." -Jhon Lea, The British Journal of Criminology "Valeria Vegh retakes, many decades later, the fundamental statements of Punishment and Social Structure by Rusche and Kirchheimer and goes beyond the strict consideration of the labor market to delve into the complex social and economic relations under which criminal demonstrations contemporarily take place [...] it is a real pleasure to present an investigation of the rigorousness that Valeria Vegh's work possesses. I hope that it has a long journey." -Inaki Rivera Beiras, Critica Penal y Poder
Bloggat om Marxism And Criminology
Innehållsförteckning
List of Tables and Figures Preface Acknowledgements Chapter 1: Introduction Criminological Theories and the Notion of `Criminal Selectivity' `Criminal Selectivity' through the Work of Marx and Engels Marx and Engels' Contributions Did Not Analyze Crime and Crime Control in Deep. Marx and Engels' Contributions Understood Crime and Crime Control as Superstructural Aspects. Marx and Engels' Constributions Lead to the Failure of `Real Socialism.' Marx and Engels' Contributions Are Necessary to Analyze Crime and Crime Control A Conceptualization of `Criminal Selectivity' from a Marxist Perspective Chapter 2: Original Criminal Selectivity Where, How and When of the `Primitive Accumulation' (Late 15th to Early 18th Century). Original Conflict-Control Original Under-Criminalization Original Over-Criminalization The Different Application of Penalization and the Transit from Physical Punishment to Workhouses Who Were the Social Sectors Targeted by Original Criminal Selectivity? Mixed insertion in the `Primitive Accumulation' Punishment during Original Criminal Selectivity Manifest Functions. Latent Functions Creating a Disciplined Working Class Imposing a New Social Order Fragmenting the Dispossed Sectors Moral Entrepeneurs and Moral Panics Brief Reflections Chapter 3: Disciplining Criminal Selectivity Where, How and When of the Disciplining Social Order (late 18th century- late 20th century). Disciplining Conflict-Control First Disciplining Phase: Legally-Disciplining Criminal Selectivity (Late 18th Century) Legally-Disciplining Under-Criminalization Legally-Disciplining Over-Criminalization Second Disciplining Phase: Police-Medically Disciplining Criminal Selectivity (19th Century) Police-Medically Disciplining Under-Criminalization Police-Medically Disciplining Over-Criminalization Third Disciplining Phase: Socio-Disciplining Criminal Selectivity (Early to Late 20th Century) Socio-Disciplining Under-Criminalization Socio-Disciplining Over-Criminalization Who Were the Social Sectors Targeted by Disciplining Criminal Selectivity? Mixed Insertion in the Disciplining Social Order Punishment during Disciplining Criminal Selectivity Manifest Functions Retribution or `Just Deserts' Theory Specific Deterrence/Incapacitation Theory General Deterrence Theory Rehabilitation Theory Latent Functions Disciplining the Worker That Resisted the New Social Order and Its Guidelines Disciplining the Entire Working Class Fragmenting the Working Class Moral Entrepeneurs and Moral Panics Brief Reflections Chapter 4: Bulimic Criminal Selectivity Where, How and When of the Bulimic Social Order (Late 20th to 21th Century). Bulimic Conflict-Control Bulimic Under-Criminalization Bulimic Under-Criminalization on the `War on Terror.' Bulimic Under-Criminalization of Financial Manouvers Bulimic Over-Criminalization Bulimic Over-Criminalization on the `Social Junk.' Bulimic Over-Criminalization on the `Social Dynamite' Who Were the Social Sectors Targeted by Bulimic Criminal Selectivity? Mixed Insertion in the Bulimic Social Order. Punishment during Bulimic Criminal Selectivity Manifest Functions. Latent Functions Incapacitating the problematic social sectors Controlling the Modern Pauperism Fragmenting the working class Moral Entrepreneurs and Moral Panics Promoting a `crime control industry' and the omnipresent control of the social whole. Brief Reflections Chapter 5: Final Reflections. References. Index