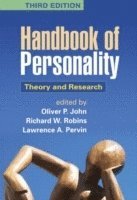 Fler böcker inom
Format

Häftad (Paperback / softback)

Språk

Engelska

Antal sidor

862

Utgivningsdatum

2011-01-14

Upplaga

3 New edition

Förlag

Illustratör/Fotograf

Illustrationer

black & white tables, figures

Dimensioner

251 x 181 x 39 mm

Vikt

1503 g

Antal komponenter

1

ISBN

9781609180591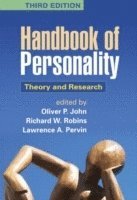 Handbook of Personality, Third Edition
Theory and Research
Skickas inom 7-10 vardagar.
Fri frakt inom Sverige för privatpersoner.
This authoritative handbook is the reference of choice for researchers and students of personality. Leading authorities describe the most important theoretical approaches in personality and review the state of the science in five broad content areas: biological bases; development; self and social processes; cognitive and motivational processes; and emotion, adjustment, and health. Within each area, chapters present innovative ideas, findings, research designs, and measurement approaches. Areas of integration and consensus are discussed, as are key questions and controversies still facing the field.
Passar bra ihop
+
Recensioner i media
"This is the best, most comprehensive text of its kind that I have encountered in more than two decades of teaching this material at the graduate level. The chapter authors are acknowledged experts who offer cutting-edge coverage of their respective topics, with an excellent balance of theory and research. My students are challenged by the text--which I take as a compliment to the editors--and acquire appropriate mastery of this broad field from it. I recommend this book highly for both master's and doctoral-level students."--Lee P. Berrigan, PhD, Department of Psychology, California State University, Sacramento "With this edition of the Handbook of Personality, the vibrant state of theory, research, and application in personality psychology is abundantly evident. The editorial team has brought together an all-star cast of chapter authors who offer state-of-the-science discussions of classic and contemporary topics in personality psychology, accessible to scholars and students alike. Truly, this is a landmark work."--Mark Snyder, PhD, McKnight Presidential Chair in Psychology, University of Minnesota "Three renowned editors bring together personality psychology's preeminent scholars to create what will surely become an indispensable reference work for investigators, educators, and graduate students. This extraordinary volume captures the breadth, depth, vigor, and vision of the modern study of personality by offering leading-edge perspectives on fundamental questions. Topics such as religious experience and subjective well-being, which have not been included in previous editions, reveal the impressive scope of the field--and of this volume. The latest in theory and research, woven into each chapter, is sure to inspire both seasoned scholars and the next generation of personality researchers."--Howard Tennen, PhD, Department of Community Medicine and Health Care, University of Connecticut
Bloggat om Handbook of Personality, Third Edition
Övrig information
Oliver P. John, PhD, is Professor of Psychology and Research Psychologist at the University of California, Berkeley, where he is also Acting Director of the Institute of Personality and Social Research. Dr. John has won the Distinguished Teaching Award from Berkeley's College of Letters and Science, the Theoretical Innovation Prize from the Society for Personality and Social Psychology, the Best Paper of the Year Award from the Journal of Research in Personality, and the Cattell Award for Early Career Contributions from the Society of Multivariate Experimental Psychology. In more than 90 articles and three books, Dr. John has examined personality structure, emotion regulation, self-perception, and methodological issues. Richard W. Robins, PhD, is Professor of Psychology at the University of California, Davis. Dr. Robins is coeditor of two books, Handbook of Research Methods in Personality Psychology and The Self-Conscious Emotions, and he served as Associate Editor of the Journal of Personality and Social Psychology. He has won the Distinguished Scientific Award for Early Career Contribution to Psychology from the American Psychological Association and the Theoretical Innovation Prize from the Society for Personality and Social Psychology. His research focuses on personality, emotion, and the self. Lawrence A. Pervin, PhD, is Professor Emeritus at Rutgers University, where he served as Professor of Psychology from 1971 to 2004. In addition to editing the first edition of this handbook, he is the original author of the textbook Personality: Theory and Research, now in its 10th edition; the author of three editions of Current Controversies and Issues in Personality; and the founding editor of the journal Psychological Inquiry. Dr. Pervin's books have been translated into eight languages.
Innehållsförteckning
I. Introduction1. History of Modern Personality Theory and Research, Nicole B. Barenbaum and David G. Winter II. Theoretical Perspectives2. Human Nature and Individual Differences: Evolution of Human Personality, David M. Buss 3. Psychoanalytic Approaches to Personality, Drew Westen, Glen O. Gabbard, and Kile M. Ortigo4. Paradigm Shift to the Integrative Big Five Trait Taxonomy: History, Measurement, and Conceptual Issues, Oliver P. John, Laura P. Naumann, and Christopher J. Soto5. The Five-Factor Theory of Personality, Robert R. McCrae and Paul T. Costa, Jr. 6. When Is Personality Revealed?: A Motivated Cognition Approach, E. Tory Higgins and Abigail A. Scholer 7. Toward a Unifying Theory of Personality: Integrating Dispositions and Processing Dynamics within the Cognitive-Affective Processing System, Walter Mischel and Yuichi Shoda8. Personal Narratives and the Life Story, Dan P. McAdamsIII. Biological Bases9. Temperament: An Organizing Paradigm for Trait Psychology, Lee Anna Clark and David Watson 10. Behavioral Genetics and Personality: A New Look at the Integration of Nature and Nurture, Robert F. Krueger and Wendy Johnson11. Toward a "Molecular Psychology" of Personality, Turhan Canli12. Personality in Animals, Tamara A. R. Weinstein, John P. Capitanio, and Samuel D. Gosling IV. Developmental Approaches13. Parents' Role in Children's Personality Development: The Psychological Resource Principle, Eva M. Pomerantz and Ross A. Thompson 14. The Development of Personality Traits in Adulthood, Brent W. Roberts, Dustin Wood, and Avshalom Caspi 15. Challenges and Opportunities at the Interface of Aging, Personality, and Well-Being, Carol D. RyffV. Self and Social Processes16. Naturalizing the Self, Richard W. Robins, Jessica L. Tracy, and Kali H. Trzesniewski17. Identity Negotiation: A Theory of Self and Social Interaction, William B. Swann, Jr., and Jennifer K. Bosson18. Self-Regulation, Matthew T. Gailliot, Nicole L. Mead, and Roy F. Baumeister 19. Self-Presentation of Personality: An Agency-Communion Framework, Delroy L. Paulhus and Paul D. Trapnell 20. Attachment Theory and Its Place in Contemporary Personality Theory and Research, R. Chris Fraley and Phillip R. Shaver 21. Culture and Personality, Veronica Benet-Martinez and Shigehiro Oishi 22. Personality, Situations, and Person-Situation Interactions, David C. FunderVI. Cognitive and Motivational Processes23. The Psychological Unconscious, John F. Kihlstrom24. Implicit Motives, Oliver C. Schultheiss25. Personality and the Capacity for Religious and Spiritual Experience, Robert A. Emmons, Justin L. Barrett, and Sarah A. Schnitker26. Self-Determination Theory and the Role of Basic Psychological Needs in Personality and the Organization of Behavior, Richard M. Ryan and Edward L. Deci 27. Creativity and Genius, Dean Keith SimontonVII. Emotion, Adjustment, and Health28. Emotion and Emotion Regulation: Personality Processes and Individual Differences, James J. Gross29. Self-Regulatory Processes, Stress, and Coping, Charles S. Carver, Michael F. Scheier, and Daniel Fulford 30. Personality and Psychopathology, Thomas A. Widiger and Gregory T. Smith 31. Personality and Health: A Lifespan Perspective, Sarah E. Hampson and Howard S. Friedman32. Personality and Subjective Well-Being, Richard E. Lucas and Ed Diener