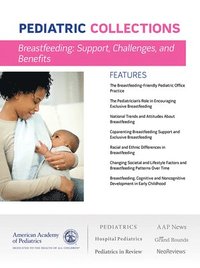 Fler böcker inom
Format

Häftad (Paperback / softback)

Språk

Engelska

Antal sidor

168

Utgivningsdatum

2018-10-30

Förlag

Dimensioner

279 x 205 x 7 mm

Vikt

362 g

Antal komponenter

1

ISBN

9781610021845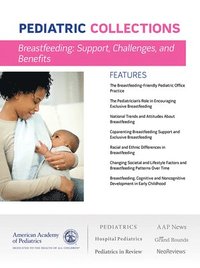 Breastfeeding: Support, Challenges, and Benefits
Provide Clinical Breastfeeding Support, Mitigate Challenges, and Discover Developmental Benefits
Skickas från oss inom 7-10 vardagar.

Fri frakt över 249 kr för privatkunder i Sverige.
Pediatric Collections offers what you need to know - original, focused research in a snapshot approach. This print compendium of AAP editor-curated articles provides quick access to the latest, most salient studies to give a better understanding of the individual and public health effects of breastfeeding. Optimal breastfeeding practicesdefined as exclusive breastfeeding through 6 months of age followed by continued breastfeeding with introduction of solid foods, save lives and have profound significance on an individuals health for their entire life. This collection offers the latest information to understand the challenges that breastfeeding mothers face and to support them. Other topics covered include cultural disparities and changing societal and lifestyle factors that affect breastfeeding patterns. This collection will help caregivers to better educate parents on the multitude of benefits for breastfeeding including disease reduction and cognitive and developmental advantages. A free Breastfeeding Support, Challenges, and Benefits infographic poster is included as a bonus to ordering this print collection.
Passar bra ihop
+
Fler böcker av American Academy Of Pediatrics Aap
Övrig information
The American Academy of Pediatrics is an organization of 67,000 primary care pediatricians, pediatric medical subspecialists and pediatric surgical specialists dedicated to the health, safety and well-being of infants, children, adolescents and young adults. The AAP is the largest pediatric publisher in the world, with a diverse list of resources that includes essential clinical and practice management titles and award-winning books for parents.
Innehållsförteckning
Introduction Support How to Establish a Breastfeeding-Friendly Pediatric Office AAP News Original Publication April 17, 2017 The Breastfeeding-Friendly Pediatric Office Practice From the American Academy of Pediatrics Original Publication May 1, 2017 Get Comfortable With Giving Breastfeeding Support Journals Blog Original Publication August 24, 2017 The Pediatrician's Role in Encouraging Exclusive Breastfeeding Article Original Publication August 1, 2017 Study Looks at Trends in Breastfeeding Attitudes, Counseling Practices AAP News Original Publication November 6, 2017 When It Comes to Having a Positive Attitude About Breastfeeding Success, Pediatricians Have Some Work to Do Journals Blog Original Publication October 2, 2017 Pediatrician Competency in Breastfeeding Support Has Room for Improvement Commentary Original Publication October 1, 2017 National Trends in Pediatricians' Practices and Attitudes About Breastfeeding: 1995 to 2014 Article Original Publication October 1, 2017 Measuring Breastfeeding Success Journals Blog Original Publication June 26, 2017 Variation in Formula Supplementation of Breastfed Newborn Infants in New York Hospitals Article Original Publication July 1, 2017 Fathers, Coparenting, and Breastfeeding AAP Grand Rounds Original Publication May 1, 2015 Coparenting Breastfeeding Support and Exclusive Breastfeeding: A Randomized Controlled Trial Article Original Publication January 1, 2015 Challenges New Ways of Understanding Disparities in Rates of Breastfeeding Journals Blog Original Publication July 28, 2016 Racial and Ethnic Differences in Breastfeeding Article Original Publication July 1, 2016 Changing Societal and Lifestyle Factors and Breastfeeding Patterns Over Time Article Original Publication May 1, 2016 Impact of Prolonged Breastfeeding on Dental Caries: A Population-Based Birth Cohort Study Article Original Publication July 1, 2017 Benefits Breastfeeding and Improved Cognitive/Noncognitive Development: Does the Effect Last Post Infancy and Toddlerhood? Journals Blog Original Publication March 27, 2017 Breastfeeding: What Do We Know, and Where Do We Go From Here? Commentary Original Publication April 1, 2017 Breastfeeding, Cognitive and Noncognitive Development in Early Childhood: A Population Study Article Original Publication April 1, 2017 Study: Breastfeeding for at Least 2 months Decreases Risk of SIDS AAP News Original Publication October 30, 2017 Duration of Breastfeeding and Risk of SIDS: An Individual Participant Data Meta-analysis Review Article Original Publication November 1, 2017 Another Great Reason to Breastfeed: Decreased Risk of Kawasaki Disease Journals Blog Original Publication May 25, 2016 Breastfeeding and Risk of Kawasaki Disease: A Nationwide Longitudinal Survey in Japan Article Original Publication May 1, 2016