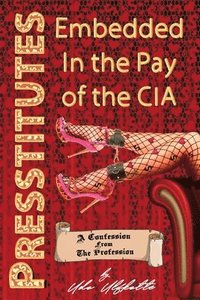 Fler böcker inom
Format

Häftad (Paperback / softback)

Språk

Engelska

Antal sidor

258

Utgivningsdatum

2019-10-18

Förlag

Översättare

Andrew Schlademan

Medarbetare

Leonard, John-Paul

Dimensioner

234 x 156 x 15 mm

Vikt

400 g

Antal komponenter

1

Komponenter

149:B&W 6.14 x 9.21 in or 234 x 156 mm (Royal 8vo) Perfect Bound on Creme w/Gloss Lam

ISBN

9781615770175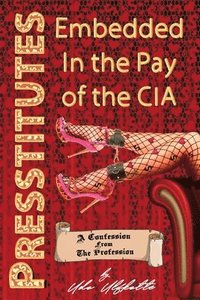 Presstitutes Embedded in the Pay of the CIA
A Confession from the Profession
Skickas inom 7-10 vardagar.

Gratis frakt inom Sverige över 199 kr för privatpersoner.
The eagerly awaited English edition of "Bought Journalists"  was suppressed for three years under the title "Journalists for Hire" -- and still got 24 five-star-only Amazon reviews from would-be readers. 18 months on the bestseller list in Germany. Now it?s finally here!

Ever get the feeling the media tries to manipulate or lie to you? You have plenty of company! And you are right -- the facts are in. A world-class media insider has blown the whistle on what really goes on inside the media industry.

Author Udo Ulfkotte was a respected journalist for 17 years with Germany?s newspaper of record, the Frankfurter Allgemeine Zeitung. He begins this explosive exposé by first owning up to his own career, where he had to sell out to have the job. He then reveals the deceptive tricks and secret networks of power within the media. How perks are used to bribe journalists and opinion makers to twist their reporting. How the tone of corruption is set from the top -- play along or quit. How the long arm of the NATO press office enrolls the media to get Europe to support more foreign wars.

The elite owners of the media feel it?s their right to think for us, and to mold public opinion to their agendas.         Their Freedom of the Press is Freedom to Censor the news.

Our nation depends on the media to understand our world, just as each one of us depends on our eyes and ears. The media are our senses. When they hide the truth, or lie to us, they put us all in danger.

A million people died in Iraq, Libya and Syria because the press didn?t just report the news, didn?t just lie about the news, but they invented and sold the events that served as pretexts for wars. The author spent years in the Middle East, surviving an attack with chemical weapons supplied by US and German firms.

This book is a veteran?s guide to the media spider?s web. It shows how the system works, sharpens your common sense skepticism, and increases your immunity to the controlled media?s attempts to do our thinking for us.
Passar bra ihop
+
Recensioner i media
amazing book, a sensation, sold 1,500,000 copies in germany… destroys the illusion/delusion that there is anywhere in the western world an independent press… journalists serve as propagandists and public relations agents for intelligence agencies, businesses, lobbying organizations, politicians, and us foreign policy…. journalists are recruited when they are still students… all from the lowest reporter to the highest editor to the owners of the news organization are caught up in enabling the elites to control the explanations…. incestuous relationships between journalists, intelligence agencies, businesses, politicians, and us foreign policy aims are so pervasive that no one thinks anything of it.... with the western media suborned, democracy and accountable government are not possible. making this clear is ulfkotte's contribution. -- paul craig roberts
confessions of a journalistic hit man… udo ulfkotte has done for western journalism what john perkins did for our understanding of how economic development in so-called developing nations really works in his bestselling *confessions of an economic hit man*. and then some! – steven yates, amazon.com
how we are deceived. a mainstream journalist shines a light on "the man behind the curtain."
a must-read for anyone who thinks for themselves. mark twain is often quoted: "if you don't read the newspaper, you're uninformed. if you read the newspaper, you're mis-informed." udo ulfkotte explains exactly why this is and how it is done. kudos to the publisher for getting this important book translated into english. reading it will make you a much more critical viewer of "the news". – mark carlson, amazon.com
the western media have become political activists who use their media positions not to report, but to campaign against opponents of their shadowy, corrupting clients. -- biplane bob, -- amazon.com
if you don't know the real truth about the press you should read this book. bought journalism! – hank, amazon.com
a book that ulfkotte wrote with heart and soul… the life of a journalist, who must decide, will i follow my conscience… or take the easy way and collect rewards and awards. -- talkshow, amazon.de
mockingbird from the horse's mouth. read and get a glimpse of what may be behind most of reports you see on cnn, wapo and nyt. i cannot recommend this book enough. - j. renato carollo, amazon.com
especially in times like these we need to take a closer look at the way the mainstream media works. ulfkotte gives many examples ... the truth is often very different from what they report. this should interest every one, so i highly recommend this book. – customer, amazon.de
Övrig information
If you look up Udo Ulfkotte, the author, on Wikipedia, you'll get the impression that this man was a wild-eyed right-wing conspiracy theorist. The fact that he spent most of his career writing for prestigious mainstream media outlets, working in close contact with top politicians and Western intelligence agencies, and making countless television appearances as a war correspondent and foreign policy expert, doesn't seem to count. At the bottom of his Wiki page, you'll also notice the long list of books he wrote, many of them run-away bestsellers in the German-speaking world - despite a virtual blackout on advertising. So, who was Udo Ulfkotte? Was he a highly-respected, mainstream journalist or just some unhinged conspiracy theorist?
Presstitutes is the closest we will ever get to an Udo Ulfkotte autobiography. It is both an apology for his own personal conduct and a warning to a new generation of journalists. With his own career as the example, he details how easily young journalists are lifted up and swept along by the mainstream, unable to resist the reward system that shapes the Western media. From his first nudge as a university student toward working with the BND, German Intelligence, Ulfkotte's career provides many a look behind the scenes at what is packaged and sold in the media.
After graduation, without any journalism background, but having been vetted by the BND, young Ulfkotte miraculously landed a job as an assistant foreign policy editor at Germany's most prestigious newspaper, the Frankfurter Allgemeine Zeitung (FAZ). He stayed with them for 17 years, travelling to 60 countries and spending more time in the Middle East than in Germany. In 1988 he nearly died from an Iraqi nerve gas attack on Iranian troops, and discovered the gas had come from Germany. His reports and photos were buried.
Gradually he became disillusioned with the dishonesty. His first critical book title, Classified Information: Federal Intelligence Service (BND), was published in 1997 and was promoted by the FAZ. He also began lecturing on "security management" in the University of Lneburg's business school. But the FAZ was not happy when he published How Journalists Lie in 2002. He suffered another serious physical injury in 2003. The last straw was when a political party offered him a fat bribe to use his press credentials to spy on a rival politician's private life.
After a heart attack, Ulfkotte decided he must expose as much political corruption as he could before he died. He wanted to wake people up. He still had an extensive network of sources who were also fed up, and he published about a book a year, each one more scathing than the last. Presstitutes was the biggest bestseller. The issue that was dearest to him was the loss of cultural identity, which was being aggressively promoted through massive corruption in the government and media. He warned of the dangers of mass immigration before the crime rates shot off the charts.
He was now an official...
Innehållsförteckning
what is freedom of the press?

How this Book Came to Be

Foreword

Chapter 1. Fake Freedom of the Press: My Life as a Reporter

The Truth - A Journalist Exclusive?

Truths on Sale from Our Sponsors: Elite Networks and Intelligence Agencies

How an Oil Company Greased my Palms

FAZ Façade: A Corrupt Mind Lurks Behind

How do Journalists Pay for their Villas in Tuscany?

Well-Greased: Our Sleazy System of Journalism Prizes

Courtesy Interviews, PR Trips and Tax Fraud

Depraved Drinking Buddies: Glimpses of Journalistic Dirty Work

Low-Down Dirty Tricks: How they Cheat Advertisers

The Spiral of Silence: The News is Not in the Newspaper

Here Today, Gone Tomorrow: Off With Their Headlines

Chapter 2. Our Lockstep Media: Synchronized, Obedient and No Questions Asked

Thilo Sarrazin: The Character Assassination of a Folk Hero

Propaganda: The Prussians of the Balkans Are Coming

Tricks of the Tongue in Politics and Media

The Loss of Credibility

Chapter 3. The Undercover Truth: Alpha Journalists Toe the Line for the Elites

Bild Your Own Opinion

Groomsman Journalism: Bild Up Your Power

What Makes Kai Diekmann Tick?

Bridge over the Atlantic

In the Stranglehold of the Intelligence Agencies

The Names: Controversial Contacts

Embarrassing Adulation

Undercover Power: Classic Propaganda Techniques

Kallmorgen and Bohnen -

Dubious PR Experts and Prestigious Newspapers

Obama's Trolls: America's Fifth Column

Rockefeller's Ghost - The Trilateral Commission

In Memory of FAZ Chief Schirrmacher: Tank Driver in the Civil Service

Buying Contacts with Big Names? Nobility Eradicated

The Power of the Bilderbergers: Conspiracy Theory or Reality?

Chapter 4. Buy a Journalist - See How Money Talks

Two in Three Journalists are for Sale

Favoring Favors: How the Media Bend the Knee

Exposed: The Side Hustle

Brainwashing: Power Scissors in Your Head

Voting with Our Wallets: Turning Journalists into Welfare Recipients

Nonpartisan? The SPD's Media Empire

Chapter 5. Case Histories from the Propaganda Front

The Higher Goal: Amputating Germany's Identity

Merkel's Fairy-Tale Hour:

How the German Government Lies to Its Citizens

Battle of Lies: The Propaganda Spiel of Sabine Christiansen and Ulrich Wickert

Soap Commercials for the Euro: The Mannstein Advertising Agency

Democracy: FAIL

Crime Scene Editorial Suite: the Shady Side of the Media

What Should We Do?

Afterword

Index of Names

Author Biography

Glossary