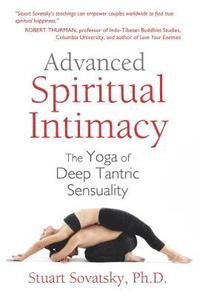 Fler böcker inom
Format

Häftad (Paperback / softback)

Språk

Engelska

Antal sidor

288

Utgivningsdatum

2014-07-02

Upplaga

3rd Edition, Revised and Expanded Edition of <i>Eros, Consciousness, and Kundalini</i>

Förlag

Illustratör/Fotograf

Illustrationer

54 b&w illustrations

Dimensioner

228 x 152 x 25 mm

Vikt

489 g

Antal komponenter

1

ISBN

9781620552643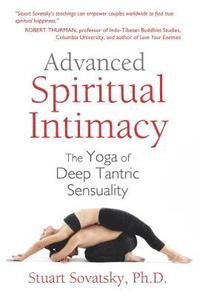 Advanced Spiritual Intimacy
The Yoga of Deep Tantric Sensuality
Skickas inom 2-5 vardagar.
Fri frakt inom Sverige för privatpersoner.
Sexual development does not end in adolescence. There are advanced stages of glandular, emotional, and erotic development based in the lifelong "puberty of the spine." Known in India as kundalini awakening, these stages form the energetic basis of all yoga forms and deeper erotic aspirations. They present an opportunity for couples and individuals to explore the consciousness-expanding abilities of sexual energy as both spirituality and sexuality transform into what Michel Foucault called ars erotica, far beyond the Freudian scientia sexualissexuality of the Western world. Offering a guide to the advanced stages of human sexuality and a passionately infused tantric yoga practice, Stuart Sovatsky explains how to awaken the complete spinal puberty, resulting in spiritual intimacy and orgasmic pineal maturity that far surpasses the gratifications of modern sexuality. With illustrated instructions, he reveals flow-yoga asanas, mantras, and devotional breathing practices for solo kundalini yoga as well as couples' yoga practices and chakra meditations to awaken the heart and the divinely eroticized mind. He shares inspiring stories from those on this path about ever-deepening life partnerships, enriched family life, enhanced personal creativity, profound new understandings of conception, masculinity, femininity, and gender itself as well as healing emotional scars of romantic breakups and sexual abuse. Sovatsky shows that by transcending conventional Western sexuality and returning to the ars eroticabeliefs of ancient India, we can harness the divine energy--glimpsed for only an instant by most people--at the heart of all erotic yearning.
Passar bra ihop
+
Fler böcker av Stuart Sovatsky
Recensioner i media
"Few people are as well positioned as Stuart Sovatsky to contribute to the West's understanding of yoga and tantra, and he has done so with Advanced Spiritual Intimacy. This book adds a new dimension and another level to the understanding of our ultimate potential." * Philip Goldberg, author of American Veda * "Advanced Spiritual Intimacy is an excellent book that will help couples and individuals to grow and master themselves." * Frederic Luskin, Ph.D., author of Forgive for Good and director of the Stanford University * "This book reveals tantra's most central and powerful aspect: converting sexual energy into a higher, consciousness-altering vitality. Stuart Sovatsky's vast knowledge and four decades of practice of tantra yoga and his lifelong work as a relationship therapist is a perfect combination for his book Advanced Spiritual Intimacy. A must read for all who aspire to a spiritual way of life and are wondering just where sex fits in." * Georg Feuerstein, Ph.D., author of Sacred Sexuality, and Brenda Feuerstein, author of Traditional Yo * "Stuart Sovatsky's Advanced Spiritual Intimacy is a tour de force. He takes us beyond the texts to demonstrate how the ancient path of spiritual growth may extend across a whole lifetime. This book expands our Western hermeneutic of tantra toward engendering a paradigm shift in the methodology for all who have been teaching its ways for years or decades. And as years and lifecycles unfold for persons of all walks of life, this study may help to honor the depths of Indian marriage from the depths of SanAE tana Dharma itself." * Purushottama Bilimoria, Ph.D.; Chancellor's Scholar, UC Berkeley; post-doctorate fellow, Oxfor * "Stuart Sovatsky's well-researched and experimentally validated teachings, shared in Advanced Spiritual Intimacy, will surely be a great resource for empowering married couples around the world to find true spiritual happiness, as well as helping contemporary yogis and yoginis actually achieve the exalted goals of yogic adepts of ancient times." * Robert Thurman, Professor of Indo-Tibetan Buddhist Studies, Columbia University,author of Inner Revo * "Advanced Spiritual Intimacy is a cultural critique, tantric sex manual, and an astute primer in verbal and nonverbal communication. While most psychologists dismiss romance as infatuation, Sovatsky's brilliance is to take it seriously as the ground of a highly disciplined but unique Kundalini-inspired approach to erotic intimacy." * Seth Farber, Ph.D., author of The Spiritual Gift of Madness * "I highly recommend this book to any spiritually minded person or couple looking to awaken their creative potential, deepen their life partnership, heal the emotional scars of past relationships, or mature their emotional-sexual being beyond the impulses of adolescence. This book would be a valuable asset for any couples therapist or marriage counselor who wants to offer a yogic spiritual component in their practice." * Merikah Robertson, Common Ground, September 2014 * "Advanced Spiritual Intimacy is like an attic trunk packed with treasure-garments, with gowns and capes that must perhaps be shaken out and worn, gotten accustomed to, before their full value is revealed." * Craig Comstock, Huffington Post Blog, June 2014 * "Sovatsky's forty years of spiritual practice, erudite scholarship, and clinical experience radiates throughout Advanced Spiritual Intimacy. This book shows a way to lifelong love that lives within the hidden depths of tantra and the inner marriage of yogis, saints, and sages." * Ken Wilber, author of The Fourth Turning: Imagining the Future of an Integral Buddhism * "Stuart Sovatsky's Advanced Spiritual Intimacy bravely walks the cutting edge of tantra and blasts us open into spirit consciousness, while enlivening us to the potentiality of matter and flesh." * Katie Silcox, author of Healthy Happy Sexy: Ayurveda Wi
Bloggat om Advanced Spiritual Intimacy
Övrig information
Stuart Sovatsky, Ph.D., has degrees in religion and psychology from Princeton University and the California Institute of Integral Studies. A kundalini tantra practitioner since 1972, he was the producer of the World Congress on Psychology and Spirituality in India in 2008, which featured more than 400 delegates from 40 countries, including B. K. S. Iyengar, Robert Thurman, and S. S. Ravi Shankar. A kundalini chant-master with Axis Mundi, he has counseled thousands of people worldwide on yoga and relationships. He lives in Richmond, California.
Innehållsförteckning
Acknowledgments Prologue Urdhvaretas: Yoga's Path of Complete Maturation of Ensouled, Engendered Bodies 1 Everything Will Change A Most Unusual Invitation Awakening Dormant Seed Potentials Urdhvaretas First Bursts in the Modern West Reenvisioning Family Life 2 Entering the Mystery: Moving from Cynical Certainty to Spiritual Intimacies Something Hidden Is Going On Five Degrees of Approach 3 Shared-Gender Mystery Male and Female as Starting Points Gender Is the Sharing of Mystery Gender Awe Gender Worship The Prosthesis of an Owned Sexuality Homosexual Mystery 4 Purposeful Urdhvaretas Who Chooses Urdhvaretas? Why You Might Choose Brahmacharya Beginning and Setting a Time Frame Considerations of Personality and Mystery 5 Yogic Anatomy and Transformation of the Ars Erotica Body The Subtle Bodies The Chakras Transforming Passion into Divine Rapture Meditative Knowing 6 Commitment and Marriage as Grihastha Mysteries Lifelong Commitment: The Crux of Finitude To Stay or to Leave? Viyoga (Hidden Unions) and Spoken Passion The Erotic Freedom of Belonging 7 The Passions and Mysteries of Fertility Procreative Wonders Meditation: Retas Mysteries Creating New Life Procreation and the Shared-Gender Mystery Sharing a Home with Mystery Ars Erotica Facts of Life for Teenagers 8 Within the Intimus: The Myriad Inner Empathic Spaces (IES) Sixty-four Intimate Spaces of Ars Erotica 9 Communication Yoga Twenty-one Verbal Asanas of Creative Communication for Couples 10 Relational Worship Ritual Worship of Mystery This and That Profundity within Simplicity 11 Hatha Yoga as Ars Erotica Bandhas and Mudras Asanas Chair and Bed Yoga Family Practice Ideas Partnered Practices Sahaja Yoga 12 Sringara Rasa Suggestive Ambiguities of Twilight Teachings Reveal, Conceal, and Protect the Intimus Beyond Protective Ambiguities and Scholarly Demystifying Certainties into the Sacred Intimus 13 Brahmacharya: Solo Intimacy with the Source The Heights The Saint Elder Sannyasa, Letting Go Afterword Glossary Notes Bibliography Index