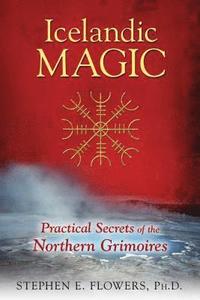 Fler böcker inom
Format

Häftad (Paperback / softback)

Språk

Engelska

Antal sidor

160

Utgivningsdatum

2016-01-30

Förlag

Illustratör/Fotograf

Illustrationer

64 b&w illustrations

Dimensioner

228 x 152 x 6 mm

Vikt

272 g

Antal komponenter

1

ISBN

9781620554050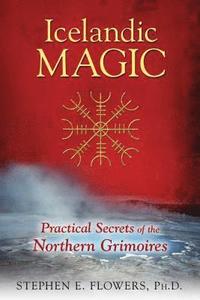 Icelandic Magic
Practical Secrets of the Northern Grimoires
Skickas inom 7-10 vardagar.
Fri frakt inom Sverige över 149 kr för privatpersoner.
During the Christianization of Europe in the Middle Ages, many books of magic were lost as the ancient pagan traditions were suppressed. But in Iceland the practice of recording magical spells in books continued in secret for centuries, on a scale not seen elsewhere. Now housed in the National Library in Reykjavik, these surviving grimoires, which represent only a hundredth of what was lost, reveal a rich magical tradition that continued to evolve into the 20th century. Drawing directly from the actual surviving Icelandic books of magic, Stephen Flowers presents a complete system of magic based on Icelandic lore and magical practices from the 16th century onward. He explores the history of magic in Iceland in pagan and early Christian times and reveals specific practical techniques and ritual templates that readers can adapt to their unique purposes. Flowers also presents an extensive catalog of actual spells and magical workings from the historical Icelandic books of magic. These examples provide ready-made forms for practical experimentation as well as an exemplary guide on how to create signs and symbols for more personalized magical work. The author also includes guidance on creating unique magical signs from the 100 mythic names of Odin, which he translates and interprets magically, and from Icelandic magical alphabets, symbols that connect Icelandic magic to the ancient runic tradition.
Passar bra ihop
+
Recensioner i media
"Those unfamiliar with Flowers' work will be glad to know he has a wonderfully breathable writing style, easily drawing one into the meat of the text without bogging them down with unnecessary digressions or superfluous language. Don't let the slenderness of this volume deter you. Like in most of his works, Flowers packs each page with scholarly tidbits, simultaneously teaching both history and occultism with clarity and ease. A must-have for any fan of Norse spiritual traditions, occult history or sigil magic." * The Witches' Almanac, March 2016 * "Icelandic Magic is the latest title by an author who has been an important voice in the Asatru and wider pagan community for decades. Stephen Flowers, also known as Edred Thorsson, is a legitimate scholar earning his Ph.D. in Germanic Languages and Medieval Studies . . . While this book will appeal to people interested in the magical arts, I would also recommend it to people who are interested in Icelandic culture, more broadly in indigenous Germanic belief, and to those interested in human anthropology and world religions." * Mythology Magazine, Carolyn Emerick, February 2016 * "Icelandic Magic is an exciting new expansion that goes far beyond Flowers's previous Galdrabok. Much more than a presentation of historical grimoire material, Flowers goes on to identify the key components of the techniques and show readers how to construct their own workings in a traditional manner. Icelandic Magic explores both the inner and outer nature of galdor, and of magic in general, to give the reader the tools for gaining knowledge, wisdom, and self-transformation." * Alice Karlsdottir, author of Norse Goddess Magic * "In his latest work, Stephen E. Flowers pours forth his inspiration again. On the basis of sound, academic research, he provides a good basis for the praxis of Icelandic magic. The most important aspect of his teaching is that he defines the attitude and preparation necessary to become a sorcerer in the old tradition. A book by a magician, for magicians." * Christopher Alan Smith, author of Icelandic Magic: Aims, Tools and Techniques of the Icelandic Sorce * "Stephen Flowers offers readers a comprehensive and erudite guide to the runes, staves, and other elements of Icelandic magic. This book opens the secret lore of Icelandic magicians for today's readers." * Dan Harms, librarian at SUNY Cortland Memorial Library, editor of The Long-Lost Friend: A 19th Centu * "Icelandic Magic is a modern classic of Northern sorcery. Stephen Flowers's galdor-stave system exposes the frosty roots of sigil-working, revealing a magic available to anyone possessing pen, paper, and a hunger for transformation." * Clint Marsh, author of The Mentalist's Handbook * "In many ways Icelandic Magic is as awe-inspiring and mysterious as the Icelandic landscape itself. Full of fascinating accounts of Iceland's magical history and grimoires, this book offers pragmatic instructions to resurrect this magic and tap into its power, yet there is a creative aspect that will inherently force the practitioner to union with their own inner sage. Flowers guides us safely through the ancient secrets of Icelandic magic into our own 'circuit boards of consciousness,' which we learn may be rewired through systematically formed staves aligned with our will." * Sera Timms, musician, visual artist, priestess, and lead vocalist of Black Mare * "Through a thorough survey of the history and theory of Icelandic magic, Flowers is able to present a system that can be worked by modern-day magicians. Wellsourced and practical, this book will appeal both to those interested in historical matters and those seeking a guide to practice in the modern day. This book is sure to become a classic and is an example for everyone who wishes to adapt ancient ways for the modern age." * Ceisiwr Serith, author of A Book of Pagan Prayer and Deep Ancestors: Practicing the Rel
Bloggat om Icelandic Magic
Övrig information
Stephen E. Flowers, Ph.D., received his doctorate in Germanic languages and medieval studies from the University of Texas at Austin and studied the history of occultism at the University of Goettingen, Germany. The author of more than 24 books, including Lords of the Left-Hand Path, he is the director of the Woodharrow Institute for Germanic and Runic Studies. He lives near Austin, Texas.
Innehållsförteckning
Notes to the Reader on Abbreviations, Orthography, and Foreign Words Foreword: Magic Manuals and Sorcerous Staves by Michael Moynihan xi Preface Introduction: A Magical Text Part One Historical Background and Basics of Magical Practice 1 Historical Context 2 History of Magic in Iceland The Pre-Christian Age Catholic Period Protestant Period 3 Icelandic Books of Magic Legendary Black Books The Galdrabok Other Collections of Magic The Two Traditions in the North 4 The Gods of Magic: AEsir, Demons, and Christ The Pagan Gods and Goddesses Christian Demons 5 Runes and Magical Signs 6 The Theory and Practice of Galdor-Sign Magic 7 The Legends and Lore of Iceland's Magicians Saemundur the Wise Gottskalk the Cruel Eirikur of Vogsosar Galdra-Loftur 8 Preparation and Inner Work 9 Ritual and the Grammar of Signs Introduction Equipment Basic Ritual Format Guide to Special Instructions Inner Nature of Galdor Aims of Galdor Interpretation and Construction of Signs AEgishjalmur Galdramyndir Galdrastafir Part Two GRAY-SKIN Introduction to the Workings I Wisdom 1. To Awaken Yourself to a Sense of Mystery and Wonder 2. For Insight into Things beyond the Earthly Realm 3. To Link Yourself with the Power and Knowledge of Your Soul 4. To Know the Unknown 5. Discovering the Unknown 6. Concealment 7. For Gaining Inspiration 8. Wayfinder 9. Thief-Detective 10. Sitting-Out Stave II Power 90 1. Winning Struggles of All Kinds 2. Victory 3. To Win a Debate 4. Herzlustafir (Strengthening Staves) III Protection 1. Return to Sender 2. Protection from Embarrassment 3. A Washing Verse: To Wash Away Ill Will and Negativity 4. Sorcery Prevention 5. Against Foreboding When You Go into the Darkness 6. Against All Witchery IV Control 1. To Calm Anger 2. To Gain the Favor of Powerful Persons 3. To Cause Fear in an Enemy 4. Against the Ill Will of Powerful Persons 5. To Calm the Anger of an Enemy 6. To Have Success in a Meeting 7. Dunfaxi (= Down Mane)--To Win a Law Case 8. The Silencer V Prosperity 1. Deal-Closer (= Kaupaloki) 2. To Have Success in Business 3. Another Kaupaloki VI Love 1. Luck in Love 2. To Enchant a Woman and Win Her Love 3. To Win the Love of a Person VII Reception of Luck and Release of Blessings 1. The Luck Knot 2. Lukkustafir (= Luck Staves) 3. To Get Your Wish 4. Release 5. To Get Things to Turn Out as You Wish 6. Good Luck 7. To Acquire the Object You Crave 8. To Get Back What Was Stolen VIII Sleep Magic 1. Lucid Dreaming--Dream Stave I 2. Dream Sendings--Dream Stave II 3. Against Headache and Insomnia Appendix A Runes and Magical Letters Appendix B Names of Odinn Appendix C Magical Letters and Rune Kennings Appendix D The "Our Father" Prayer in Latin Bibliography Index Your Personal Magical Workings