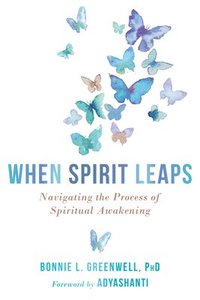 Format

Häftad (Paperback / softback)

Språk

Engelska

Antal sidor

224

Utgivningsdatum

2018-05-01

Förlag

Medarbetare

Adyashanti (foreword)

Dimensioner

222 x 152 x 19 mm

Vikt

322 g

Antal komponenter

1

ISBN

9781684030767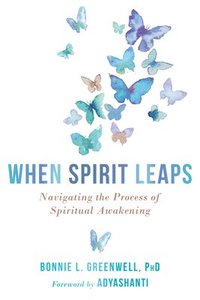 When Spirit Leaps
Navigating the Process of Spiritual Awakening
Skickas inom 2-5 vardagar.
Fri frakt inom Sverige för privatpersoner.
Finns även som
Skickas inom 11-20 vardagar (specialorder)
Whether it happens all at once or gradually over time, spiritual awakening is an experience that may be accompanied by great insight, ecstatic bliss, or a mystical infusion of light, love, and vision. But it can be an overwhelming experience, too, leaving those to whom it's occurred searching for answers and understanding. Written by a transpersonal psychologist and non-dual teacher, this book will help you understand the phenomenon of spiritual awakening, and provide guidance and support for you on your spiritual journey. At the heart of most spiritual traditions is the understanding that we are one with all of existence. This realization, also known as spiritual awakening or spiritual emergence, can occur spontaneously, after years of spiritual practice, or through many other portals. Although awakening is often considered a purely positive experience, many people are not prepared for the ramifications of such a life-altering event. When your perception of yourself and reality has been altered, you may find yourself with more questions than answers. Where can you turn? Based on over thirty years of case studies, as well as the author's own experiences, When Spirit Leaps explores the why and what of spiritual awakening, revealing how this phenomenon occurs across all traditions, and exploring the various ways it can happen. Including discussions on kundalini energy, meditation, yoga and qigong, breathwork, near-death experiences, and much more, this inspirational book offers companionship and practical solutions to common challenges along the spiritual path of awakening. With this book as your guide, you'll gain a deep understanding of the process and different portals of awakening, and find comfort and support in the real-life stories of those who have experienced this shift in consciousness and faced its challenges. Most importantly, you'll learn how you can embody this awakening and live joyfully and effectively without attachment to a personal sense of self, but as the oneness with all that is your true nature. No matter where you are on your spiritual journey, this book will help you along the way.
Passar bra ihop
+
Recensioner i media
"This is a deeply touching, transforming, and empowering book. Different from inspirational autobiographical accounts of those seekers who suddenly found themselves in touch with spiritual realities of their minds, this book is written by an experienced psychologist, researcher, and trained clinician. Bonnie Greenwell used her professional skills in service to the spiritual search. As a result, the book both inspires and provides practical, pragmatic tools to one's own process of spiritual awakening and transformation. Most importantly, the book overcomes an illusory division between the spirit and the body by grounding spiritual awakening in lived reality of one's embodied every day. ... Like Bonnie's earlier books, this volume is destined to become an instant spiritual classic." --Olga Louchakova-Schwartz, MD, PhD, professor emerita of psychology and comparative religion at the former (1975-2014) Institute of Transpersonal Psychology--Olga Louchakova-Schwartz, MD, PhD "Bonnie Greenwell's new book When Spirit Leaps summarizes in a pragmatic fashion over thirty years of her psychospiritual practice, research, and personal experience about how to make one's way through the process of spiritual awakening in a lucid, inspiring way. Regardless of whether one's awakening experiences were spontaneous or the result of years of yoga or meditation practice, or whether they have been blissful, crisis-filled, or something in-between, this book takes you through many key components of how spirit can unfold within our awareness, including the areas of kundalini and non-duality. It will be of great benefit to experiencers, spiritual teachers, or health professionals that specialize in this emerging field." --Ted Esser, PhD, spiritual counselor, former director of the Spiritual Emergence Network, and assistant chair for the psychology department at Sofia University--Ted Esser, PhD "When Spirit Leaps is the essential guide for spiritual awakening and transformation. It is for both the awakened teacher and the truth seeker in transition. It is also essential for those of us who may know our path very well, but are not familiar with other paths. One size does not fit all, and it is very important not to be dogmatic in our approach. This guide helps teachers see there are more ways than one. It is a profound, loving, and thorough book. In Zen it is said, 'If you want to know the way up the mountain, ask someone who comes and goes on it.' Bonnie Greenwell is such a one." --Tom Thompson, spiritual teacher and consultant for over forty years; cofounder and director of The Awakened Heart Center for Conscious Living in Pittsboro, NC--Tom Thompson "Any time a great writer tries to tackle higher consciousness, they can get lost in their own dogma. Bonnie Greenwell's new book does not get lost--it represents a lifetime commitment to help raise humanity's awareness of higher consciousness, how to live with an awakened kundalini, and offers wonderful, simple exercises that can help the process along the path in a clear and positive manner. Bonnie has put forth her lifetime of working with and studying people in the process of self-realization and even God realization. The end of the book shows insights into what this really means: that perfection is never 100 percent perfection, and awareness of this is awareness of what it really is in and of itself. It is a masterpiece of divine words with a pure heart and positive message. Anyone who reads this book will benefit from the experience." --Tom Kay, founder of www.ecomall.com, www.cybergod.com, and the last person to interview Gopi Krishna--Tom Kay "Some spiritual seekers mistake intellectual understanding for Realization. Others have a genuine Awakening, but are frightened or confused by the experience because they don't understand it. I think that seekers should consider the cultivation of both experience and understanding a lifelong project, as Bonnie has d
Bloggat om When Spirit Leaps
Övrig information
Bonnie L. Greenwell, PhD, is a transpersonal psychotherapist and a non-dual teacher in the lineage of Adyashanti. She has specialized for more than thirty years in mentoring people going through transformative experiences related to spiritual awakening and the kundalini process, the subject of her doctoral research at the Institute of Transpersonal Psychology (ITP). She has an eclectic background including work in psychiatric units, a rehab center, as director of the Transpersonal Counseling Center at ITP, and years of private practice. Greenwell studied Jungian psychology, Jin Shin Do (R) acupressure, Psychotropic and Radiance Breathwork, kundalini, kriya, and Ashtanga yogas, and many Buddhist meditation practices before finding her ground in non-dual teachings. She was founder and director of the Kundalini Research Network, has lectured and trained therapists in Europe, Australia, and the United States, and established Shanti River Center for non-dual education and counseling in Ashland, OR. She is an author and a contributor to several anthologies. Foreword writer Adyashanti is an American-born spiritual teacher devoted to serving the awakening of all beings. His teachings are an open invitation to stop, inquire, and recognize what is true and liberating at the core of all existence. Adyashanti is author of The Way of Liberation, Falling into Grace, Emptiness Dancing, True Meditation, and The End of Your World. Based in California, he lives with his wife, Mukti, and teaches throughout North America and Europe, offering satsangs, weekend intensives, silent retreats, and a live Internet radio broadcast.