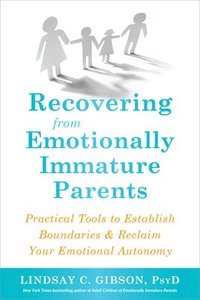 Fler böcker inom
Format

Häftad (Paperback / softback)

Språk

Engelska

Antal sidor

224

Utgivningsdatum

2019-05-10

Förlag

Dimensioner

222 x 152 x 12 mm

Vikt

294 g

Antal komponenter

1

ISBN

9781684032525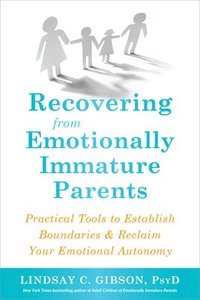 Recovering from Emotionally Immature Parents
Practical Tools to Establish Boundaries and Reclaim Your Emotional Autonomy
Skickas inom 3-6 vardagar.
Fri frakt inom Sverige för privatpersoner.
In this important sequel to Adult Children of Emotionally Immature Parents, author Lindsay Gibson offers powerful tools to help you step back and protect yourself at the first sign of an emotional takeover, make sure your emotions and needs are respected, and break free from the coercive control of emotionally immature parents. Growing up with emotionally immature parents (EIPs) can leave you feeling lonely and neglected. You may have trouble setting limits and expressing your feelings. And you may even be more susceptible to other emotionally immature people as you establish adult relationships. In addition, as your parents become older, they may still treat your emotions with mockery and contempt, be dismissive and discounting of your reality and try to control and diminish your sense of emotional autonomy and freedom of thought. In short, EIPs can be self-absorbed, inconsistent and contradictory. So, how can you recover from their toxic behaviour? Drawing on the success of her popular self-help book, Adult Children of Emotionally Immature Parents, author Lindsay Gibson offers yet another essential resource. With this follow-up guide, you'll learn practical skills to help you recognize the signs of an EIP, protect yourself against an emotional takeover, reconnect with your own emotions and needs and gain emotional autonomy in all your relationships. This is a how-to book, with doable exercises and active tips and suggestions for what to say and do to increase emotional autonomy and self-awareness. If you're ready to stop putting your own needs last, clear the clutter of self-doubt, and move beyond the fear of judgment and punishment that's been instilled in you by emotionally immature parents, this book will help you find the freedom to finally live your life your way.
Passar bra ihop
+
Recensioner i media
"Recovering from Emotionally Immature Parents is a true gift to readers who have difficulty acknowledging the legitimacy of their needs and feelings because their EI parents unconsciously placed their own needs front and center during the readers' formative years. Clearly formulated and chock-full of useful case illustrations and written exercises, this book vividly conveys the dynamics that leave children burdened by emotional imperatives not their own. By helping readers experience the compassion their parents couldn't convey, Gibson guides the reader to a treasure trove: the long-awaited experience of autonomy, authenticity, and vitality!" --Sarah Y. Krakauer, PsyD, author of Treating Dissociative Identity Disorder--Sarah Y. Krakauer, PsyD "Lindsay Gibson has again written a valuable book in Recovering from Emotionally Immature Parents, with extensive wisdom, thoughts, and tools for searching one's inner experiences, self-talk, and feelings from growing up with EI parents. This book is a resource for both individuals on a personal journey and therapists, in the human quest to heal life's wounds and grow into a more joyful and fulfilled life. Gibson's compassionate guidance is well researched with individual stories to enhance our understanding. She closes with a Bill of Rights for Adult Children of EI parents that is helpful for anyone in conflicted relationships." --Mary Ann Kearley, CNS, LPC, clinical nurse specialist in mental health, and licensed professional counselor in private practice in Chesapeake, VA--Mary Ann Kearley, CNS, LPC "A rare book that goes beyond self-help and provides true therapy. Gibson's presence is felt throughout, breaking through the reader's emotional isolation and providing gentle, concrete guidance through a daunting journey. An intelligent and generous work." --Laurie Helgoe, PhD, author of Introvert Power and Fragile Bully--Laurie Helgoe, PhD "For those who have lived their lives in the shadow of their EI parent's pain--Gibson teaches, with clarity and comfort, that who you are today is quite different from who and what you were taught to believe. She gives you permission to leave your parent's issues with them-- to free yourself of ownership of their thoughts, feelings, and behaviors. Gibson has offered a gift! Embrace it and look to your new future with peace and the power of the true you!" --Pamela Brewer, MSW, PhD, LCSW-C, psychotherapist; host of MyNDTALK with Dr. Pamela Brewer, a daily relationship and mental health podcast/broadcast--Pamela Brewer, MSW, PhD, LCSW-C "This book is a gift for those who have grown up with an EI parent. Gibson gets it-- and she will help you feel seen and known in a way that you likely never felt with your parent. You'll be able to put words to your pain, so you can understand it, work through it, and, ultimately, separate from it as you work toward building relationships with yourself and others that will be more emotionally fulfilling. It is clear how much she genuinely cares for her clients and readers, and wants to support them in their journey." --Kathy Nguyen Li, PsyD, licensed psychologist, and owner of Sage Counseling, PLLC, in Washington, D.C.--Kathy Nguyen Li, PsyD "What a gift! After spending forty years talking with clients about the issues and solutions Lindsay Gibson addresses in this extraordinary book, finally there's one highly readable resource that provides a complete, in-depth look at what every client needs to know. Clear and concise explanations alongside extremely helpful exercises make this book an absolute must-read for the multitudes that experience the challenge of EI parents. Not just a book for the children of EI parents, but a fantastic one-stop resource for anyone dealing with a core set of problems we all actually struggle with in the majority of our adult relationships." --David Gordon, PhD, clinical psychologist in private practice in Norfolk, VA; author of
Bloggat om Recovering from Emotionally Immature Parents
Övrig information
Lindsay C. Gibson, PsyD, is a clinical psychologist in private practice who specializes in individual psychotherapy with adult children of emotionally immature parents. She is author of Who You Were Meant to Be and writes a monthly column on well-being for Tidewater Women magazine. In the past she has served as an adjunct assistant professor of graduate psychology for the College of William and Mary, as well as for Old Dominion University.