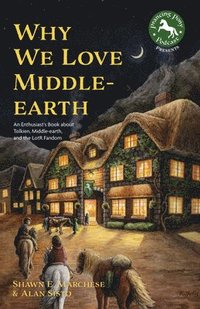 NY
Fler böcker inom
Format

Häftad (Paperback / softback)

Språk

Engelska

Antal sidor

256

Utgivningsdatum

2023-10-12

Förlag

Medarbetare

Sisto, Alan (contributions)

Illustratör/Fotograf

Illustrationer

bw illustrations throughout; 30 Illustrations, unspecified

Dimensioner

234 x 163 x 48 mm

Vikt

386 g

Antal komponenter

1

ISBN

9781684812097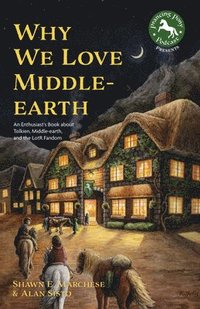 Why We Love Middle-earth
An Enthusiasts Book about Tolkien, Middle-earth & the LOTR Fandom
Skickas från oss inom 3-6 vardagar.

Fri frakt över 249 kr för privatkunder i Sverige.
For Fans of the Tales of Tolkien, Middle-earth, and More Learn about the man who wrote The Lord of the Rings in this Middle-earth treasury. Full of answers to common questions asked by readers to learn about Middle-earth and the fandom, this book about Tolkien celebrates Why We Love Middle-earth. The Lord of the Rings omnibus for all. Who wrote The Lord of the Rings? What details are in the movies, books, maps, and other storiesand how do they tie together? Intrigued by Amazons new show The Lord of the Rings: The Rings of Power? Whats considered canon and what isnt? Dive into Middle-earths expansive lore with Why We Love Middle-earth, a fandom book about Tolkiens work. The perfect companion for any Middle-earth traveler. Written by beloved Tolkien commenters of The Prancing Pony Podcast, Shawn E. Marchese and Alan Sisto, Why We Love Middle-earth is the ultimate guide to the fandom. Newcomers and existing fans of Tolkien will revel in the dragons hoard of information inside. Inside, find: An easy-to-digest guide map that deepens your knowledge from start to finish, or from any interest point A brief history of each of the major books and adaptations of Middle-earth, how to read, watch, or play them, and deepen your understanding of them A manual for fandom nicheswhat they are, where to find them, and how to get started If you enjoy fandom books or a good book about Tolkiens works such as Atlas Of Middle-Earth, Recipes from the World of Tolkien, or Why We Love Star Wars, youll love Why We Love Middle Earth.
Passar bra ihop
+
Recensioner i media
Written for new or casual fans, but with material to enlighten those deeply entrenched in Tolkiens legendarium, Marchese and Sisto (hosts of the podcast Prancing Pony) share insights both scholarly (with ample footnotes) and irreverent (with chapter names like Sequel, Schmequel and Ch-ch-ch-ch-Changes: Tolkien in Adaptation). The book makes suggestions for the best Tolkien reading journey, enumerates high points and shortcomings of adaptations, and discusses collecting, moots (or conferences), and online fandoms. VERDICT A delightful addition to most libraries. Expect an uptick in circulation of other Tolkien-related books and DVDs after purchase. Library Journal One could not ask for a more congenial pair of guides to Middle-earth than Alan Sisto and Shawn E. Marchese. The combination of learning and fun that has made The Prancing Pony Podcast such a delight shines through in this tour of the Middle-earth experience. Why We Love Middle-earth is a great resource for readers and film-viewers who are new to Tolkien and curious about all things Middle-earth. Corey Olsen, The Tolkien Professor and president of Signum University Alan and Shawn bring the same love for Tolkien and the fandom to this book that theyve brought to The Prancing Pony Podcast for years. I would expect nothing less, but I can also think of no higher praise. Matt Graf, Nerd of the Rings This delightful read is accessible, humorous, and informative, with the appropriate dash of nostalgia. Perfect for both new and veteran Tolkien fans alike, it is sure to entertain, enlighten, and just maybe help you step out your front door and meet other members of the Tolkien community. K.M. Rice, author of the Afterworld series An absolutely phenomenal read. Sisto and Marchese perfectly encapsulate the spirit of Tolkiens legacy and bring it to the page. A heartfelt look at the passion found in the Professors stories and why Middle-earth remains such a beloved fantasy world. Tolkien fans of all ages will certainly want to add this book to their collections. Don Marshall, Obscure Lord of the Rings Facts Guy You will not find a friendlier, more informative-yet-easygoing introduction to Tolkiens world than this book. Alan and Shawn are like wisecracking Hobbits, simultaneously goofing off and admiring every song and story shared in Elronds Hall of Fire. Come for the groanworthy dad jokes; stay for the deep love of the lore. Jeff LaSala, author of The Silmarillion Primer The Prancing Pony Podcast has established itself as an institution among those of us who like to live, breathe, and dream J.R.R. Tolkiens magnificent Middle-earth legendarium. Approachable yet knowledgeable, fan-friendly yet scholarly, the PPP is one of those rare podcasts that successfully bridges the gap between the absolute Tolkien beginner and the serious devotee. This has clearly also been their intention with this book, and they have definitely succeeded in that aim. Why We Love Middle-earth is an entertaining read, but it also offers in-depth commentary on Tolkiens works, the various film adaptations, and the fan responses to those works, guiding the novice through approaching the books as well as offering new insights for the serious reader. Maintaining the balance between the disparate audiences is no mean feat, but the result is a delightful and fascinating read that I would heartily recommend to all fans of Middle-earth. Dr. Sara Brown, language & literature department chair, Signum University From erudition to entertainment, from comedy to camaraderie, The Prancing Pony Podcast is the Car Talk of Tolkien podcasts. Whether you are a Tolkien beginner or were there 300 episodes ago, Alan and Shawn are always worth listening to. Why We Love Middle-earth is a great introduction to Tolkien and the podcast. By treating the books, adaptations, and fandom individually, Alan and
Övrig information
Shawn E. Marchese went down the hobbit hole in his teens after finding a reference to Tolkien in a book about Pink Floyd, and has been in love with Middle-earth (and progressive rock) ever since. Hes especially drawn to the linguistic aspects of Tolkiens work, and shares his obsession for languages with listeners every week as The Prancing Pony Podcasts resident word-nerd. Shawn met Alan seven years ago in a Facebook group for Tolkien fans, and still remembers the day he casually agreed to do a podcast with him like, maybe once a month. When not working on the podcast, Shawn can be found at his day job as a compliance officer, writing, brewing ales, or working on his geeky dad credentials with his wife and two children. The Prancing Pony Podcast was the winner of the Tolkien Society 2020 Award for Best Online Content. Alan Sisto has been reading Tolkien since the Rankin & Bass animated Hobbit came out before he was born. Or right after. An all-around Tolkien nerd, Alan can be found enjoying Tolkiens lesser-known worksLeaf by Niggle is his favoritejust as often as he gets lost in First Age histories and Third Age adventures. Alan has worked with Shawn for nearly six years to grow The Prancing Pony Podcast each season, and spends much of his working time producing the show. He also provides narration and commercial voiceovers (alansisto.com) and has also been an architectural photographer for 15 years (freshpageimages.com). His wife and two children give him the freedom to indulge his inner nerd.
Innehållsförteckning
Foreword Prologue: Who Was John Ronald Reuel Tolkien? Part One: Discovering Tolkiens Books: What Should I Read Next? The Hobbit The Lord of the Rings The Silmarillion Unfinished Tales The Great Tales: The Children of Hrin, Beren & Lthien, The Fall of Gondolin Part Two: Tolkien in Adaptation Peter Jacksons The Lord of the Rings Trilogy Peter Jacksons The Hobbit Trilogy Ralph Bakshis The Lord of the Rings Rankin/Basss The Hobbit and The Return of the King BBC Radio Play Video Game Adaptations: The Lord of the Rings Online and many more Audiobooks Part Three: Expressions of Fandom Collecting Tolkien Tolkiens Invented Languages Tolkien Studies Art and Artists Fan Organizations Online Content DIY (cosplay, crafting, cooking, brewing)