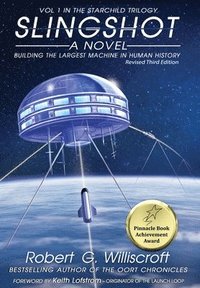 Fler böcker inom
Format

Inbunden (Hardback)

Språk

Engelska

Antal sidor

376

Utgivningsdatum

2018-07-31

Upplaga

2nd ed.

Förlag

Medarbetare

McCluskey, Gary (cover design)

Illustratör/Fotograf

Illustrationer

11 Illustrations; Illustrations, black and white

Antal komponenter

1

Komponenter

408:B&W 6 x 9 in or 229 x 152 mm Blue Cloth w/Jacket on Creme w/Matte Lam

ISBN

9781732478886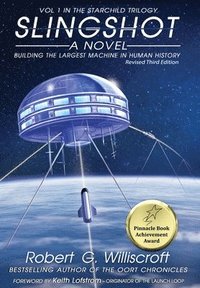 Slingshot
Building the Largest Machine in Human History
Skickas inom 10-15 vardagar.
Fri frakt inom Sverige för privatpersoner.
Revised Second Edition

NABE Pinnacle Book Achievement Award Winner!

     Slingshot is a love story - about a man, a woman, another man, another woman, some gender-bending...and a machine, the largest ever built. Slingshot is a mystery - about a missing aviatrix, a conspiracy, a true-believer.

     Slingshot is an adventure - about following a dream, the ocean-deep, outer space. Slingshot is about constructing the first space launch-loop stretching 2,600 km between Baker and Jarvis Islands in the Equatorial Pacific. It's about high finance, intrigue, unlimited ambition, heroism, fanaticism, betrayal...and about opening space to the common person. The setting is the day-after-tomorrow. Technology has advanced, the web is more pervasive than ever, but human ambition and greed remain unchanged.

     In Slingshot, Alex Regent, Margo Jackson, and Klaus Blumenfeld reach for the stars as they blend their skills to create the world's first space launch-loop, backed by major software money. Environmental fanatic Lars Watson with his team of young eco-terrorists are funded by opposing financial interests, who will go to any length to halt the project. Reporter Lori Kutcher indiscriminately applies her own personal skills to ensure it is she who reports the unfolding events to a watching world. With a cast of 69, Slingshot takes you from Seattle's world financial district, to the ocean bottom at 5,000 feet off Baker Island, to the edge of space 80 km above. You play with dolphins and battle sharks. You fly and sail and dive, you work and play and love across the vast panorama of an Equatorial Pacific being put to leash to serve humanity's surge into outer space.

     While its accurate science and precise engineering will appeal to hard science-fiction buffs, Slingshot's major focus is the grand journey, the opening of outer space to the common person by men and women who loom larger than life as they work, play, and love.
Passar bra ihop
+
Recensioner i media
real people, accurate science, and high adventure under the ocean, in the air, and in space. this is about the heroic men and women who will take us there, and the villains who try to stop them.

- Keith Lofstrom Inventor of the Launch Loop
Slingshot does for the launch loop what Arthur C. Clarke's The Fountains of Paradise or Sheffield's Web Between the Worlds did for the space elevator. Again Williscroft delivers a great mix of hard science fiction and action.

- Alastair Mayer Author of the T-Space Series
the engineering triumph portrayed in this book is staggering - an electromagnetic loop 80 kilometers high able to launch spacecraft safely into orbit without rocket fuel. a dedicated team of visionaries overcomes natural hazards and sinister opponents to complete this heroic project. the detail is convincing, and the action is entertaining.

- John Knapman, PhD, Director of Research International Space Elevator Consortium (ISEC)
robert williscroft deftly crafts an energetic story around a phenomenal technological development just over the horizon: the space launch loop. the technical detail woven into this story is an education unto itself. but don't assume that williscroft chooses raw infodump over story - Slingshot is an adventure that pulls you in, gives you characters that are engaging, and invites you to follow them through their challenges. What Williscroft has done in Slingshot is no easy task - he has balanced the hard aspect of science fiction with the character portrayals that those who despise that very hard science fiction beg for. The last decade has seen impressive leaps in the theoretical work toward the launch loop - this book couldn't come too soon! And you won't be able to keep from reading all the way to the end. Williscroft's art continues to be praise-worthy!

- Jason D. Batt - 100 Year Starship Author of The Tales of Dreamside series
Övrig information
Served 23 years in U.S. Navy and NOAA. Enlisted as a nuclear Submarine Sonar Tech in 1961, selected for the Navy Enlisted Scientific Education Program in 1966, and graduated from Univ of Wash in Marine Physics and Meteorology in 1969. Returned to nuc subs as the Navy's 1st Poseidon Weapons Officer. Subsequently, served as Navigator and Diving Officer on both catamaran mother vessels for the "Deep Submergence Rescue Vehicle." Then joined SubDevGroup One out of San Diego as the Officer-in-Charge of the Test Operations Group, conducting "deep-ocean surveillance and data acquisition" - which forms the basis for his bestselling Cold War novel, "Operation Ivy Bells."

Directed NOAA diving operations in the Pacific & Atlantic. Taught 3,000 individuals basic & advanced SCUBA, wrote 4 diving books, developed the 1st NAUI drysuit course, developed advanced curricula for mixed gas & other specialized diving, and developed a NAUI course on the Math & Physics of Advanced Diving. His dissertation, "A System for Protecting SCUBA Divers from the Hazards of Contaminated Water" was published by the US Commerce Dept and distributed to Port Captains worldwide. Served 3 years in the Arctic on science projects, and 13 months at the geographic South Pole with the National Science Foundation.

Has written extensively on terrorism. Wrote a bestselling current events book, "The Chicken Little Agenda - Debunking Experts' Lies," and a children's series, "Starman Jones," in collaboration with Dr. Frank Drake, director of the Carl Sagan Center for the Study of Life in the Universe and the SETI Institute.

"Slingshot," the 1st book in the "Starchild Trilogy," is about building the first Space Launch Loop. Book 2, "The Starchild Compact," is based on the discovery that Saturn's moon Iapetus is a derelict starship, and how Earth explorers meet with the "Founders" who originally arrived on the starship and populated the Earth long ago. Book 3, "The Iapetus Federation," is about the World falling under the rule of a planet-wide Caliphate, where the Founders establish the Iapetus Federation, a loose federation of free off-world communities that carries on the traditions of free enterprise and individual accountability throughout the Solar System and beyond.

Member of the Adventurers' Club of Los Angeles and Editor of their magazine for 10 years. Member of Colorado Authors' League and editor of their InPrint. Member SF Writers of America. Lives in Centennial, Colo, with his family.