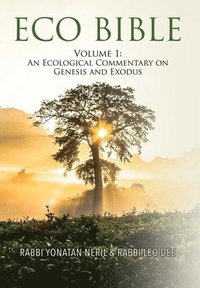 Fler böcker inom
Format

Inbunden (Hardback)

Språk

Engelska

Antal sidor

260

Utgivningsdatum

2020-11-24

Förlag

Medarbetare

Dee, Leo

Illustrationer

Black & white illustrations

Dimensioner

234 x 156 x 16 mm

Vikt

540 g

Antal komponenter

1

Komponenter

5719:B&W 6.14 x 9.21in or 234 x 156mm (Royal 8vo) Case Lam w/Jacket on White w/Matte Lam

ISBN

9781735338835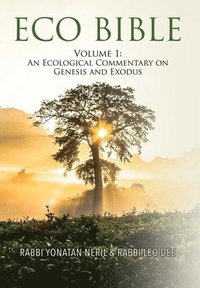 Eco Bible
Volume 1: An Ecological Commentary on Genesis and Exodus
Skickas inom 7-10 vardagar.

Gratis frakt inom Sverige över 199 kr för privatpersoner.
Finns även som
Skickas inom 1-2 vardagar
What can the Bible say about ecology? As people face huge ecological challenges-including growing hurricanes, floods, forest fires, and plastic pollution-the groundbreaking Eco Bible dives into this question. Drawing on 3,500 years of religious ethics, it shows how the Bible itself and its great scholars embrace care for God's creation as a fundamental and living message. Eco Bible both informs the reader and inspires spiritual commitment and action to protect all of God's creation.

This 'earth Bible' is a great read for those interested in Jewish and Christian social issues. It also represents an important contribution to eco theology, and to the spiritual ecology movement.

Publishers Weekly called the book an "insightful analysis," which "will inspire contemplation on how to live in harmony with nature and the power of conservation. Ecologically minded readers interested in the Hebrew Bible will love this."

Volume 1 explores Genesis and Exodus; Volume 2 (2021) explores Leviticus, Numbers, and Deuteronomy. Together they cover 450 verses in the Five Books of Moses / Pentateuch / Old Testament. By linking faith and science, the book connects religion with contemporary scientific thought regarding human health, biodiversity, and clean air, land, and water.

Dr. Bill Brown, Professor of Old Testament at Columbia Theological Seminary, calls Eco Bible "a rich repository of insights...for people of faith to move forward with wisdom, inspiration, and hope, all for the sake of God's good creation."

Eco Bible reveals what Rabbi Shlomo ben Aderet calls "the ever-increasing number of fresh understandings of the Bible's verses," while quoting over 100 rabbis from Biblical times to the present. Until now, their ecological insights on the Bible could only be found scattered across hundreds of books.

Applying Biblical ethics to stewardship, conservation, and creation care is not just an idea for today, but is essential for a future where we live in balance and thrive on a planet that remains viable for all life. At a time of both ecological and spiritual crisis, an ecological reading of the Bible can have profound impact on human behavior, since billions of people worldwide consider it a holy book.

This green Bible commentary affirms a spiritually grounded vision for long-term sustainability and immediate environmental mindfulness and action, including many suggested action items. Eco Bible uniquely explores the Bible's deep inspiration for fulfilling the blessing of all life, changing course to ...
Passar bra ihop
+
Fler böcker av författarna
Leo Dee, Leo Dee

Rabbi Leo Dee answers the fundamental question: why bother being Jewish in a modern world? Using history and logic, Rabbi Dee explains how Judaism enhances daily life to make it more meaningful. Transforming the World: The Jewish Impact on Moderni...
Recensioner i media
An "insightful analysis," which "will inspire contemplation on how to live in harmony with nature and the power of conservation. Ecologically minded readers interested in the Hebrew Bible will love this." - Publishers Weekly
"Eco Bible offers a rich repository of insights, drawing from both ancient rabbinic commentary and current ecological insights, for people of faith to move forward with wisdom, inspiration, and hope, all for the sake of God's good creation." - Prof. Bill Brown, Professor of Old Testament, Columbia Theological Seminary
"A wonderful tool for garnering new insights into the Hebrew Bible and to increasingly sensitizing us to a broader message that the Hebrew Bible can deliver, concerning human responsibility, stewardship and unity with all of creation. Well done!" Rabbi Dr. Alon Goshen-Gottstein, Director, The Elijah Interfaith Institute
"The current ecological disasters cause us to return to our roots to revive the ancient truths of our faith that have been hidden by modern consumerist society. What a gift to be able delve into the Hebrew Bible guided by thousands of years of wisdom of Jewish rabbis and explore anew the roots of our faith." - Rev. Dr. Rachel Mash, Environmental Coordinator , Anglican Church of Southern Africa
"Eco Bible provides us with an invaluable resource and inspiration drawn from a vast cross section of Jewish sources and commentaries, to enable us to live up to the Biblical mandate to love the Creator and His Creation." - Rabbi David Rosen KSG CBE, AJC International Director of Interreligious Affairs
"Grounded equally in religious thought and environmental science, Eco Bible provides inspiration and guidance on how we can and must repair our world in these urgent times. It offers powerful fodder for personal reflection and group discussion. It serves as an unparalleled resource guide for all who feel a spiritual responsibility for our irreplaceable planet and its life-sustaining biodiversity." - Jessica Sachs, author of Good Germs, Bad Germs
"A great preaching resource! I was hoping to find a commentary that would give me some good starting places for preaching and leading Bible Studies. The Eco Bible is really a helpful collection of so much wisdom. As a Christian, I wasn't familiar with some of the ancient Rabbis, but the commentary is written in an accessible way so that anyone can appreciate the insights passed down to us." Pastor Caleb Crainer, St. Andrew's Lutheran Church, Los Angeles
"Highly relevant for both...
Övrig information
Rabbi Yonatan Neril founded and directs the international Interfaith Center for Sustainable Development (ICSD), including its Jewish Eco Seminars branch. Yonatan is coauthor of the groundbreaking book Eco Bible, published by ICSD, which shines new light on how the Hebrew Bible and great religious thinkers have urged human care and stewardship of nature for thousands of years as a central message of spiritual wisdom.
He has spoken internationally on religion and the environment, including at the UN Environment Assembly, the Fez Climate Conscience Summit, the Parliament of World Religions, and the Pontifical Urban University. He co-organized twelve interfaith environmental conferences in Jerusalem, New York City, Washington D.C., Atlanta, Los Angeles, and elsewhere.
ICSD reveals the connection between religion and ecology and mobilizes faith communities to act. Yonatan is a member of the United Nations Environment Program's Faith-based Advisory Council, and of the Pontifical Universities' Alliance for Laudato Si' Advisory Council. As part of ICSD's Faith Inspired Renewable Energy Project in Africa, he has been involved in facilitating the development of commercial scale solar fields on church lands in Africa.
Raised in California, Yonatan completed an M.A. and B.A. from Stanford University with a focus on global environmental issues, and received rabbinical ordination in Israel. He was a Dorot Fellow, PresenTense Fellow, and Haas Koshland Award recipient.
He lives with his wife, Shana, and their two children in Jerusalem. He enjoys hiking and being in nature. Leo Dee received a Master's in Engineering from Cambridge University, a Master's in Public Health from Hebrew University, and rabbinical ordination in Israel. However, it was a trip around the least affluent countries in Asia and South America that woke him up to the tremendous poverty that exists in the world. Encountering people who owned not much more than the clothes on their back, he began to understand the huge impact of lack of food, water and power suffered by half of humanity. So, following six years as a community Rabbi in the United Kingdom, he moved to Israel where he has developed a passion for changing hearts and minds in order to encourage sustainable development - initially among the Israeli financial community, and then within the field of Responsible Investment. He served as director of programs at The Interfaith Center for Sustainable Development. He lives near Jerusalem with his wife, Lucy, and their five children.
Innehållsförteckning
Book of Genesis
chapter 1, verse 1: caring for creation 3
1:3: sustainability and spiritual awareness 4
1:5: previous and current extinction events 4
1:9: water and dry land 4
1:11-12: edible trees 5
1:22: god blesses fish and birds 5
1:26: on eating animals 6
1:28: will humans rule, or animals? 7
1:29: a plant-based diet for people 8
1:30: vegan crocodiles 9
1:31: creation was "very good" 9
2:5: praying for creation 10
2:8: re-creating paradise 10
2:15: the stewardship paradigm 11
2:17: forbidden fruit and self control 13
2:19: learning from animals 13
3:6: holy eating 14
3:11: all creations are connected 15
3:17: eating the forbidden fruit 16
3:18: edible weeds 16
3:19: connected to the earth 17
4:9: taking responsibility for others 17
4:13: from farmer to refugee 18
6:16: the ark and green building 19
vi eco bible
6:18: population and restraint 20
6:19: noah as earth steward 21
6:21: caring for creatures 23
7:23: plastic, fish, and people 23
8:6: saving the raven 24
9:13: rainbows and responsibility 24
9:20: floods and fairtrade 26
11:1-3: lording over nature 26
11:4: the limits of technology 27
11:6: diversity sustains life 28
12:1: palace on fire 30
12:10: famine in genesis 30
13:6: sustainable coexistence 31
13:10: the dead sea is dying 32
13:17: hiking the land 33
14:10: stuck in crude oil 33
14:22-23: abraham and self-satisfaction 35
15:5: finding god outdoors 35
15:13-14: the cure before the sickness 36
18:4: resilience of trees 37
18:7: veal then and now 37
19:24: sodom and acid rain 38
19:24: morality and ecology 39
19:25: abraham and the burning kiln 40
21:33: sustainable peace 41
23:4: sarah and sustainable burial 42
23:13: relationship with earth 43
23:17-18: sarah and trees 44
24:14: rebecca's kindness to camels 45
24:63: praying in the fields 46
25:23: sustainable luxuries 47
25:27: the conflict of jacob and esau 48
25:28: love of meat 49
25:30: holy eating 50
25:34: fast and slow food 52
eco bible vii
26:12, 15: isaac and water mapping 53
26:20: water wars 54
27:6-9: hunters and farmers 55
27:28: doing all we can 56
28:11: sleeping alone in nature 57
28:13: connecting with the earth 58
28:20: jacob's simplicity 59
28:21: jacob as spiritual activist 59
31:10-13: jacob's spiritual and material dreams 60
31:18: large herds of livestock 61
32:24: small vessels 62
33:9-11: being content with what we have 64
33:12-14: how fast we move 65
33:18: building infrastructure 66
37:2: shepherd consciousness 68
37:12: nature and violence 70
37:14: nature and our...