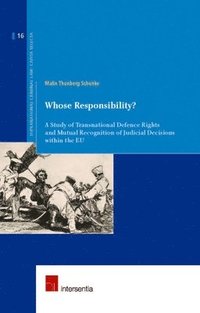 Fler böcker inom
Format

Häftad (Paperback / softback)

Språk

Engelska

Antal sidor

174

Utgivningsdatum

2013-07-11

Förlag

Dimensioner

234 x 158 x 12 mm

Vikt

340 g

Antal komponenter

1

ISBN

9781780681757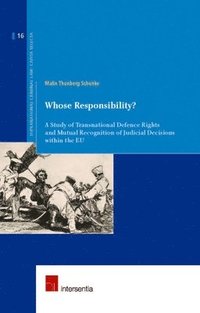 Whose Responsibility?
A Study of Transnational Defence Rights and Mutual Recognition of Judicial Decisions within the EU
Tillfälligt slut – klicka "Bevaka" för att få ett mejl så fort boken går att köpa igen.
The growing attention being paid to transnational criminality and the emergence of new models of state cooperation make it necessary to reconsider the traditional features of human rights enforcement. This book provides a comprehensive analysis of how criminal procedural rights are (if at all) protected within the framework of mutual recognition within the EU. The study concentrates on the Framework Decision on the European Arrest Warrant. The central issue of analysis is the national and extraterritorial responsibility for violations of fundamental rights which occur in the framework of such transnational procedures. Are there any provisions in international or national instruments, which aim at effectively preventing or remedying violations? Is there any functioning judicial control? The effect of national legislation and human rights bars to cooperation is discussed on the basis of a comparative study of the legislation and case-law in Sweden and the UK. Further, the roles of the European Courts for the protection of due process rights are analysed. The book focuses on the special features of mutual recognition in relation to state responsibility for an executing and issuing state. Especially the concept of mutual trust and the justifications for a system of division of labour between the States are critically discussed. Whose responsibility? provides the reader with new and interesting perspectives regarding the specific problems of being a defendant within the EU, and gives some new answers to the question of responsibility for transnational defence rights.
Fler böcker av Malin Thunberg Schunke
De rättslösa

Malin Thunberg Schunke

När några unga utländska säsongsarbetare försvinner på den italienska landsbygden startas en internationell utredningsgrupp med Ester Edh och Fabia Moretti i spetsen. Spåren leder till en enslig gård ägd av en välkänd maffialedare och den karismat...

Ett högre syfte

Malin Thunberg Schunke

"En fantastisk bok, den bästa jag har läst på flera år." Maj Sjöwall "En isande trovärdig thriller ... Malin Thunberg Schunke gör en nagelbitarthriller av en obehagligt trovärdig historia" Lotta Olsson, Dagens Nyheter "En ...
Bloggat om Whose Responsibility?
Övrig information
Dr. Malin Thunberg Schunke is an Associate Professor in Criminal Law at the University of Uppsala. She holds an LLD in Criminal Law (Uppsala University) and an LLM in Criminology and Criminal Justice (King's College, London). Her research interests lie in national and international criminal law. She has been an Apprentice Judge at Stockholm City Court and has been working several years as an Assistant Prosecutor in Stockholm.
Innehållsförteckning
Preface About the author Abbreviations 1. Introduction 1.1. Being a defendant within the European Union: Garry Mann, Andrew Symeou and the Stow brothers 1.2. The need for EU action on defence rights 1.3. scope and overall structure of the study 1.3.1. The principle of mutual recognition of judicial decisions 1.3.2. The purpose of the project 2. Human rights protection at the legislative level within the EU 2.1. EU instruments on criminal procedural rights 2.2. EU instruments on mutual recognition of decisions 3. Human rights protection at the national level 3.1. introduction 3.2. Swedish legislation and case-law regarding the EAW 3.2.1. The Act (2003:1156) on surrender from Sweden according to the European Arrest Warrant 2 3.2.2. Swedish case-law 3.2.3. Commentary to the Swedish case-law 3.3. English legislation and case-law regarding the EAW 3.3.1. The extradition Act 2003 3.3.2. English case-law 3.3.3. Commentary to the English case-law 3.3.4. National review of the extradition system 3.3.5. The UK's 2014 opt-out decision 4. Human rights protection and the ECtHR 4.1. Introduction 4.2. The principle of extraterritorial state responsibility 4.3. The ECHR and the European Union 5. The charter of fundamental rights and the CJEU 5.1. The EU Charter of Fundamental rights 5.2. The CJEU 5.2.1. The Jurisdiction of the CJEU 5.2.2. The Radu and Melloni cases 5.2.2.1. Criminal Proceedings against Radu 5.2.2.2. Melloni v. Ministerio Fiscal 5.2.2.3. Commentary 5.3. The system of protecting fundamental rights after the treaty of Lisbon 6. Is there a sufficient system of human rights protection within cooperation based on mutual recognition? 6.1. Introduction 6.2. National human rights bars 6.2.1. Introduction 6.2.2. Tight time limits 6.2.3. The burden of proof and evidentiary difficulties 6.2.4. The "political" element 6.2.5. The stringent threshold of "flagrant denial" 6.2.6. Conclusions 6.3. The ECtHR and the principles for extraterritorial state responsibility 6.3.1. Introduction 6.3.2. Overload and significant delays 6.3.3. The high threshold of "flagrant denial" 6.3.4. The need for more modern concepts of state responsibility 6.4. Extraterritorial state responsibility and the principle of mutual recognition 6.4.1. The concept of mutual trust 6.4.1.1. What does mutual trust mean? 6.4.1.2. The interpretation of mutual trust in practice 6.4.1.3. A rejection of blind trust by the European Courts M.S.S. v. Belgium and Greece N.S. v. Secretary of State for the Home Department and M.E. and Others v. Refugee Applications Commissioner and Minister for Justice, Equality and Law Reform 6.4.1.4. Conclusions on the concept of mutual trust 6.4.2. The need for a higher standard of protection within the mutual recognition system 6.4.3. Division of labour within the system of mutual recognition 6.5. Hope for the future: The Charter and the CJEU? 6.5.1. The impact of the Charter 6.5.2. The CJEU as guardian of human rights 6.6. The need for EU instruments on transnational procedural standards 7. Whose responsibility? Bibliography Index