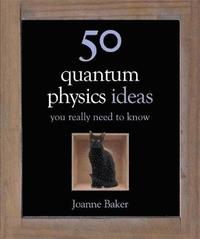 Fler böcker inom
Format

Inbunden (Hardback)

Språk

Engelska

Antal sidor

208

Utgivningsdatum

2013-07-01

Förlag

Illustratör/Fotograf

Illustrationer

50 illustrations

Dimensioner

208 x 179 x 23 mm

Vikt

510 g

ISBN

9781780879116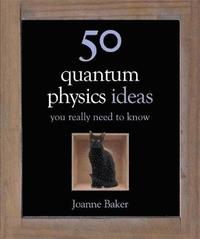 50 Quantum Physics Ideas You Really Need to Know
Tillfälligt slut – klicka "Bevaka" för att få ett mejl så fort boken går att köpa igen.
A guide to everything you need and want to know about quantum physics, how our universe works and our existence in it. Quantum physics is the most cutting-edge, important and fascinating area of modern science. We have all heard of Einstein's theory of relativity and Schrodinger's Cat - but do we really understand the mind-bending theories of our universe? In 50 concise chapters, Joanne Baker covers the foundation concepts of quantum physics and moves on to present clear explanations of complex theories and their advanced applications - from string theory to black holes, and quarks to quantum computing. With informative two-colour illustrations alongside key ideas in straightforward, bite-sized chunks, this book will teach you everything you need to know about quantum physics - and challenge the way you understand the world. The ideas explored include: Theory of relativity; Schroedinger's cat; Nuclear forces: fission and fusion; Antimatter; Superconductivity.
Kundrecensioner
Det finns 1 recension av 50 Quantum Physics Ideas You Really Need to Know. Har du också läst boken?
Sätt ditt betyg »
Lättläst och kunnig

Den här boken ger en fantastisk populär översikt över stora delar av kvantfysiken. Man får mängder av historisk bakgrund och utblickar i många riktningar. Författaren är duktig på både det historiska och själva fysiken. Här finns mycket som är fascinerande och också mycket viktigt i vår moderna värld, men ändå sorgligt okänt för alltför många.
Bloggat om 50 Quantum Physics Ideas You Really Need ...
Övrig information
Joanne Baker studied Physics at Cambridge and took her PhD at the University of Sydney in 1995. She is a physical science editor at Science magazine, where her speciality is space and earth science. She is the author of 50 Physics Ideas You Really Need to Know and Universe: 50 Ideas You Really Need to Know.
Innehållsförteckning
Introduction. LIGHT LESSON: Energy conservation; Planck's law; Electromagnetism; Young's fringes; Speed of light; Photoelectric effect. UNDERSTANDING ELECTRONS: Wave-particle duality; Rutherford's atom; Quantum leaps; Fraunhofer lines; Zeeman effect; Pauli exclusion principle. QUANTUM MECHANICS: Matrix mechanics; Schrodinger's wave equation; Heisenberg's uncertainty principle; The Copenhagen interpretation; Schrodinger's cat; The EPR paradox; Quantum tunnelling; Nuclear fission; Antimatter. QUANTUM FIELDS: Quantum field theory; The Lamb shift; Quantum electrodynamics; Beta decay; Weak interaction; Quarks; Deep inelastic scattering; Quantum chromodynamics; The Standard Model. QUANTUM COSMOS: Symmetry breaking; The Higgs boson; Supersymmetry; Quantum gravity; Hawking radiation; Quantum cosmology; String theory. QUANTUM UNREALITY: Many worlds; Hidden variables; Bell's inequalities; Aspect experiments; Quantum eraser. QUANTUM APPLICATIONS: Quantum decoherence; Qubits; Quantum cryptography; Quantum dots; Superconductivity; Bose-Einstein condensates; Quantum biology; Quantum consciousness. Glossary. Index.