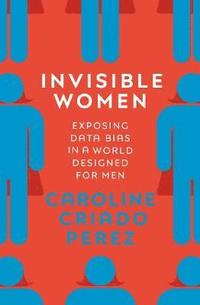 Fler böcker inom
Format

Inbunden (Hardback)

Språk

Engelska

Antal sidor

432

Utgivningsdatum

2019-03-07

Utmärkelser

Winner of Royal Society Insight Investment Science Book Prize 2019 (UK); Winner of Financial Times and McKinsey Business Book of the Year 2019 (UK); Short-listed for Parliamentary Book Awards 2020 (UK

Förlag

Dimensioner

241 x 165 x 37 mm

Vikt

666 g

ISBN

9781784741723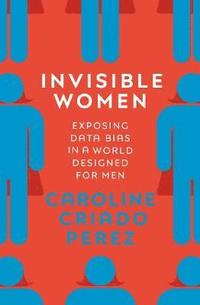 Invisible Women
Exposing Data Bias in a World Designed for Men
Bokens leverantör håller tillfälligt stängt på grund av Coronapandemin. Klicka "Bevaka" för att få ett mejl när boken går att beställa igen eller välj ett annat format nedan.
**SUNDAY TIMES BESTSELLER** Discover the shocking gender bias that affects our everyday lives 'A rallying cry to fight back' Sunday Times 'Press this into the hands of everyone you know. It is utterly brilliant!' Helena Kennedy Imagine a world where your phone is too big for your hand, where your doctor prescribes a drug that is wrong for your body, where in a car accident you are 47% more likely to be seriously injured, where every week the countless hours of work you do are not recognised or valued. If any of this sounds familiar, chances are that you're a woman. Invisible Women shows us how, in a world largely built for and by men, we are systematically ignoring half the population. It exposes the gender data gap - a gap in our knowledge that is at the root of perpetual, systemic discrimination against women, and that has created a pervasive but invisible bias with a profound effect on women's lives. From government policy and medical research, to technology, workplaces, urban planning and the media, Invisible Women reveals the biased data that excludes women. Award-winning campaigner and writer Caroline Criado Perez brings together for the first time an impressive range of case studies, stories and new research from across the world that illustrate the hidden ways in which women are forgotten, and the impact this has on their health and well-being. In making the case for change, this powerful and provocative book will make you see the world anew. 'A brilliant expose' Guardian Winner of the Royal Society Insight Investment Science Book Prize 2019 Winner of the Readers' Choice Books Are My Bag Award 2019 Winner of the FT & McKinsey Business Book of the Year 2019 The Times Current Affairs Book of the Year 2019
Fler böcker av Caroline Criado Perez
Näkymättömät naiset

Caroline Criado Perez

<p>Hämmästyttäviä faktoja miesten muotoisesta maailmasta</p><p>Kovaan tutkimustietoon nojautuva Näkymättömät naiset osoittaa vastaansanomattomasti, miten naiset ovat unohtuneet yhtälöstä maailmaa rakennettaessa<strong>.<...
Recensioner i media
The book's force doesn't derive from the power of its rhetoric - instead it's the steady, unrelenting accumulation of evidence, the sheer weight of her argument' -- Sophie McBain * New Statesman * Invisible Women... is a book that changes the way you see the world -- Allan Massie * Sunday Times * Book that did most to change the way I thought? Caroline Criado Perez's Invisible Women... Perez has delivered a much needed correction: full of persuasive examples and analysis of areas from public policy, medicine, economics and elsewhere in which data have been gathered in such a way as to obscure or omit matters of most concern to women. I learned a lot -- Tim Harford Plain, detailed and almost overwhelming prose... There is no anger in Criado Perez's pages - she is too busy with evidence for that -- Tanya Gold * UnHerd * Jaw-dropping... This book is a snapshot of the dangers of a world designed to fit a minority -- Barbara Speed * i * Invisible Women shines a light on the gender gap in data and what every woman needs to know about it -- Joanne Finney * Good Housekeeping * Anyone who doubts that we live in a world designed by and for men needs to read this book, with its implicit message that even what we've won so far can never be taken for granted. * Literary Review * An eye-opening examination -- Decca Aitkenhead * Sunday Times * Wide-ranging and vastly well-informed, Invisible Women is a book that promises to transform the terms of the equality debate -- Sarah Ditum * In the Moment, **Books to Look Out for in 2019** * arguably one of the most important publications of the year -- Susan Dalgety * Scotsman * Caroline Criado Perez brilliantly exposes the appalling gender bias that underpins the collection of data and how it's used. From medical treatments that fail to take female biology into account, to car safety features that are designed for the male body, women are the invisible 51%. This deeply researched and passionate book is the most important contribution to gender equality in years -- Amanda Foreman Criado Perez comprehensively makes the case that seemingly objective data can actually be highly male-biased... Policymakers everywhere should take heed -- Sarah Gordon * Financial Times * It took the writer and campaigner Caroline Criado Perez to reveal the true extent of the man's world we live in. What makes Invisible Women so compelling is the mountain of data she draws on. Data, it turns out, matters... The pervasiveness of the problem is staggering...this is a brilliant expose that deservedly won the Royal Society science book prize -- Ian Sample * Guardian, Best science, nature and ideas books of 2019 * It's a smart strategy to invite readers to view [a] timeworn topic through the revealing lens of data, bringing to light the hidden places where inequality still resides... Criado Perez wields data like a laser, slicing cleanly through the fog of unconscious and unthinking preferences. * Guardian * A blisteringly good book... never less than eye-opening, and frequently staggering * Bookseller * Invisible Women is an absorbing cornucopia of thought-provoking facts - fascinating, alarming and face-palming in equal measures. Caroline Criado-Perez shows up the shortcomings of a world designed for men by men. The consequences of treating men as the default option, or women just as smaller men - if they get considered at all - has wide-reaching implications for everything (and everyone) from snow clearing to seat-belts and many branches of medicine. I shall certainly think of this book next time I have a heart attack, a car crash or just want to go to the toilet at the theatre. -- Professor Gina Rippon Here are the facts! Caroline Criado Perez shines her penetrating gaze on the absence of women from the creation of most societal norms - from algorithms to medicinal doses to government policy. Knowledge is power - we all need to know how our systems work if we want change. Arm yourself with this book and press it into the
Bloggat om Invisible Women
Övrig information
Caroline Criado Perez is a writer, broadcaster and award-winning feminist campaigner. Her most notable campaigns have included co-founding The Women's Room, getting a woman on Bank of England banknotes, forcing Twitter to revise its procedures for dealing with abuse and successfully campaigning for a statue of suffragist Millicent Fawcett to be erected in Parliament Square. She was the 2013 recipient of the Liberty Human Rights Campaigner of the Year Award, and was awarded an OBE in the Queen's Birthday Honours 2015. Invisible Women has won the FT & McKinsey Business Book of the Year Award, the Books Are My Bag Readers' Choice Award and the Royal Society Science Book Prize. She lives in London.