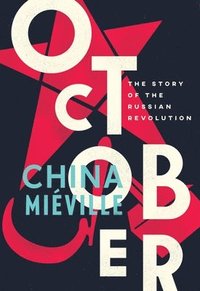 Fler böcker inom
Format

Inbunden (Hardback)

Språk

Engelska

Antal sidor

384

Utgivningsdatum

2017-05-09

Förlag

Illustratör/Fotograf

Illustrationer

8pp colour plate section

Dimensioner

241 x 165 x 38 mm

Vikt

725 g

Antal komponenter

1

ISBN

9781784782771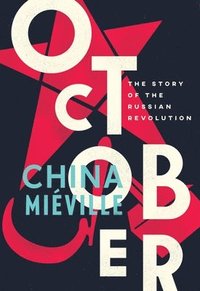 October
The Story of the Russian Revolution
Skickas inom 2-5 vardagar.
Fri frakt inom Sverige för privatpersoner.
Award-winning writer China Mieville has long been inspired by the ideals of the Russian Revolution and here, on the centenary of the revolution, he provides his own distinctive take on its history. In February 1917, in the midst of bloody war, Russia was still an autocratic monarchy: nine months later, it became the first socialist state in world history. How did this unimaginable transformation take place? How was a ravaged and backward country, swept up in a desperately unpopular war, rocked by not one but two revolutions? This is the story of the extraordinary months between those upheavals, in February and October, of the forces and individuals who made 1917 so epochal a year, of their intrigues, negotiations, conflicts and catastrophes. From familiar names like Lenin and Trotsky to their opponents Kornilov and Kerensky; from the byzantine squabbles of urban activists to the remotest villages of a sprawling empire; from the revolutionary railroad Sublime to the ciphers and static of coup by telegram; from grand sweep to forgotten detail. Historians have debated the revolution for a hundred years, its portents and possibilities: the mass of literature can be daunting.But here is a book for those new to the events, told not only in their historical import but in all their passion and drama and strangeness. Because as well as a political event of profound and ongoing consequence, Mieville reveals the Russian Revolution as a breathtaking story.
Passar bra ihop
+
Recensioner i media
Named One of the Best Books of the Year by Publishers Weekly"Even when he is orbiting somewhere in a galaxy too far away for normal human comprehension ... Mieville is dazzling." - New York Times "Mieville's wit dazzles, his humour is lively, and the pure vitality of his imagination is astonishing." - Ursula K. Le Guin "An intriguing march to revolution, told here with clarity and insight." - Kirkus Reviews "Mieville is an ideal guide through this complex historical moment, giving agency to obscure and better-known participants alike, and depicting the revolution as both a tragically lost opportunity and an ongoing source of inspiration." - Publisher's Weekly "Readers will be satisfied that October gives them the literary equivalent of bearing witness to world history." - Booklist "It's as if John Reed, author of the classic piece of revolutionary journalism, Ten Days That Shook the World, woke from a decades-long sleep to tell the story of 1917 once again." - Counterpunch "Mieville sifts through the extraordinary disagreements, debates, and debacles that accompanied the Russian reds on every step of the road to revolution ... He's especially evocative when he chronicles the scenes on the chaotic streets. But much of the value of October comes in his mastery of how the intricacies of human decision-making play out in Petrograd, Moscow, and beyond." - Christian Science Monitor "Cinematic and vivid" - Newsweek "An exciting account of the revolutionary moment... well-argued and elegiac" - Spectator "[An] engaging retelling of the events that rocked the foundations of the twentieth century." - Village Voice "In October, Mieville provides an introduction to one of the seminal events of the 20th century - the overthrow of the Romanov dynasty and the establishment of the world's first communist state 100 years ago this year ... It has all the makings of a novel, and Mieville's narrative builds toward its crescendo as the Bolsheviks prepare to take power." - Boston Globe "Mieville's understanding of the intricacies and underlying absurdities of party politics is unmatched...A rich and compelling book." David Walton, Dallas Morning News "This is a very fine book - in some ways, I believe, the best work that China Mieville has produced since the three thick volumes of the Bas-Lag trilogy. Indeed, October bears, in certain respects, a deeper affinity to those novels than to anything else he has published since; and it thus provides a convenient opportunity to take stock of the Mieville oeuvre to date...That [October] is an excellent work of art there is no doubt whatever." - Carl Freedman, Los Angeles Review of Books "Mieville, known for his extravagantly weird science fiction and fantasy, is a virtuosic storyteller; here he conjures a society convulsing on the verge of total transformation while staying squarely within the lines of the historical record. Reading this blow-by-blow account of revolution now, when political life is stranger than any fiction, is galvanizing." - Roger White, Artsy "There are workers, there are peasants, there are soldiers, there are parties, there are tsars, there are courtiers. Each of them bears his or her class position, his or her economic and other concerns, but it is the political field itself, how it hurls its protagonists into combat, combat with its own rules and norms, its own criteria for success and failure, that is front and center here. This may be the most textured, most concrete, account of what political contest and political combat, literal and metaphoric, feels like." - Corey Robin, author of The Reactionary Mind: Conservatism from Edmund Burke to Sarah Palin "October's dramatic narrative makes the case that the effort is still worth it - that we must dare to dream, even if we risk conjuring more nightmares in this darkening world."
Övrig information
China Mieville is the multi-award-winning author of many works of fiction and non-fiction. His fiction includes The City & The City, Embassytown and This Census-Taker, and has won the Hugo, World Fantasy and Arthur C Clarke Awards; his non-fiction includes the photo-illustrated essay London's Overthrow, and Between Equal Rights: A Marxist Theory of International Law. He has a PhD in International Relations from the LSE. He has written for various publications, including the New York Times, Guardian, Conjunctions and Granta. He is a founding editor of the quarterly Salvage.