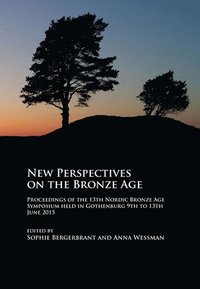 Fler böcker inom
Format

Häftad (Paperback / softback)

Språk

Engelska

Antal sidor

460

Utgivningsdatum

2017-04-30

Förlag

Illustrationer

Illustrated throughout in black & white with 61 colour plates

Dimensioner

290 x 205 x 20 mm

Vikt

1621 g

Antal komponenter

1

ISBN

9781784915988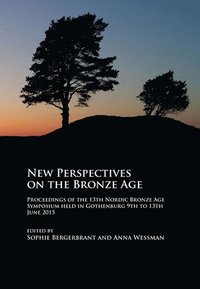 New Perspectives on the Bronze Age
Proceedings of the 13th Nordic Bronze Age Symposium held in Gothenburg 9th to 13th June 2015
Skickas inom 10-15 vardagar.
Fri frakt inom Sverige för privatpersoner.
The Nordic Bronze Age Symposium began modestly in 1977 with 13 participants, and has now expanded to over 120 participants: a tenfold increase that reflects the expanding role of Bronze Age research in Scandinavia, not least amongst younger researchers. From having taken a back seat in the 1970s, it is now in the driver's seat in terms of expanding research themes, publications and international impact. This collection of articles helps to explain why the Bronze Age has come to hold such a fascination within modern archaeological research. By providing new theoretical and analytical perspectives on the evidence new interpretative avenues have opened, it situates the history of the Bronze Age in both a local and a global setting.
Passar bra ihop
+
Bloggat om New Perspectives on the Bronze Age
Övrig information
Sophie Bergerbrant completed her doctoral thesis in archaeology in 2007 at the University of Stockholm. She currently leads the research project Bronze Age wool economy: production, trade, environment, husbandry and society at the department of historical studies, University of Gothenburg; Anna Wessman is currently a PhD candidate at the department of historical studies, University of Gothenburg. Her PhD project focuses on south Scandinavian rock art, with a special focus on regional features and styles in relation to time and change.
Innehållsförteckning
Introduction (Sophie Bergerbrant and Kristian Kristiansen); New perspectives on Nordic Bronze Age graves (Kristian Kristiansen); Mjeltehaugen: Europe's northernmost Bell Beaker expression? (Anette Sand-Eriksen); Bronze Age burials in megalithic graves in Falbygden (Malou Blank); Identifying commoners in the Early Bronze Age: burials outside barrows (Sophie Bergerbrant, Kristian Kristiansen, Morten E. Allentoft, Karin M. Frei, T. Douglas Price, Karl-Goeran Sjoegren and Anna Tornberg); Visible ships were the graves of Bronze Age ritual specialists (Gisela AEngeby); From bird wings to fool's gold. Organic materials and stone from burials of the Late Bronze Age (Karen Margrethe Hornstrup); Craft and materials in the Bronze Age (Nils Anfinset); On the behaviour of potters and metalworkers at the Narkunai hillfort (Vytenis Podenas and Evaldas Babenskas); Castelluccio painted pottery: shared repertoires and local identity: A case study from Early Bronze Age Sicily (Valentina Copat, Annalisa Costa and Paola Piccione); Bronze Age metal workshops in Denmark between 1500-1300 BC: elite-controlled craft on Zealand (Heide Wrobel Norgaard); Bronze casting specialists during the Late Bronze Age in the Lake Malaren region of East Middle Sweden (Reidar Magnusson); Crafts and resources - western Norway in the Late Neolithic and the Early Bronze Age (Nils Anfinset); New currents in Scandinavian Bronze Age settlement and landscape archaeology (Mette Lovschal and Kristian Brink); Time warps and long-term structures: images of Early Bronze Age landscape organisation in south-west Denmark (Marianne Rasmussen); Settlements, political economy and social organisation: a study from the Unetice Circumharz Region (Claes Uhner); Continuity and change in settlement from LN II to EBA II. New results from a southern Jutland inland region (Martin Egelund Poulsen); Tanum 1821 - Examining cooking pits in landscape studies (Stig Swedberg, Annika OEstlund and Oscar Jacobsson); Introduction to the rock art session at the 13th Nordic Bronze Age symposium (Johan Ling); 'It's a man's world'? Sex and gender in Scandinavian Bronze Age rock art (Christian Horn); Carved ship images from the Bronze Age barrows of north-eastern Zealand: on the trail of Bronze Age farmerfishers and seafarers (Liv Appel); Materiella bilder: Visuella uttryck bland Malarvikens hallbilder (Fredrik Fahlander); Re-cut rock art images (with a special emphasis on ship carvings) (Gerhard Milstreu); The Kivik tomb: Bredaroer enters into the digital arena - documented with OLS, SfM and RTI (Ulf Bertilsson, Johan Ling, Catarina Bertilsson, Rich Potter and Christian Horn); The northern perspective 2000 BC - AD 1 (Marianne Skandfer and Joakim Wehlin); Textiles from the peripheries? Upland evidence from Norway (Christopher Prescott and Lene Melheim); Stone Age appearances in the south-eastern Arctic Bronze Age (Jarkko Saipio); Different Bronze Ages - the emergence of diverging cultural traditions in the southern inland, Norway (Hilde Rigmor Amundsen); Nordic-Mediterranean relations in the second millennium BC (Serena Sabatini and Lene Melheim); The wheel and the sun: 'Glocal' symbologies of wheel-pendants across Europe (Sara De Angelis and Maja Gori(1)); Danish beads of Egyptian and Mesopotamian glass in context, and the amber connection (Flemming Kaul and Jeanette Varberg); Mortuary rituals at Mycenaean Dendra: the Baltic connection and the role of amber (Ann-Louise Schallin); The North from the perspective of the Greek mainland in the Late Bronze Age (Helene Whittaker); Identity, individuals and agency in the Bronze Age (Sophie Bergerbrant); Communicating identity through built space - Concise-sous-Colachoz (CH), a case study (Markus Spring); Tracing boundaries of local group identities in the Early Bronze Age - south-west Norway (Knut Ivar Austvoll); Intentionally made: objects as composite indexes of agency and the case of the Late Bronze Age house urns (Serena Sabatini)