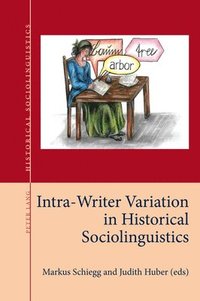 Fler böcker inom
Format

Häftad (Paperback / softback)

Språk

Engelska

Antal sidor

552

Utgivningsdatum

2023-08-29

Upplaga

New ed

Förlag

Illustrationer

136 Illustrations, unspecified

Antal komponenter

1

ISBN

9781800797031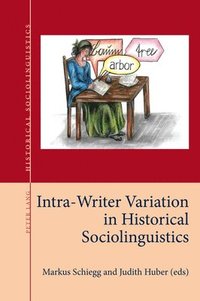 Intra-Writer Variation in Historical Sociolinguistics
Skickas från oss inom 10-15 vardagar.

Fri frakt över 199 kr för privatkunder i Sverige.
Intra-individual variation is an emerging research field in linguistics with a rapidly growing number of studies. In historical sociolinguistics, this trend has been slow, as it is still largely dominated by the macroscopic approaches of earlier sociolinguistics. Microscopic studies focusing on intra-individual variation in writing, i.e. intra-writer variation, however, are able to reveal how writers functionalize social or text-type variation for reasons such as audience design or persona creation. They may also provide insights into how ongoing changes were perceived by speakers and writers. In general, micro-approaches are able to uncover a wide array of possible factors influencing variation, which may not always carry sociolinguistic functions. This volume comprises twenty-two research articles on a wide range of languages and periods, all closely connected by their focus on intra-writer variation in historical texts and by their use of empirical and corpus-based approaches. The studies demonstrate that the challenges that historical material have for research on intra-individual variation can certainly be met and that the insights gleaned from analysing variation in individual writers are considerable.
Passar bra ihop
+
Fler böcker av författarna
Oliver Ernst, Andreas Nievergelt, Markus Schiegg

Alexander Werth, Lars Blow, Simone E Pfenninger, Markus Schiegg
Övrig information
Markus Schiegg works in German Linguistics at Friedrich-Alexander-Universitt Erlangen-Nrnberg. He currently leads the junior research group Flexible Writers in Language History that is compiling a corpus of historical patient texts from the nineteenth and early twentieth century. His research focuses on historical sociolinguistics, in particular on language variation and change in the history of German. Judith Huber works in English Historical Linguistics at Ludwig-Maximilians-Universitt Mnchen (LMU). She holds a PhD from LMU and worked in English Historical Linguistics at FAU Erlangen-Nrnberg and KU Eichsttt-Ingolstadt before returning to Munich. Her research focuses on variation and change in the history of English from a usage-based perspective, including syntax, lexicology, pragmatics and language contact.
Innehållsförteckning
Contents: Intra-writer variation in historical sociolinguistics: The emergence of a new research field A qualitative approach to intra-writer variation in late Babylonian letters: Two near-duplicate letters from the Eanna archive (528 BCE) The use of discourse-ending formulae: Exploring intra-writer variation in Michelangelo Buonarrotis correspondence Intra- writer variation and the real world of epistolary interaction in historical sociolinguistics: John Paston Is use of the orthographic variable (TH) Patterns of stylistic variation in the use of synthetic and analytic comparative adjectives: Evidence from private letters in sixteenth- to eighteenth- century England Patterns of linguistic variation in Late Modern English pauper petitions from Berkshire and Dorset Petitioning for the education of the poor: Self-corrections as stylistic choices in a Late Modern English draft letter Intra-writer variation in the requestive behaviour of two Early Modern Scottish letter-writers Between societal constraints and linguistic self-awareness: Stylistic variation in the letters of Prince Ludwig von Anhalt-Kthen (16381646) Intra-writer variation in clitics in German patient letters from the nineteenth and the early twentieth century Intra-writer variation and linguistic accommodation in the letters of the Milanese merchant Giovanni da Pessano to the Datini network (13971402) Eighteenth-century Scots in correspondence during the Union Debates: An intra-writer perspective Variation in verbal inflection in the private writings of the Scottish emigrant Mary Ann Wodrow Archbald (17621841) Assessing Dutch-French language choice in nineteenth-century private family correspondence: From intra-writer variation to the bigger picture Intra-writer variation in the multilingual Diary of Vytautas Civinskis (18871910) Picnick and Sauerkraut: GermanEnglish intra-writer variation in script and language (18671900) Intra-writer variation in Early Modern Greek notary acts: Morphosyntactic patterns of accommodation What shall we do with the writing sailor?: Style-shifting and individual language use in a French navigation journal from the eighteenth century The linguistic choices of an early nineteenth-century Basque writer Linguistic repertoires and intra-writer variation in Old English: Hemming of Worcester Intra-text variation as a case of intra-writer variation: Middle English scribal behaviours, with a focus on the spelling variation of woman in MS Pepys 2125 Intra-writer variation in Old High German and Old Swedish: The impact of social role relationship on constructing instructions On the indexical meaning of literary style shifting: The case of word order variation in the sixteenth-century Welsh Bible translations.