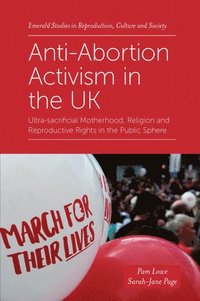 Fler böcker inom
Format

Inbunden (Hardback)

Språk

Engelska

Antal sidor

248

Utgivningsdatum

2022-04-19

Förlag

Dimensioner

229 x 152 x 16 mm

Vikt

499 g

Antal komponenter

1

ISBN

9781839093999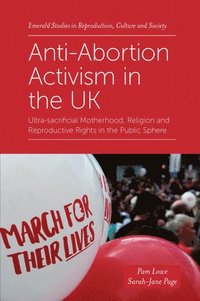 Anti-Abortion Activism in the UK
Ultra-sacrificial Motherhood, Religion and Reproductive Rights in the Public Sphere
Skickas från oss inom 7-10 vardagar.

Fri frakt över 249 kr för privatkunder i Sverige.
Drawing from extensive ethnographic research on abortion debates in public spaces, this book explores the beliefs, motivations and practices of UK anti-abortion activists. Whilst they represent a tiny minority, there is recent evidence of an increase in activism outside UK abortion clinics; faith-based groups regularly organise 'vigils' seeking to deter service users from entering clinics. In response to this, pro-choice groups launched a campaign for buffer-zones around clinics. Although there is overwhelming public support for abortion, it remains an area of public contestation that touches on ideas about bodily autonomy, religious freedom and reproductive rights. Despite being active in the UK since before the 1967 Abortion Act, anti-abortion activism has received little attention. Taking a lived religion approach, Anti-Abortion Activism in the UK explores the sacred and profane commitments of anti-abortion activists and counter-demonstrations outside clinics, examining the contestations over space. The authors argue that as a moral reform social movement, the anti-abortion activists typically frame their activism in terms of risk and abortion harm, but their religiously-informed understanding of ultra-sacrificial motherhood as natural for women undermines this framing. Their conservative gender and sexuality attitudes position them culturally as a moral minority. The displays of public religion are also anomalous in a country in which religion is usually seen as a private issue. Their presence outside abortion clinics causes a significant amount of distress, but public support for the establishment of safe zones outside of abortion-service provision is strong and is a proportionate response to safeguard the freedoms of those seeking abortion.
Passar bra ihop
+
Fler böcker av författarna
Recensioner i media
Although this book is primarily UK focused; I implore US readers not to let this deter you as there is a great deal to be learned. To begin with, although many have written extensively about the relationship between religiosity and anti-abortion activism, Lowe and Page provide a brilliantly original and sharply-focused articulation of this activism as an invocation of lived religion, which is ritualized in the public zone outside of reproductive health clinics. With great acumen, their characterization of these engagements as the creation of sacred spaces devoted to the ideals of ultra-sacrificial motherhood provides non-geographically specific insights into the extent to which religious beliefs permeate the effort to turn abortion-minded women towards motherhood. At the same time, however, the authors also stress the importance of recognizing national contexts. In this regard, I must confess to being rather astounded to read about some of the critical contrasts between the UK and US contexts, particularly with respect to how abortion is more a matter of private conscience in the former rather than target of righteous conservative lawmakers as in the US. Importantly, this contextualization offers potentially new and productive ways of seeing and conceptualizing that which is familiar. I also want to commend Lowe and Page for their clear and highly comprehensible writing style. No terse overly-academic language here. This makes the book an invaluable and appealing read for multiple audiences, including academics, students, activists, policy-makers, and the interested public. -- Shoshanna Ehrlich, Womens, Gender, and Sexuality Studies, University of Massachusetts Boston In this book Pam Lowe and Sarah-Jane Page have produced a compelling exploration of anti-abortion activism in the UK. Combining expertise from the fields of the sociology of reproductive health and the sociology of religion, Lowe and Page begin with a superbly detailed historical background of abortion law in the UK, this is followed by findings generated by lengthy primary research. The end result is a unique, richly layered insight into those who ascribe to anti-abortion positions that will be of interest to academics, students, faith communities, activists and the public at large. -- Dr Fiona Bloomer, School of Applied Social and Policy Sciences, Ulster University This beautifully-written and carefully-researched book deepens our understanding of the different positions in the debate about abortion, presenting them as coherent but clashing moral stances. This is sociology of religion at its best - a timely reminder of why it is so important. -- Professor Linda Woodhead, Lancaster University The conceptual innovation in Pam Lowe and Sarah-Jane Pages analysis of anti-abortion presence outside abortion clinics in the UK as lived religiosity makes fascinating reading. Detailed, insightful and thought-provoking. -- Barbara Baird, Womens & Gender Studies, Flinders University, South Australia Anti-abortion ideology is often cloaked in claims to objectivity, whether it be through invoking claims of scientifical rationality or moral absolutism. In their book, Pam Lowe and Sarah-Jane Page combine the fields of the sociology of religion and reproductive health with 5 years of fieldwork amongst activists to return us to the central role religion plays in the motivations, worldviews, and actions of anti-abortionists. Their book provides both an overview of the politics of abortion in Britain and new and fresh insights, and thus will be of interest to students, specialists, and anyone with an interest in British abortion or religious cultures. -- Dr Erica Millar, La Trobe University, Australia Anti-Abortion Activism in the UK is a must read for any scholar, student or person interested in understanding the intractability of the contemporary conflict over abortion. Although modern activists package their opposition to abortion in secular pa
Övrig information
Pam Lowe is a Senior Lecturer in Sociology and Policy at Aston University. She has researched and written extensively in the area of womens reproductive and sexual health, with a particular interest in pregnancy, abortion and early parenting. Sarah-Jane Page is a Senior Lecturer in Sociology at Aston University. Her research focuses on religion and its interaction with sexuality and gender issues. She has specifically worked on projects examining religion, youth and sexuality and women priests in the Church of England.
Innehållsförteckning
Chapter 1. Introduction Chapter 2. Opposition to Abortion: A UK History Chapter 3. Understanding Anti-abortion Activism as Lived Religion Chapter 4. The Worldviews of Anti-abortion Activists Chapter 5. Ultra-sacrificial Motherhood and the Harms of Abortion Chapter 6. Foetal Stories Chapter 7. Being an Activist: Material Religion, Embodiment, and Spatiality Chapter 8. The Pro-choice Response: Counterdemonstrations Chapter 9. Abortion Cultures Chapter 10. Conclusion Appendix 1. The Research Journey