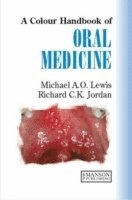 Fler böcker inom
Format

Häftad (Paperback)

Språk

Engelska

Antal sidor

192

Utgivningsdatum

2004-03-01

Förlag

Illustrationer

Col.ill.

Dimensioner

234 x 156 x 10 mm

Vikt

400 g

ISBN

9781840760330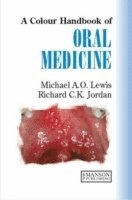 Oral Medicine
Tillfälligt slut – klicka "Bevaka" för att få ett mejl så fort boken går att köpa igen.
Finns även som
Skickas inom 5-8 vardagar
A comprehensive guide to diagnosis and treatment of oral problems, with colour illustrations integrated throughout - combining the advantages of an atlas with a short text/reference. It has a symptoms-based approach with one condition per page or page spread.
Recensioner i media
"This book aims to provide a clinician with a well illustrated text to aid the diagnosis and initial management of disorders relevant to oral medicine." "A considerable number of colour images of relevant lesions are provided throughout. Without doubt the strength of the text lies in these images - which are generally of high quality and demonstrate pertinent lesions well - along with the succinct summaries provided of the clinical features of each disorder." "...this is a well written, well presented text that I am sure will be of interest, and clinical relevance, to general dental practitioners." British Dental Journal "This book uses a symptom-based approach to the diagnosis and initial treatment of oral medical conditions. Such an approach to the subject matter makes this book a genuinely practical source of reference and will be welcomed by clinician's, particularly those in a primary care setting." "Although principally aimed at clinician's, this book will also appeal to dental undergraduates who are sure to find its well-planned layout and wealth of colour images of real value in their studies." Dental Update
Innehållsförteckning
Contents Preface, Acknowledgements, Introduction: Normal structures, Anatomy of the mouth, Examination of the face and mouth, Terminology used in description of mucosal and oral lesions, Mucosal lesions, Investigation of oral disease, Haematological investigations, Microbiological investigations, Mucosal biopsy. 1: Ulceration, Trauma, Recurrent aphthous stomatitis, Behcet's disease, Syphilis, Gonorrhoea, Tuberculosis, Acute necrotising ulcerative gingivitis, Lichen planus, Lichenoid reaction, Squamous cell carcinoma, Post-radiotherapy mucositis, Necrotising sialometaplasia, Destructive periodontal disease, Lymphoma, Neutropenia, Graft versus host disease, Osteoradionecrosis. 2: Blistering, Pemphigus vulgaris, Pemphigus vegetans, Mucous membrane pemphigoid, Erythema multiforme (Stevens-Johnson syndrome), Epidermolysis bullosa, Herpes viruses, Coxsackie viruses, Paramyxoviruses, Mucocele, Angina bullosa haemorrhagica, Purpura, Dermatitis herpetiformis, Linear IgA disease. 3. White Patches, Candidosis, Chronic mucocutaneous syndrome, White sponge naevus, Dyskeratosis congenital, Frictional keratosis, Cheek chewing, Nicotinic stomatitis, Leukoplakia, Squamous cell carcinoma, Skin graft post-surgery, Lichenoid reaction, Lupus erythematosis, Ectopic sebaceous glands, Hairy leukoplakia, Koplik's spots, Pyostomatitis vegetans, Submucous fibrosis, Aspirin burn, Coated tongue. 4. Red Patches, Erythroplakia, Candidosis, Squamous cell carcinoma, Post-radiotherapy mucositis, Iron deficiency anaemia, Folate deficiency, Pernicious anaemia, Allergy to denture material, Geographic tongue. 5. Swelling, Squamous cell carcinoma, Papilloma viruses, Salivary tumours, Sialolith, Bacterial sialadenitis, Viral sialadenitis, Ranula, Drug induced gingival hyperplasia, Denture hyperplasia, Squamous cell papilloma, Heck's disease, Fibro-epithelial polyp, Bone exostoses, Tongue piercing, Hyper-parathyroidism, Scurvy, Crohn's disease, Orofacial granulomatosis, Paget's disease, Fibrous dysplasia, Acromegaly, Foliate papillae. 6. Pigmentation, Malignant melanoma, Addison's disease, Betel nut chewing, Black hairy tongue, Amalgam tattoo, Haemangioma, Kaposi's sarcoma, Peutz-Jegher's syndrome, Amalgam tattoo, Aplastic anaemia, Thrombocytopenia, Pigmentary incontinence, Drug induced pigmentation, Melanotic macule, Hereditary haemorrhagic telangiectasia. 7. Orofacial Pain, Burning mouth syndrome, Giant cell arteritis, Atypical facial pain, Trigeminal neuralgia, Facial arthromyalgia, Bell's palsy. 8. Dry mouth, altered taste or halitosis, Drug induced xerostomia, Sjogren's syndrome, CREST syndrome, Post-irradiation xerostomia, Diabetes mellitus, Coated tongue, Acute ulcerative necrotising gingivitis. Further reading Index