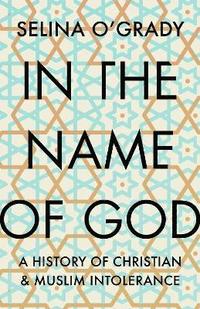 Fler böcker inom
Format

Inbunden (Hardback)

Språk

Engelska

Antal sidor

480

Utgivningsdatum

2019-08-01

Upplaga

Main

Förlag

Illustrationer

2x8pp col plates

Dimensioner

167 x 241 x 46 mm

Vikt

934 g

ISBN

9781843547006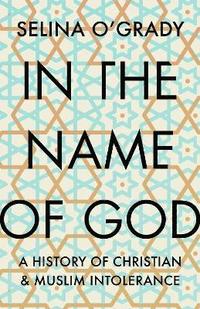 In the Name of God
A History of Christian and Muslim Intolerance
Bokens leverantör håller tillfälligt stängt på grund av Coronapandemin. Klicka "Bevaka" för att få ett mejl när boken går att beställa igen eller välj ett annat format nedan.
In this groundbreaking book, Selina O'Grady examines how and why the post-Christian and the Islamic worlds came to be as tolerant or intolerant as they are. She asks whether tolerance can be expected to heal today's festering wound between these two worlds, or whether something deeper than tolerance is needed. Told through contemporary chronicles, stories and poems, Selina O'Grady takes the reader through the intertwined histories of the Muslim, Christian and Jewish persecutors and persecuted. From Umar, the seventh century Islamic caliph who laid down the rules for the treatment of religious minorities in what was becoming the greatest empire the world has ever known, to Magna Carta John who seriously considered converting to Islam; and from al-Wahhab, whose own brother thought he was illiterate and fanatical, but who created the religious-military alliance with the house of Saud that still survives today, to Europe's bloody Thirty Years war that wearied Europe of murderous inter-Christian violence but probably killed God in the process. This book is an essential guide to understanding Islam and the West today and the role of religion in the modern world.
Fler böcker av Selina O'Grady
And Man Created God

Selina O'Grady

And Man Created God is a sweeping exploration of the changing religions of the empires and peoples of the world at the time of Jesus: a work of extraordinary richness and ambition, this is popular history at its best.At the time of Jesus's birth, ...
Recensioner i media
O'Grady's work will fascinate anyone wishing to plunge into the histories of Western Christianity and Euro-proximate Islam... She treads the narrow path between being mired in minutiae and grandly sweeping through events, and instead provides enlightening, entertaining stories while including key events for both Christianity and Islam... fans of history, religion, or ideas will revel in the comparative study of these two faiths, long kept apart in history books, whose pasts are inextricably intertwined. * Booklist * A dazzling, lucid history of evolving, tenuous religious toleration... This perceptive, masterly history will change how many readers think about toleration and the supposed clash between Christian and Muslim worlds. * Publishers Weekly (Starred Review) * A tightly focused study of why various regimes have practised tolerance. * 'Books of the Year', Country Life * This is an important book written with an engaging zeal to try to improve our world. It encompasses a deep cultural hinterland, a vast geographical landscape and a narrative of 1,700 years... This is history with a clear mission for our own times. * The Oldie * This is a very important and highly illuminating book. Lucid, incisive and comprehensive, it raises one of the key questions of our time: in a world divided in so many ways, and most especially by religion, how are its peoples to find a way to live together? Through an examination of the history of tolerance and intolerance, and an analysis of the concept of tolerance itself, O'Grady asks whether 'tolerance' is even the right concept to use - and asks: if it is not, what is? * A. C. Grayling * In a wide-ranging study that has urgent contemporary relevance, Selina O'Grady casts a cool eye over the battlefields of power, fanaticism and faith that have caused so much devastation in a world of competing beliefs. -- Malise Ruthven * Financial Times * A timely history... Sweeps through the centuries with panache. -- Tom Holland * Sunday Times *
Bloggat om In the Name of God
Övrig information
Selina O'Grady was a producer of BBC1's moral documentary series Heart of the Matter, presented by Joan Bakewell, Channel 4's live chat show After Dark, and Radio 4's history series Leviathan. She is the author of And Man Created God and has written for the Guardian, Mail on Sunday, Literary Review and The Oldie.
Innehållsförteckning
0: Introduction 1: The Birth of Persecution: The Roman Empire Turns Christian 2: Muhammad's Edict of Toleration 3: The Price of Toleration: The Dhimmi in the Islamic Empire 4: Islam's Inquisition 5: The Problems of Assimilation: Willing Martyrs 6: Austerity in England and the Papal Battle for Supremacy 7: The Crusades; Or, the Church Finds its Enemy 8: The Moneylender 9: Enemies Within: The Heretic, the Leper, the Sodomite and the Jew 10: The Mongols and the 'Closing of the Door' 11: The Black Death: An Experiment in Tolerance 12: Inquisitions and Expulsions 13: The Reformation's War Against the Catholic Church 14: The Ghetto 15: The Religious Wars of Europe 16: Sunnis vs Shiites 17: The Puritan who Fought the Puritans 18: America Writes God out of the Constitution 19: Robespierre's New Religion 20: Ibn Abd al-Wahhab vs the Islamic Enlightenment 21: Emancipation and the Failure of Tolerance 22: The Genocidal Century