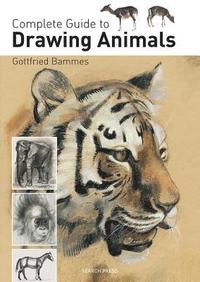 Fler böcker inom
Format

Häftad (Paperback / softback)

Språk

Engelska

Antal sidor

240

Utgivningsdatum

2013-04-09

Förlag

Illustratör/Fotograf

Illustrationer

300 colour

Dimensioner

292 x 215 x 25 mm

Vikt

925 g

Antal komponenter

1

ISBN

9781844489213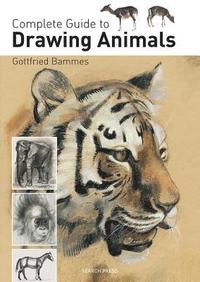 Complete Guide to Drawing Animals
Tillfälligt slut – klicka "Bevaka" för att få ett mejl så fort boken går att köpa igen.
This fantastic book is all you need if you want to start drawing animals, or if you want to develop your drawing skills. It is both the ultimate reference book and an inspirational guide, providing expert guidance on all aspects of drawing animals - including size, proportion, perspective, anatomy, skeletal structure and musculature. The book goes into great detail, and provides numerous diagrams as well as drawings in a range of styles and rendered in a variety of different drawing media including pencil, charcoal, pastels and inks. A huge range of animals is included, from dogs, horses and cats to tigers, elephants, camels and apes, so whatever animal you are interested in, this book will enable you to capture its essence down to the last hoof or paw.
Recensioner i media
May 13 This is an incredible guide to drawing animals. Based on the theory that if you understand the structure, you can draw the form, this book provides detailed diagrams and instruction to help you draw animals accurately. The book looks at skeletal structure, torso shape, proportion, perspective and more. The selection of animals both domestic and wild is varied. Animals are shown in different, natural, life-like poses. The book shows how to capture natural animal poses and movement. A variety of media has been used to capture these wonderful drawings. This book provides a thorough grounding suitable for any artists no matter what their skill. I love the tigers, dogs and orang utang best. This is recommended for anyone trying to draw animals. * Karen Platt Yarnsandfabrics.co.uk/crafts * May 13 This very thorough guide progresses through detailed lessons covering structure, anatomy and articulation long before any completed work is encountered. Although the publisher pitches it as suitable for the beginner, it is more suited to the serious student who is prepared to put in the hours of study it requires. It is also worth noting that the animals covered tend to be larger and almost exclusively wild, from big cats and horses to elephants. If you are serious about drawing animals, this will reward you fully, but the less serious student might find it a bit overwhelming. * Artist, The * Mar 13 This is a weighty and impressive tome that is, I think, more likely to appeal to the serious, maybe even semi-professional artist than to the beginner. To be fair to it, it makes no claim to be an introduction. The first thing that strikes you, looking through it, is how few actual complete drawings there are and that, for the most part. those you get are very loose and quite sketchy. Again, this isn't a book that aims to impress by wizardry. Rather, it's a comprehensive and progressive guide that proceeds by looking at structure and anatomy - differences between, say, herbivores and carnivores come as sub-headings in chapters such as The Hindquarters. Based on a German original, the book has quite a literal approach, but is invaluable if you want to get the details of your work absolutely correct and it's something to be worked through rather than dipped into. Used in this way, it could keep you occupied for anything up to a year and leave you very proficient indeed at the end. Whether you think it's for you very much depends on whether you want such an exhaustive (and potentially exhausting) approach. It's pretty much one of a kind and certainly not for the faint-hearted. If you're of sterner stuff, though, I think you could love it. * Artbookreview.net * Sept 13 If you have seen Mr Bammes' earlier work The Complete Guide to Life Drawing (also reviewed on this site) then you will be familiar with his style. If not, prepare for an impressively exhaustive course in drawing. Most art books teach you how to draw the outside of something, but here you are also instructed about what is inside the subjects you are drawing. Getting the structure right is after all more likely to result in a lifelike representation, and this book goes into anatomy in some depth. There are pictures of skeletons and proportions all marked out, which is very helpful. Each chapter also contains plenty of things to try out for yourself, including observation of your would-be subjects. To its detriment, at times there is rather too much information about anatomy. Reading through pages of this type of thing if you are interested in drawing rather than training to be a vet can be more than a little daunting, as well as difficult to understand. Skipping through and concentrating on the drawing alone is not quite enough to truly grasp it all, so I would recommend this book to those who are truly determined to master the art of drawing animals rather than the dabbler. Some prior knowledge of (or at least interest in) anatomy would be a help too but if this is y
Bloggat om Complete Guide to Drawing Animals
Övrig information
Gottfried Bammes, born in 1920 in Freital, Germany, worked as an art teacher at the College of Fine Arts in Dresden. Bammes was a prolific writer and artist, was considered to be a master of life drawing and anatomy,and produced numerous books on the subject in his lifetime. In 1974 he was awarded the National Prize of the German Democratic Republic for Science and Technology and received the Culture and Art Prize of the City of Freital in 2000. He died in 2007.
Innehållsförteckning
* A complete course, packed with instruction * Detailed diagrams with an impressive gallery of finished drawings * An inspirational guide with invaluable tips and advice