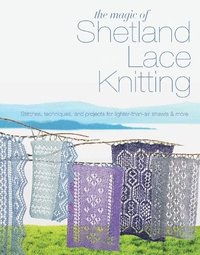 Fler böcker inom
Format

Häftad (Paperback)

Språk

Engelska

Antal sidor

144

Utgivningsdatum

2013-08-16

Förlag

Illustratör/Fotograf

Illustrationer

200 colour

Dimensioner

236 x 191 x 11 mm

Vikt

430 g

ISBN

9781844489350
The Magic of Shetland Lace Knitting
Stitches, Techniques, and Projects for Lighter-Than-Air Shawls & More
Skickas inom 2-5 vardagar.
Fri frakt inom Sverige för privatpersoner.
Stitches, techniques, and projects for lighter-than-air shawls and more. The ethereal beauty and intricacy of Shetland lace knitting might at first seem beyond the powers of the everyday knitter, but the skills needed are within the reach of everyone who can knit and purl, cast on, and bind off. The Magic of Shetland Lace is designed to take the novice knitter from their first "yarn over" step-by-step to complex every-row lace knitting. Organised by stitch and row count, the techniques are introduced with clear step-by-step instructions, charts, and detailed photographs of knitted samples. The book presents all the essential skills you will need to master a wealth of traditional Shetland motifs, patterns, and insertions, including Cat's Paw, Candlelight, Horse Shoe, and many more. Includes suggestions for how to work different stitches into elegant and traditional Shetland Lace accessories such as scarves, hats, and shawls.
Passar bra ihop
+
Kundrecensioner
Det finns 1 recension av The Magic of Shetland Lace Knitting. Har du också läst boken?
Sätt ditt betyg »
Shetland-sjalar med historik.

En vacker bok med tydlig genomgång av de olika teknikerna som används i de klassiska Shetland-sjalarna.En hel del kulturhistoria och några förslag på sjalar och annat i slutet. Mycket inspirerande!
Recensioner i media
Jan 14 The delicate beauty of Shetland lace knitting is conveyed perfectly here. As you can see from the cover, it's a technique that produces very intricate patterns, but everyday knitters shouldn't be put off - if you can knit, purl, cast on and off, you can master this technique too. Allow Elizabeth to guide you through your first project, to increasingly more complex ones, with her easy-to-follow step-by-steps. Before you know it you'll have a collection of elegant accessories made just by you. * Knit Today * Jan 14 This is one of those rare books which make you feel as if you are at a serious workshop while retaining a friendliness and accessibility which is essential for nervous knitters and newbies. The first section is quite exhaustive. She covers the history of Shetland lace and story of the sheep breeds on the islands, complete with stunning photos and a description of arriving on the plane - 'We bank sharply and lose more height, the runway comes into view, jutting out into the sea, the rolling waves breaking on to the tarmac. We land safely.' All the basics are covered, yarn, needles, knots, reading a chart (a whole page), joining in colours, picking up stitches, dealing with mistakes and dressing lace (blocking). Then she starts advancing a little more and branching out into designing, constructing shapes, charting and putting motifs together. At this point you're thinking 'this is quite awesome, a whole page or two on how to chart my pattern, wow'. But then there are pages on designing with frames, designing a stole, a scarf and a christening gown. Pretty satisfying. I would definitely say all my questions about lace were answered in this section. Next comes the stitch directory which contains around 70 edgings and traditional Shetland motifs displayed very clearly and knitted in beautiful yarn in delicious colours. At the end of the book you get seven patterns to practice your skills, which of course can be knitted in a different lace pattern to the one shown using the stitch directory. Overall I would definitely say this is a fabulous buy if you are a beginner or an intermediate knitter looking for a new challenge. Lace isn't so difficult, and the only thing you may struggle with is reading charts but Elizabeth expected this and solved it with her page on reading charts. She also has full website details at the back of the book. * sewingisforgirls.blogspot.com * Oct 13 I love fair-isle and lace knitting, both hailing from Scottish islands. That's not to say I am traditional when it comes to knitting, I like my knitwear to have a contemporary twist. This book looks at Shetland lace - those incredible shawls that are so fine they can pass through a wedding ring. Of course, many knitters these days opt for the quicker, the better, which means chunky yarns and big needles. Yet there is something special about Shetland lace. Intricate, delicate and so fine. I would put the Shetland shawl at the top of my list of accessories every woman should have. It's refined and a true heirloom. Shetland lace patterns can look so complicated, that none but skilled knitters would attempt them, so Elizabeth has set out to show that even novice knitters can. Techniques are clearly shown, with clear step by step instructions and charts. There is a stitch dictionary, so you can design your own items. There are projects too, not just shawls but socks, fingerless gloves and a baby set. I love the Crescent Shawl, but I can't work out the pattern and I have knitted many lace projects in over 40 years. I like the stitch directory and techniques sections and the fact that there are variations on the stitches for the projects. Charts are not always easy to follow, especially when a book closes on itself, it needed to lie flat. I would much have preferred row by row written instructions. * Karen Platt Yarnsandfabrics.co.uk/crafts * Issue 65 The delicacy and beauty of traditional Shetland knitted lace has enchanted people over the years, i
Bloggat om The Magic of Shetland Lace Knitting
Övrig information
Living in Orkney and frequently travelling to Shetland, Elizabeth Lovick has spent many years researching and knitting Shetland lace. A teacher by nature, she enjoys giving knitters the help they need to expand their horizons. She regularly contributes patterns and articles to knitting and spinning magazines in the US and UK.
Innehållsförteckning
Prelim s (5 pp) Introduction (6 pp) In this book you will be taken at your own speed through the techniques needed to knit lace, starting with how to make your first yarn over. You will find out how simple it is to knit airy scarves and chunky openwork cushion covers. And when you make a mistake (as you always will) you will work out the best way to put it right. And once you have learned the art of knitting lace using the Techniques section, you will return to the Stitch Directory again and again to find the perfect stitch for your next scarf, shawl, or other work of art. The book takes the novice knitter from their first "yarn over" step-by-step to complex every-row lace knitting. The Techniques section explains the tools and skills needed along with detailed explanations of the core techniques. The Stitch Directory, the heart of the book, gives step-by-step instructions, charts, and written patterns for knitting the samples, along with methods of using these stitches in different ways. Finally, there are projects using the stitches in a variety of items. While the book is primarily aimed at lace beginners, those with more experience will appreciate the way the tagging of the stitches makes it easy to substitute patterns and to design their own garments and those interested in the different knitted lace traditions will appreciate a collection of specifically Shetland stitches. More and more knitters are wanting to stretch themselves and learn new techniques and, while there are plenty of project books out there, there is presently no book aimed specifically at helping these knitters to take their first steps in knitting Shetland lace. I Love Shetland Lace In her own words, Liz Lovick describes the special relationship she has with this wonderful textile, going into its history and how Shetland knitted lace is distinguished from other kinds. In this article, there's a chance to see some beautiful examples of the craft and to soak up the atmosphere of the wild Scottish landscape that gave its name to this exquisitely delicate stitch style. About This Book The book is organised into four sections. The Stitch Selector shows clear photographs of each of the lace stitches. The Techniques section goes through the tools and techniques you will need to create the pieces. The Stitch Directory gives stitch-by-stitch instructions to knit each pattern, along with variations, and finally the Projects section provides ideas for how these delicate stitches may be used. Stitch Selector (6 pp) This section presents all of the 50 samples together, arranging them by stitch number and identifying them by skill level. The beginner may want to start here to find some easy patterns to begin with. T echnique s (18 pp) Clear instructions with diagrams and step-by-step photos showing the key techniques needed to knit lace. * Tools and equipment, including needle choices and yarn weights and types suitable for lace (including handspun) * Basic technique including the lace cast on, working yarn overs, left and right slanting decreases, and so on * How to read a chart, with examples * Tips for using thin yarn with fat needles * Dealing with partial patterns at the beginning and end of rows * Dealing with mistakes * Tips and tricks for keeping your place * How to dress/block your lace * How to put different motifs together to make different patterns, with photographs of designs which do and don't work Stitch Directory (88 pp) A beautifully laid out stitch directory, organised by stitch count and row count, showing a range of shetland lace stitch samples, some at two per page, some at one per page. Each stitch sample will be tagged with: * Skill level * Stitch count and row count * Chart and written pattern instructions * Links to other patterns which can be used w